Broctagon Awarded "Best Cryptocurrency LP" at WikiFX Kuala Lumpur Financial Summit 2019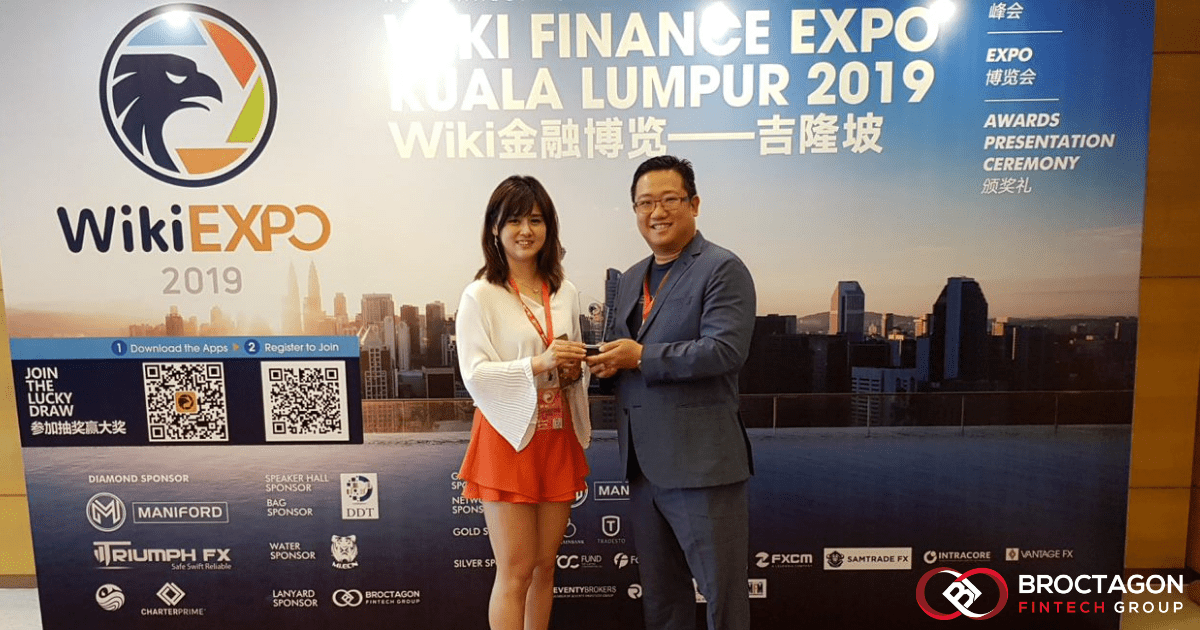 Broctagon Fintech Group was awarded the title of "Best Cryptocurrency Liquidity Provider" at the WikiFX Kuala Lumpur Financial Summit 2019 on Saturday (7th July).
The fintech solutions provider was present at the Wiki Finance Expo Kuala Lumpur 2019, which was held in one of up-and-coming financial hubs in Asia — Kuala Lumpur, Malaysia, just this weekend. The event featured over 2000 guests, including more than 80 top financial experts and over 30 exhibitors, and opens a gateway into the ASEAN forex industry.
As a global financial data technology provider and financial media, WikiFX commits to extend their reach to global markets by providing high-quality and reliable financial data and information services for users around the world. The summit aims to facilitate the exchange and cooperation between forex brokers and investors by delivering the latest forex trading ideas and displaying top and practical trading tools.
Shaping the Future of Crypto Trading
With Broctagon's latest liquidity aggregator technology NEXUS, crypto trading can be easily made as accessible as forex. NEXUS is an EU-regulated global liquidity aggregation engine, backed by years of industry expertise to provide brokers with ultra-low latency pricing feeds and extremely competitive spreads.
"With our successful past foray into Forex, Broctagon's goal is to achieve the same for crypto trading by utilising the resources and expertise available on our end, and elevate the disruptive boom of crypto trading to the sheer scale and efficiency of forex," said Don.
A Testament of Liquidity Excellence
As a strong testament to our relentless strive in providing institutional-grade liquidity to brokers worldwide, Broctagon Fintech Group was awarded "Best Cryptocurrency LP".
The group continually aims to achieve the tightest spreads possible to attract traders and empowering brokers with the latest cryptocurrency asset classes to help break into new markets.
Broctagon is deeply honoured by this recognition, and would like to thank all our partners and clients for their strong support over the years. We will continue to exceed expectations with innovation solutions that seek to redefine the industry benchmarks.
Your Preferred Partner for Turnkey Fintech Solutions
Broctagon offers a full suite of services such as institutional-grade liquidity, turnkey brokerage solutions, as well as end-to-end blockchain services. With deep roots in traditional finance, we leverage on our years of battle-tested forex experience, and welcome a new age of crypto solutions powered by the same expertise, resources, and market approach that have proven to be a model of success.

WikiFX is a third-party service provider for clients to inquire whether a Forex broker is formal, legal and real. WikiFX provides all round service including inquiry of Forex broker's information, regulation, license, risk exposure, credit and valuation, platform verification and monitoring , complaints solving and investor rights protection, credit report download and related platform inquiry. WikiFX also offers comprehensive evaluation of every broker with front technology and authorized data on the basis of the value of license, regulation level, software quality, risk-control ability and business strength.
About Broctagon Fintech Group
Broctagon Fintech Group is a leading multi-asset liquidity and full suite FX technology provider headquartered in Singapore with over 15 years of established global presence in Hong Kong, Malaysia, India, Cyprus, Thailand, and China. We specialize in performance-driven and bespoke solutions, serving clients across more than 500 countries with our liquidity aggregator technology, brokerage, and exchange solutions suite, as well as enterprise blockchain development.