Why 'Dogecoin Killers' Are Making Huge Price Gains, Leaving Bitcoin, Ethereum, BNB, XRP And Cardano In The Dust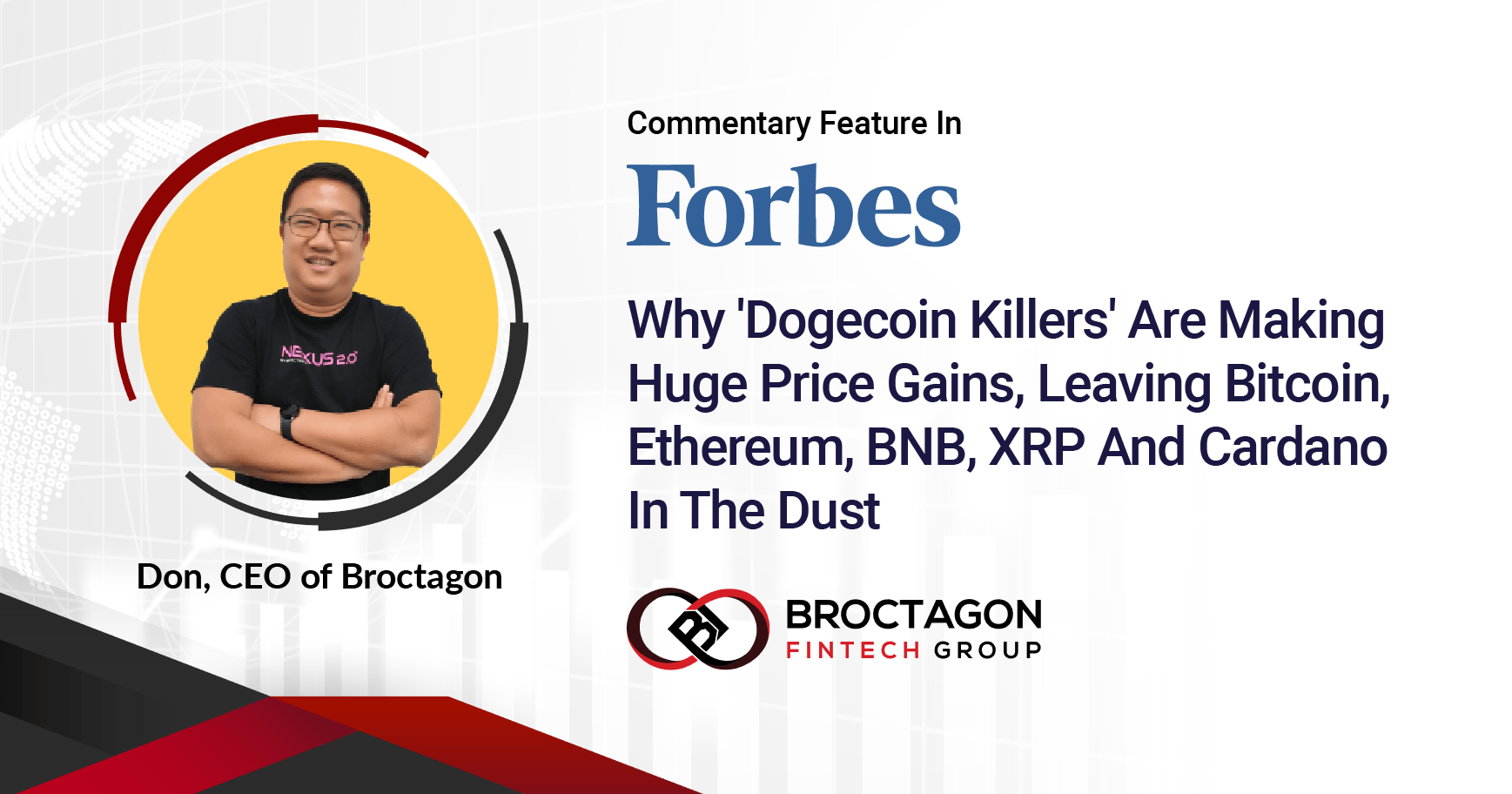 This article was first published here in Forbes.
Dogecoin, the meme-based cryptocurrency that's seen huge price gains since the beginning of the year, is losing ground to bubbly new pretenders to its memecoin crown.
The dogecoin price, up around 10,000% on this time last year, has struggled in recent months due to Tesla billionaire Elon Musk, who had championed the Shiba Inu dog-based bitcoin rival earlier this year, falling relatively silent.
Now, the soaring price of memecoin rival shiba inu, branded as the "dogecoin killer," has sparked a flurry of interest in even smaller dogecoin rivals—with some of them surging up the crypto price charts.
Shiba inu, launched in May and designed to capitalize on the massive dogecoin and cryptocurrency rally that had propelled the crypto market far beyond its previous all-time highs, began climbing over the weekend when Musk tweeted a picture of his puppy, a Shiba Inu dog named Floki—the breed of dog used by both the "dogecoin killer" and of dogecoin itself.
"Floki Frunkpuppy," Musk tweeted alongside the photo. Musk's tweet sparked the usual wave of replies, with one popular crypto meme account responding: "Dogecoin to the mooooooon."
While dogecoin, currently the ninth largest cryptocurrency by value with a market capitalization of $32 billion, according to Coingecko data, saw a slight uptick to its price following Musk's tweet, shiba inu has seen its price soar over 300%. Shiba inu is now the 12th-biggest cryptocurrency by market value—putting it ahead of established cryptocurrencies litecoin, chainlink and Binance's stablecoin BUSD. However, some bitcoin and crypto market watchers have warned the shiba inu rally is likely unsustainable.
"I honestly believe we're seeing a similar rally as we saw with dogecoin," Eric Demuth, cofounder and chief executive of Vienna-based crypto trading platform Bitpanda, said via email.
"These new coins are very community, hype and fun driven. But, on the other hand, they are not making use of any new tech or solving problems like bitcoin or ethereum do. Nonetheless, shiba inu and others continue to be relevant in today's market as they represent the new, community driven movement in finance which is why we will also be adding some of them to Bitpanda in the very near future."
"While a huge driver of its growth, shib's status as a memecoin may very well also be its bane," said Don Guo, the chief executive of trading technology company Broctagon, said in emailed comments, adding he believes it's "impossible" that shiba inu could ever reach $1.
"As with all memecoins, shib's price activity is heavily dependent on influencer opinion. We have seen this play out during many price upheavals of doge—a simple tweet by Elon Musk can change the markets almost overnight. While it has mostly worked favourably for shib thus far, its not a stretch to imagine a world where the inverse happens. That uncertainty combined with the fact that investors of shib are also largely speculative in nature, contributes greatly towards its volatility and in turn distrust from the markets."
Some other dogecoin spinoffs that are making big moves include the cryptocurrencies flokinomics, up 1,800% over the last 24 hours, baby shiba inu, up 400%, and a coin directly named after Musk's dog, flokifrunkpuppy, now up 50%.
The price of most other major cryptocurrencies have also soared over the last few days, with bitcoin climbing to highs not seen since May. The bitcoin and ethereum price have both added around 30% since this time last week.
Earlier this year, dogecoin climbed as high as fourth on the cryptocurrency rankings, behind only bitcoin, ethereum and the stablecoin tether. Dogecoin reached a peak of 70 cents per doge token in May ahead of Musk's much-hyped appearance on the comedy sketch show Saturday Night Live.
It's since dropped down the charts, falling as upgrades and tie-ups between the memecoin and ethereum have so far failed to materialize. Musk has proposed upgrading dogecoin to lower transaction fees and speed up the network via ethereum in order to "beat bitcoin hands down."
About Broctagon Fintech Group
Broctagon Fintech Group is a leading multi-asset liquidity and full suite FX technology provider headquartered in Singapore with over 15 years of established global presence in Hong Kong, Malaysia, India, Cyprus, Thailand, and China. We specialize in performance-driven and bespoke solutions, serving clients across more than 500 countries with our liquidity aggregator technology, brokerage, and exchange solutions suite, as well as enterprise blockchain development.