Art has long been one of the most dynamic and compelling markets, brimming with passionate artists and fans, and also as a lucrative field of investment. However, it can be a very challenging market to enter. With the best pieces often demanding astronomically high prices, access to quality opportunities can be difficult, while a new artist can find that it's nearly impossible to penetrate the already saturated market. While the art market is global and diverse, it is not always easy for the art community to gain an overview of what is on the market, or obtain specific details of a piece to verify its authenticity and provenance.
Non-Fungible Tokens (NFT), powered by blockchain technology, are rapidly rising to try and address these issues, with many artists jumping on it. NFT platforms are driving a change in how art is bought, sold, supported, enjoyed and created.
What are NFTs and What's Happening in NFT Art Right Now?
An NFT is a digitized token linked to a digital or physical asset, with its details recorded on blockchain technology. The benefit of this is it is immutable due to the minter of the NFT having signed off on it. This facilitates the provenance process of certifying and validating that that particular artwork is indeed an original creation. NFTs exist in all forms, of creative works including music albums, tweets, photographs, paintings, and collectibles like baseball or pokemon cards. The use cases are endless. The world of art, one of the biggest markets of NFT users, naturally began to find countless applications, using it to drive solutions to allow creators and collectors to interact directly with each other.
Read More: What is an NFT? Non-Fungible Tokens Explained
The NFT Boom in the Art Space
NFTs in the art world are taking off exponentially: collectors and speculators have spent more than $200 million on an array of NFT-based artwork, memes and GIFs in the past month of 2021 alone, according to market tracker NonFungible.com, as compared to $250 million in all of 2020.

Many artists are receiving unprecedented interest from NFT collectors. The NFT craze hit new highs in March 2021 when a digital collage by an artist named Beeple was auctioned for nearly $69.3million, immediately making him the third-most expensive living artist in history. The buyers were Vignesh Sundaresan, aka Metakovan, and Anand Venkateswaran, aka Twobadour. In January, the duo bought 20 Beeple artworks, placed them in a virtual museum that can be visited for free, and then as digitalization allows, fractionalized their new enterprise into tokens which are now co-owned by 5,400 people.
More recently, an NFT artwork named 'On the Wings of an Angel' by Sacha Jafri was made into an open edition NFT and auctioned at amfAR's annual Cannes Gala on Friday 16 July. It sold for nearly $1 million in just under a minute, setting a new record for the fastest-selling NFT.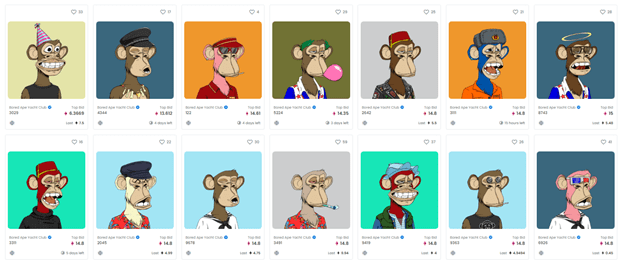 Avatars at website Bored Ape Yacht Club, which had officially launched on April 30th, offering ten thousand unique iterations of cartoon primates for sale as NFTs, were sold out within a day after their launch. Each avatar was priced at about two hundred dollars in Ethereum. Today, the collection has since seen almost a hundred million dollars in trading, with the cheapest apes often going for almost fourteen thousand dollars.
How NFTs Can Reshape the Art World
Monetization and Access for All Artists
NFT platforms provide an easy avenue for all types of artists, independent and rising artists, artists of colour, any gender, and those with limited access, to penetrate the market that has long been dominated by famous names and those with connections. NFTs let these artists take control of transactions of their own work to monetize them, and not needing to rely on a third-party curator or gallery for sales. NFT-based platforms allow the artists directly connect with the audiences, streamlining the creator's distribution process by removing barriers to entry for creators to digitize, distribute, and sell their creations.
Ownership Control of Digital Art
Many digital artists constantly face the problem of creating content that receive engagement when posted on social platforms like Facebook and Instagram, but while the likes and shares get them clout, it's hard to rise above the digital noise and get anything in return. NFTs can help transform the future of digital art, change how the world values art, and allow them to own and sell digital art for the first time.
Authenticity and Transparency
One of the art market's greatest challenges is to verify the authenticity and provenance of the artwork. In a 2014 report, The Fine Arts Expert Institute (FAEI) in Geneva stated that over 50% of the artworks it had examined were either forged or not attributed to the correct artist. NFTs bring two important elements: they introduce a dimension of authenticity with certified ownership. The NFT holder's rights and legal responsibilities are being embedded directly onto the token along with an immutable record of ownership. These characteristics add transparency to transactions allowing the artists as well as art collectors to know with whom they are dealing, what are their rights and who has previously owned the work.
Scarcity and Value
With ownership authentication, NFTs also create scarcity, especially for digital artwork, where online and illegal copies can be rampant. Each token will allow digital art to be verified and is thus unique and non-fungible. This combination of certification of ownership on the one hand and the creation of scarcity on the other hand allows digital art to be collected and traded like non-digital artwork.
Artwork Liquidity
Tokenizing art with NFTs can redefine art ownership by allowing artworks to be more liquid and transferrable, without the need to be geographically present. Traditionally, art used to be accessible at auction houses only for a select audience, but NFTs facilitate cross-border transactions and allow people from all over the globe to gain access to art no matter the physical location, status or connections. By digitalizing art, it opens the art industry to co-ownership and accessibility for transactions. For both traditional and digital art, NFTs create a direct line from artist to buyers in different countries, allowing purchase of sales of directly from the artist online.
Royalty Shares of Artwork
NFT technology allows artists and content creators to retain their full copyright, and generate revenue without sacrificing rights to their own work. When an artist creates an artwork and sells them for money, the value of that work could go up subsequently as it passes through more sales, but the original artist will not reap any monetary profits from that. Today, NFTs can be a real game-changer for artists. With NFTs, the artists can set a percentage of future sales of their work and collect them automatically. This is in contrast with the traditional art world, where most artists get no money from the resale of their work.
Unlocking How the World Sees Art
NFTs have ushered in a significant change to the art world by introducing new technology to take control of traditional creative work. Besides addressing the age-old issue of ownership, NFTs unlock new streams of opportunity: to gain traction and generate new revenue for artists. Apart from transforming the traditional art landscape, NFTs also redefine how digital content is owned. The growing use of blockchain will fuel the increasing adoption of NFTs for more sectors on top of art in the future. Experts predict that art remains the most raging sector, and will experience exponential growth in the coming years.
If you would like to find out more about how to turn your artwork into NFTs or launch an NFT art gallery, simply click here to schedule a free consultation with our blockchain advisors to find out more.