Hi friend,
2021 is the year of creation and innovation as the world bounces back from the 2020 pandemic year with Fintech investments totaling $91.5 billion, nearly doubling last year's record. Being at the industry forefront, we've witnessed many exciting new trends, particularly in the cryptocurrency space. Cryptocurrencies have gone mainstream in 2021 with unprecedented institutional participation, media reports and even celebrity endorsements. Relatively unheard of until this year, NFTs have become the talk of the town with billions worth in transactions and 2021 going down in history as the year of the NFT boom, for now at least.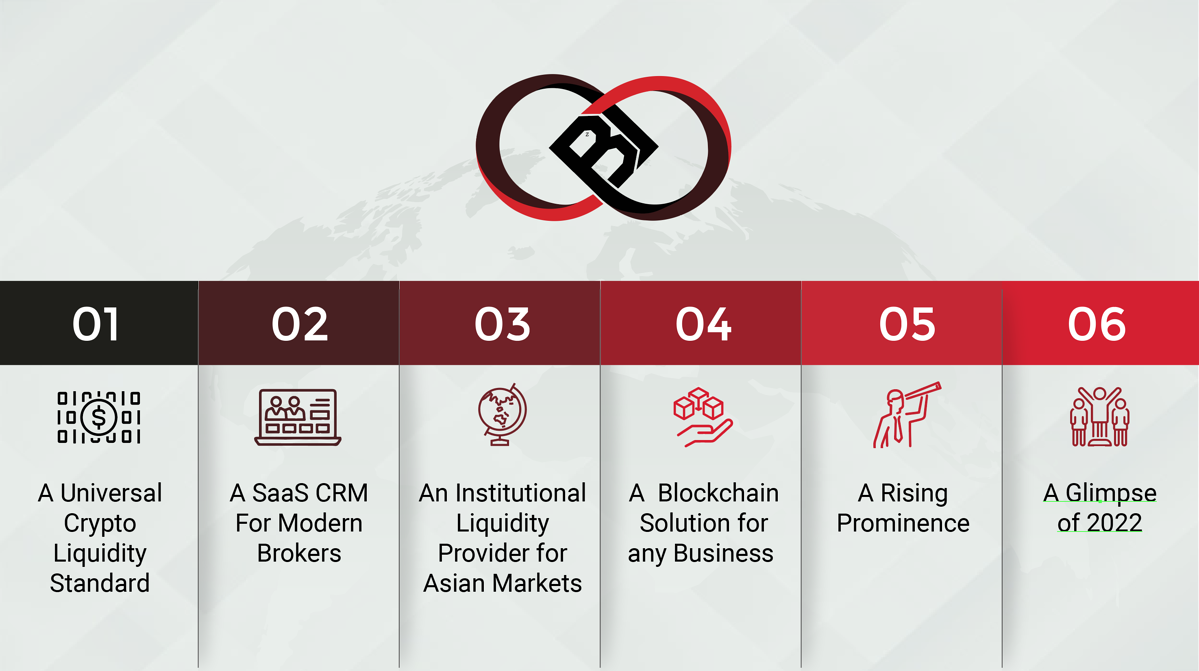 As a crypto and blockchain solution provider, it is critical that we evolve dynamically with the industry. Together with the industry's immense growth this year, we have introduced many new products in anticipation of new needs, and we are excited to see how 2022 brings further transformation and opportunities.
Here are some of our 2021 milestones:
A Universal Crypto Liquidity Standard
NEXUS WorldBook
While crypto trading has gained massive traction in 2021, crypto liquidity remains highly fragmented with significant price disparities across venues. The lack of an industry wide infrastructure, limiting interoperable technology and exchanges operating in silo within their respective orderbooks makes a difficult landscape for institutions to transverse.
A SaaS CRM For Modern Brokers
AXIS 3.0
Against the backdrop of rapidly-evolving financial markets where trading of digital assets derivatives are quickly becoming mainstream, there is a growing need for a powerful, modular brokerage CRM that meets the sophisticated needs of these new financial instruments.
An Institutional Liquidity Provider for Asian Markets
Broctagon Prime Markets
This year, we launched Broctagon Prime Markets (BPM) to offer regulated bank-grade FX liquidity to a growing Asian market. Licensed under the Labuan Financial Services Authority (Labuan FSA), we deliver tailored and holistic trading solutions with access to over 100+ financial instruments.
Beyond FX, commodities and securities, we pride ourselves in having one of the industry's most competitive and widest range of Crypto CFD offerings. Leveraging on our proprietary NEXUS technology, we provider razor-thin spreads, 24/7 seamless trading and zero commissions.
In light of burgeoning global demand for digital assets trading, our robust conditions and institutional-grade support empower brokers to ride the latest trading trends as the industry ushers in a new age of digital finance.
A Blockchain Solution for any Business
Broctagon's Internet of Value Suite
The Broctagon Internet of Value (IoV) is an enterprise blockchain solutions suite for businesses that is non-disruptive to their current infrastructure and operations. The bespoke solutions enables both end-to-end development as well as experimental implementation, allowing business to put a specific segment of their operations on chain.
Encompassing a diverse gamut of blockchain solutions from smart city infrastructure and smart contract deployment, to a Tokenization As A Service (TaaS) platform and NFT marketplace white label solutions, we provide counsel, expertise, and the technology to help businesses participate in a decentralized future with minimal inertia.
A Rising Prominence
Media Features
2021 marks two years since Broctagon's shift of headquarters to the sunny island of Singapore and we have been extremely lucky to experience the island nation's growth from a fintech hub at the crossroads of the world, to now, a reputed crypto hub with strong regulatory oversight.
For a chronological take on Broctagon's journey in 2021, please see the Broctagon Blog where we share all our media features, partnerships, thought articles, and highlights for the year.
A Glimpse of 2022
The Road Ahead
The pandemic may have hampered our plans for travel, but we have taken this time to hone our edge and to bring forth new things in store. One endeavor that stands out in particular is the Exchange-of-Exchange (EoE), which is a Prime-of-Prime offering made for crypto exchanges. 
We Are Hiring!
Our Continued Search for Talent
With many plans in motion and many more groundbreaking projects to come in 2022, there is undoubtedly a greater need for talents as we continue to expand across the globe.
Without a doubt, this is already beginning to look like a very busy year. These goals won't be easy to achieve, but I'm certain we will get there – as we have done for our objectives in the past.
If this journey has taught me anything about an overarching theme to our progress, it's that we value consistency, quality, and bottom-up dynamism. At the heart of all we do is the Broctagon creed. Tempered in our fervor for helping businesses succeed, it still rings true today: We've got your back, bro.