iFX Expo Asia 2022: Sharing Broctagon's Expertise at the East Meets West Liquidity Panel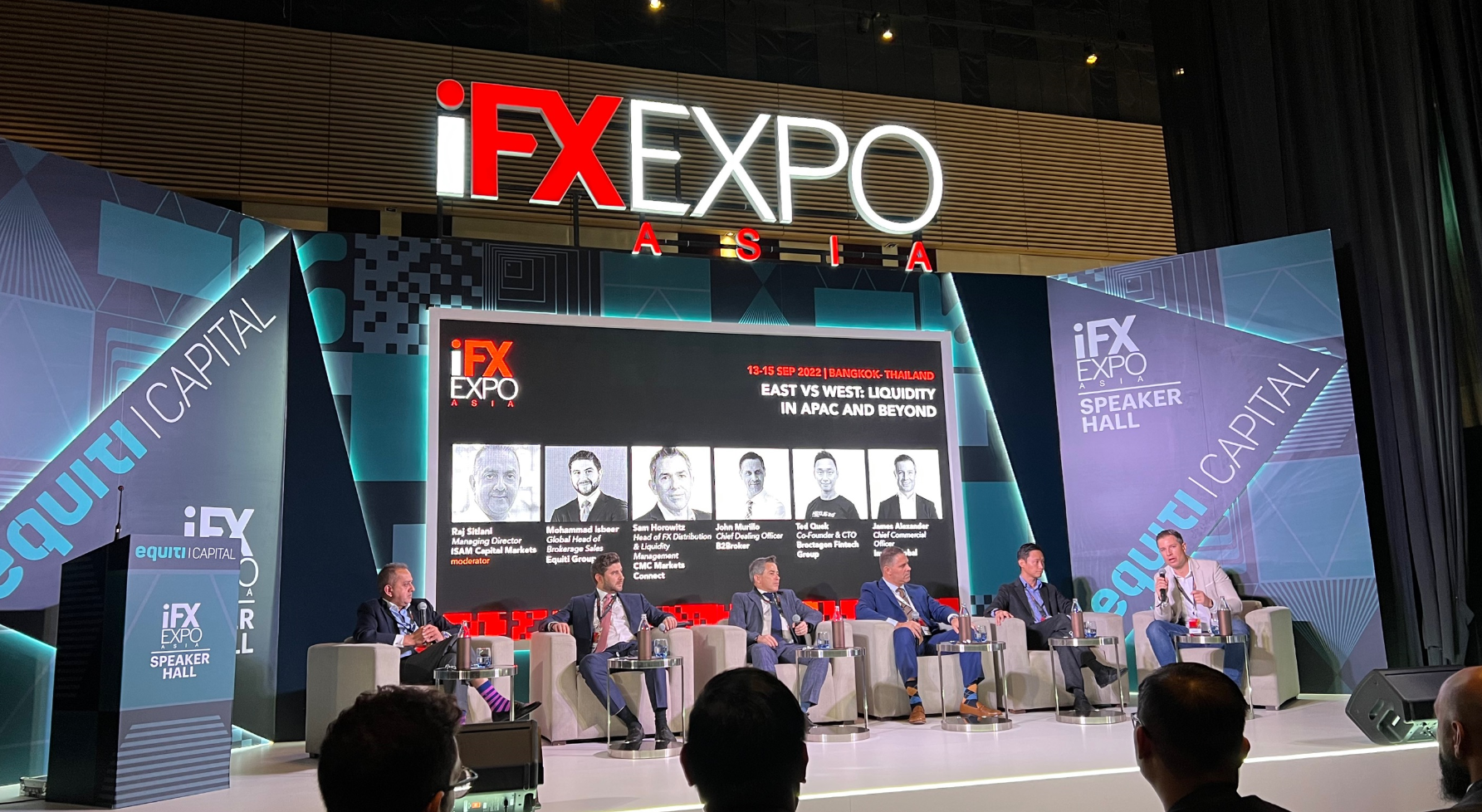 Broctagon Fintech Group was at iFX Expo Asia 2022, held for the very first time in Bangkok featuring some of the most prominent companies within the FX industry and engaging content from inspiring industry leaders. Our SaaS CRM and multi-asset liquidity met with an influx of interest, and this was nothing short of a spectacular event.
Meet team Broctagon.
Panel Session at iFX Expo Asia 2022
We were incredibly honored to have been invited as a panelist on the topic of "East vs West Liquidity in APAC and Beyond", where our Chief Technology Officer & Co-Founder Ted Quek shared insights into the trends and opportunities within the Asian market, drawing from his deep-rooted experience driving innovation at the helm of the group.
Impeccably apt for this panel, we have our European-licensed liquidity arm Broctagon Prime, regulated by CySEC, and Asian-licensed liquidity arm Broctagon Prime Markets regulated by Labuan FSA. Our dual-licensed liquidity solution puts us in a position with in-depth understanding of both East and West.
The Only East, Amongst the West
As the only panelist with the unique insight into Asia's financial landscape, Ted provided valuable analysis on Asia's market trends, sharing that cryptocurrency CFDs have been in high demand in Asia in the recent years, with a bubbling shift in the West as well. Brokerages are urged to keep up by seeking liquidity providers with the capabilities and infrastructure to meet that demand. As one of the major liquidity providers of crypto CFDs, we can attest first hand to that growing necessity, and we see brokerages and LPs need to cater to that demand to remain competitive and not fall behind. 
Strong Interest in our Full Suite of FX Solutions
Broctagon garnered lots of interest at the expo, particularly for our AXIS FX CRM as its sophisticated multi-tiered IB module fits the aggressive affiliate marketing landscape of Asia to a tee. The SaaS model was also highly welcomed due to the absence of a setup fee with an almost immediate turnaround time allowing brokers to go-to-market fast.
Also, being an end-to-end solutions provider from setup and licensing to technology and institutional prime liquidity under dual jurisdictions, we are happy to be of service to many potential clients.
It was an amazing chance at the expo, in a historic moment that it was held in Bangkok, to forge new connections with fintech industry professionals and strengthen bonds with our existing Thai clients and partners.
Missed us at the expo? Find out more about how we can tailor solutions for your brokerage by scheduling a consultation.
About Broctagon Fintech Group
Broctagon Fintech Group is a leading multi-asset liquidity and full suite FX technology provider headquartered in Singapore with over 10 years of established global presence in Hong Kong, Malaysia, India, Cyprus, Thailand, and China. We specialize in performance-driven and bespoke solutions, serving clients across more than 500 countries with our liquidity aggregator technology, brokerage, and exchange solutions suite, as well as enterprise blockchain development.