AXIS CRM V4.0.0 – Version Update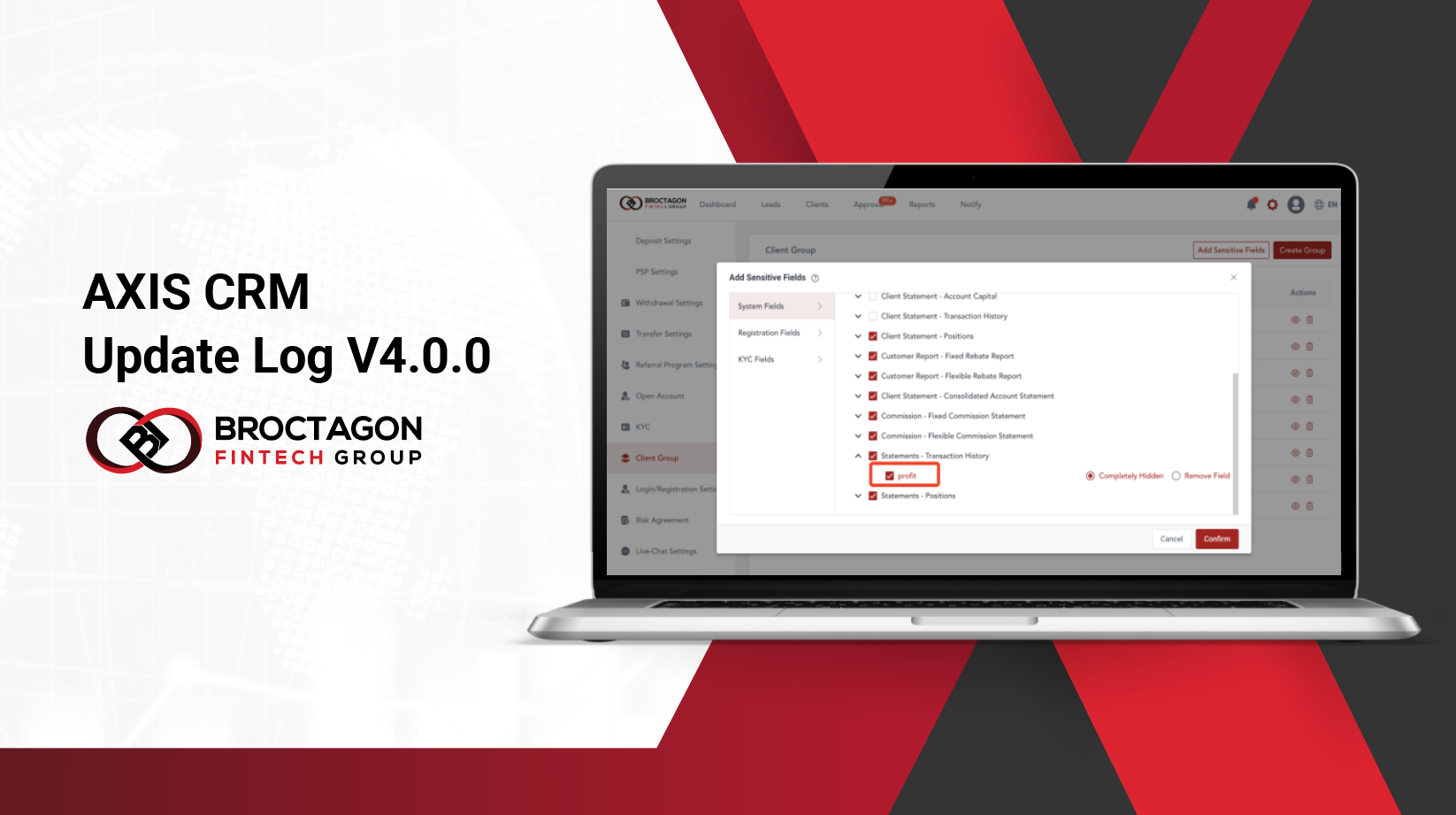 In this latest AXIS CRM update, we continue to implement updates to improve the user experience of administrators and IBs, to streamline client data and relations.
Commission Settings
We have included a new commission schedule under the fixed commission module that allows IBs to receive commission as a percentage of the spread at entry. The commission calculation is as follows:
Calculation Formula = Spread of entry (Ask-Bid) * commission parameter * lot
For example, if the client trades 1 lot USDJPY, with an entry ask price of 118.888 and bid price of 118.868, the spread would then be (118.888-118.868) = 20
If the commission parameter is 20%, the IB receives a commission of = 20*20%*1 = 4 USD
IB Portal
IBs can now download and summarize client data via the portal. They can do the following report customizations:

Download the reports of their clients' account capital and fixed/flexible commission.

Add total trading volume to Reports via Trading History -> Open Positions -> Pending Orders.

Wallet and account transfers have been made more intuitive:

To reduce user errors, we have implemented a rule that the source account cannot be the same as target account when transferring.

Transfers to other users' wallets can now be done via the list and wallet ID functions.

IBs can view their clients' transaction via the layers of referral tree in "Referral Details" page
"Add Profit" field has been labelled as a sensitive field to introduce more privacy for clients. IBs will not be able to view their clients' profit.
When using the WeChat browser to access the client portal, a prompt will appear to open other compatible browsers.
Data Management
To provide enhanced data views, "Login Status" and "Trading Status" have been added to the advanced filter in the following areas:

Back Office -> Trading Account
Client Portal -> Referral -> My Clients -> Trading Account

A "Comment" field has been added to the pending approval list, to allow users to input internal notes
In "Comprehensive Account Report", users can now easily update and calculate the latest data by clicking the "Refresh" button
Blacklisting functions during the registration have been optimized to better identify blacklisted users:

Admin verification is required if the ID/passport number in the KYC process matches the blacklist when approving trader registration requests
Admin verification is required if the phone/email matches the blacklist when creating or editing an IB or trader account
System Log
Admin login logs and Operation logs have been added to the System log for enhanced security, by keeping admins better informed of system data changes.
Funds
The approval and review of fund withdrawal requests has been optimized to be more efficient, with only one step required to complete the review.
Promotional Link
A new type of demo promotional link has been created.  Users can test promotional links without the need to register for a CRM account. Only a demo account is required to execute a demo transaction with the promotion.
General
The Recipient's email address can now simply be edited when resending an email with delivery failure.
Pop-up notification display has been optimized. Images now display in previews, where users can click "Learn More" to view the full image.
All search boxes for the lists in "Back Office" is no longer case sensitive to facilitate the ease of search
Admins can now identify the reason for commission transaction failures with a new feature that identifies which account currency type is missing.
Any IB-client relationship deleted has been optimized to reflect in the back end immediately, so that new client connections can be created by admins without delay.
About Broctagon Fintech Group
Broctagon Fintech Group is a leading multi-asset liquidity and full suite FX technology provider headquartered in Singapore with over 10 years of established global presence in Hong Kong, Malaysia, India, Cyprus, Thailand, and China. We specialize in performance-driven and bespoke solutions, serving clients across more than 500 countries with our liquidity aggregator technology, brokerage, and exchange solutions suite, as well as enterprise blockchain development.