CEX.IO, a Regulated Multi-Functional Digital Assets Ecosystem, Joins the WorldBook™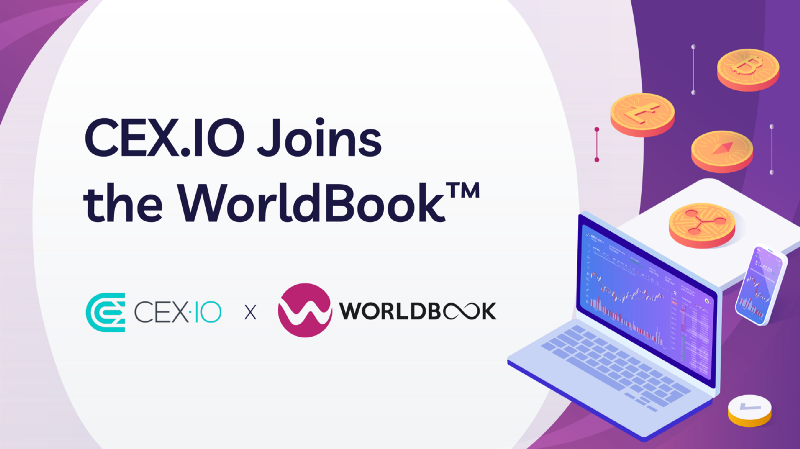 CEX.IO, a global ecosystem of products and services that connects people and businesses to the cryptocurrency economy and decentralized finance, is the latest participant to join the inter-exchange liquidity network known as the WorldBook™.
The NEXUS WorldBook is an initiative by Broctagon Fintech Group, under the licensed entity Broctagon Prime Markets Limited to create a universal liquidity standard for digital assets.
Oleksandr Lutskevych, Founder and CEO of CEX.IO, said:
"At CEX.IO, we work to connect people and businesses to opportunities in cryptocurrencies and decentralized finance. In this, we serve as a guide alongside the journey. No matter where they start, we respect and honor every user's trust in us. Thus we're thrilled to join WorldBook, with its mission to empower exchanges and bring digital assets to the mainstream.
"CEX.IO opens doors to new opportunities by establishing bridges between traditional and decentralized finance, and we're proud of the regulated path we've always chosen. While regulatory frameworks for cryptocurrencies have formalized, we've adopted a self-regulatory approach by implementing best practices from leading financial organizations. We continually adapt our processes to meet evolving global requirements, and boast a well-rounded set of licenses and registrations.
"We thank WorldBook for recognizing our commitment to empowering crypto users of all experience levels."
Don Guo, CEO of Broctagon Fintech Group, commented on CEX.IO's participation on the WorldBook network, saying:
"CEX.IO's ecosystem of products and services are designed to complement its capabilities as a digital assets platform. We are excited to welcome them to the WorldBook, and look forward to their contribution to a universal liquidity protocol, given their experience in being regulated in accordance with international standards."
About CEX.IO
Founded in 2013, CEX.IO connects people and businesses with opportunities in cryptocurrencies and decentralized finance. Our global ecosystem includes a market-leading exchange and offers 360-degree services to crypto market participants, including retail and enterprise crypto holders, as well as professional traders and financial institutions.
About NEXUS WorldBook
The NEXUS WorldBook™ is the world's first crypto liquidity ecosystem, committed to building a cohesive network for both makers and takers. The WorldBook leverages on the NEXUS 2.0 aggregator technology to offer its members global price discovery and direct STP capabilities on a universal liquidity standard.
To find out more about CEX.IO, visit:
Website: https://cex.io/
Facebook: https://www.facebook.com/CEX.IO/
LinkedIn: https://www.linkedin.com/company/cex-io
Twitter: https://twitter.com/cex_io
To find out more about or to join the NEXUS WorldBook, visit:
Website: https://nexusworldbook.com
Facebook: https://www.facebook.com/NEXUSWorldBook
LinkedIn: https://www.linkedin.com/showcase/74741847/
Twitter: https://twitter.com/NEXUSWorldBook
Instagram: https://www.instagram.com/nexusworldbook/
YouTube: https://www.youtube.com/channel/UCT5_f3W2SEBDsWrJc8YGAE
About Broctagon Fintech Group
Broctagon Fintech Group is a leading multi-asset liquidity and full suite FX technology provider headquartered in Singapore with over 10 years of established global presence in Hong Kong, Malaysia, India, Cyprus, Thailand, and China. We specialize in performance-driven and bespoke solutions, serving clients across more than 500 countries with our liquidity aggregator technology, brokerage, and exchange solutions suite, as well as enterprise blockchain development.