Experience Spectacular.
The Ultimate FX Broker CRM
FX Broker CRM
In the competitive FX sphere, your brokerage wants to be distinctive yet nimble to dynamic changes. That's exactly how AXIS was designed.
A powerful, modular CRM that is cost efficient, scalable, extremely customizable and complete with an IB-centric module that hosts some of the most advanced affiliate marketing tools for rapid market expansion.
Stay ahead of competition, way ahead.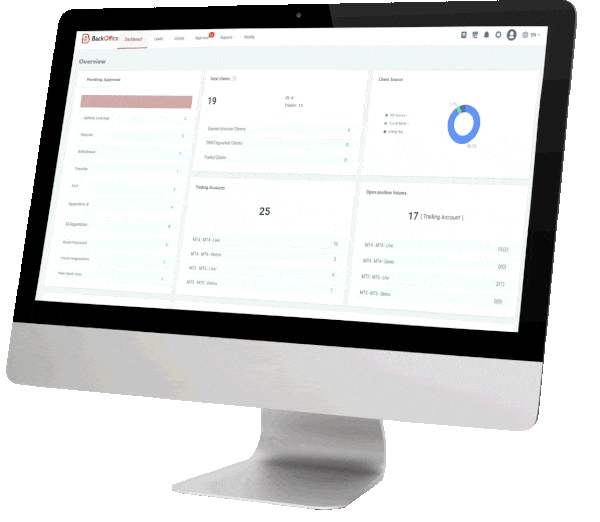 Engineered for the Modern Brokerage
SaaS Model, Zero Setup Fee
Full Trading Platform Integrations
13 Languages
Add any new language in 1 day
Client Portal
KYC Wizard
Payments Hub
E-Wallet
Multi-Account Management
Live Chat/Ticketing System
Reporting
Admin Portal
Brand Customization
Client Manangement
Approval Management
Servers & Domains Management
Analytics Module
Notifications Module
IB Core Module
Multi-tier Commission System
Highly Customizable Rewards Logic
Expandable Referral Heirarchy
Flexible Distribution Frequency
Real-time Commission Calculation
7 Commission Types
Your Fully Branded Brokerage CRM
Deployed within 24 hours.
Say hello to a CRM that is uniquely yours.
Create a fully branded CRM that exudes in-house vibes, with the flexibility to modify anytime you wish via your admin portal.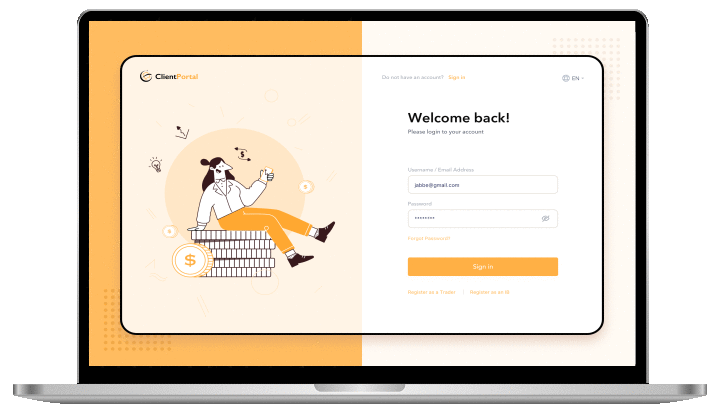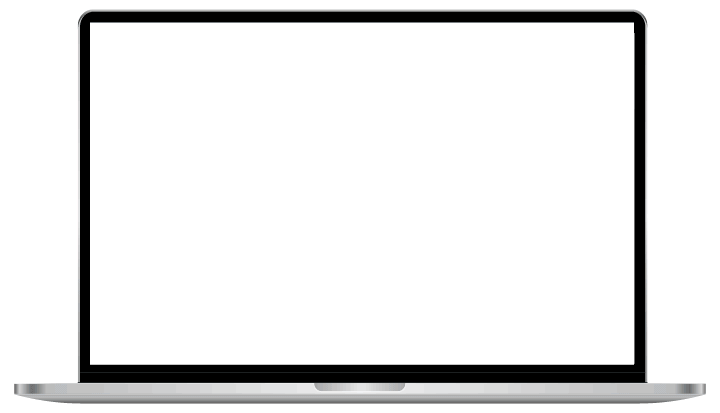 163 Brokers world-wide are powered by AXIS.
Login Page
Multiple pre-set styles available with the option to upload your own distinct designs
System UI
Customize the entire system appearance and colour scheme based on your media kit and upload your own logo
Modes
Choose between horizontal and vertical navigation menu as well as dark/light themes
Where utility is everything.
AXIS is power packed with a multitude of features so that your end-users' trading experience is nothing short of excellence.
More than a decade of battle tested experience went into the crafting of a CRM that is intuitive, functional yet impeccably modular.
User-friendly
A trader centric design that is easy to use with quick navigation to important actions.
2FA Authentication
Protect your traders' accounts with additional security through authenticators.
Open API
Integrate easily with external systems for PSPs, marketing, reporting, SMS-services etc.
Responsive
Maintain a professional and aesthetical look on any screen size.
ReCaptcha
Protection from spam and abuse by bot attacks.
Scalable
Cloud database infrastructure that scales as you grow for both cost efficiency and optimization.
Bulk Actions
Many functions such as deposit, approvals, banning, edits were built with batch execution.
Encryption
Two-step verification QR code and Scrypt algorithm on passwords are enabled.
Anti-Fraud
Whitelisting functions and alerts to identify vulnerabilities.
Smart Currency Conversion
Supports multi-currency balances and configurable exchange rates within the CRM wallet.
Audit Log
Examine, diagnose or troubleshoot easily with audit trails for all system actions.
Anti-DDoS
Mandatory SSL encryption and elastic microservices for DDos mitigation.

AUD

BRL

CAD

CNY

CHF

CZK

DKK

EUR

GBP

HKD

HUF
ILS

IND

JPY

KRW

MXN

MYR

NOK
NZD

PHP

PLN

SEK

SGD

THB

TWD

USD

VND

BTC

ETH
USDT(ERC20) (BEP20) (TRC20)

USDC(ERC20) (BEP20) (TRC20)

BNB

TRX
Open API Marketplace
Access our ever expanding ecosystem of Plug-and-Play applications such as KYC, VoIP, Live Chat and many value-added vendor integrations to boost your brokerage.
Install with one-click and use immediately.
Any specific integrations needed? Our CRM is designed for efficient integrations. Speak to your dedicated client success manager to proceed.
Client Portal
Cater to every touchpoint of your client's trading journey and deliver world-class service with a CRM that allows easy navigation to all crucial services and comes seamlessly synced with MT4, MT5, cTrader, ZeroX amongst other trading platforms.
Dashboard
Comprehensive overview of all the information that matters to your clients. Highly intuitive for easy navigation to the exact services they need.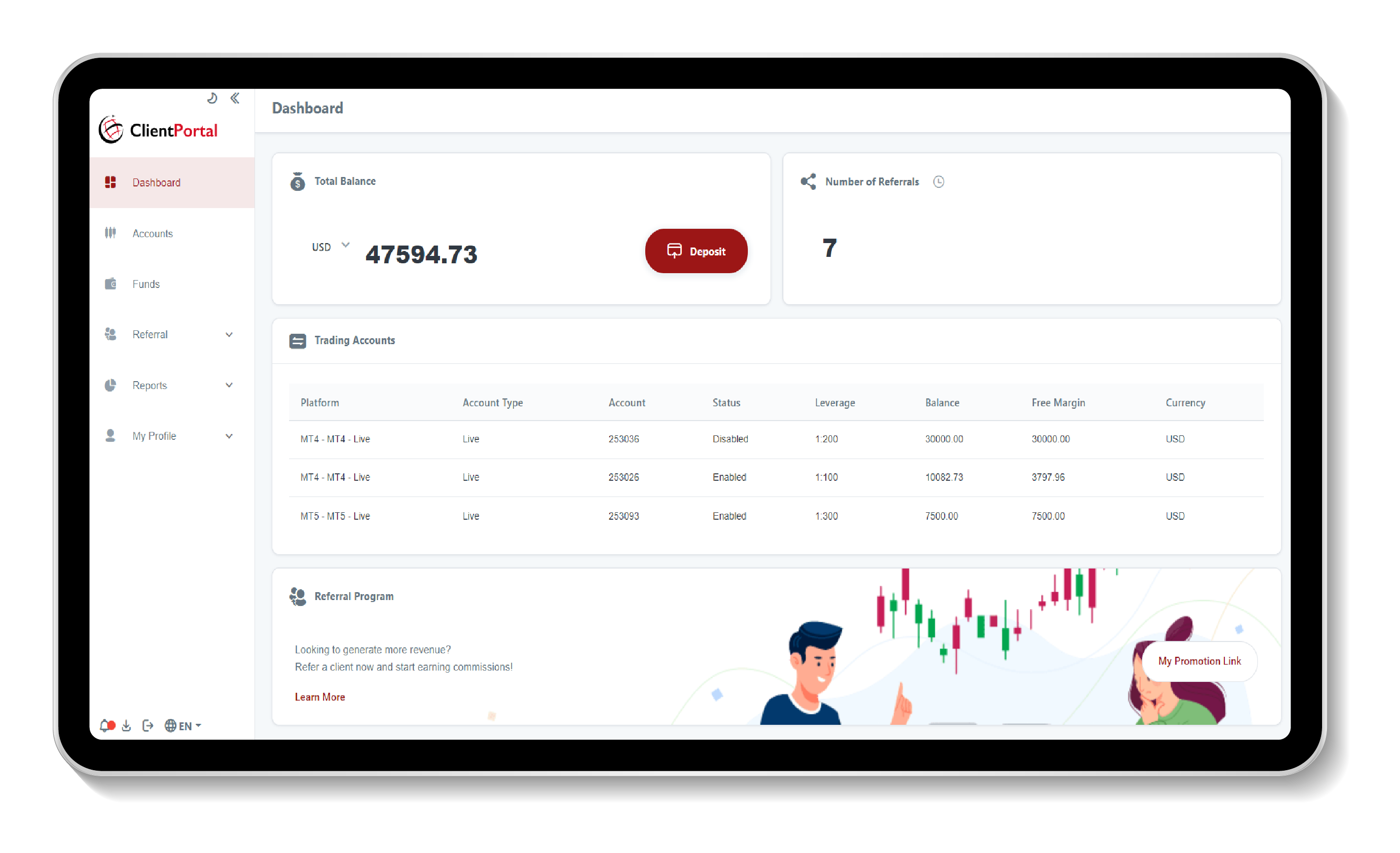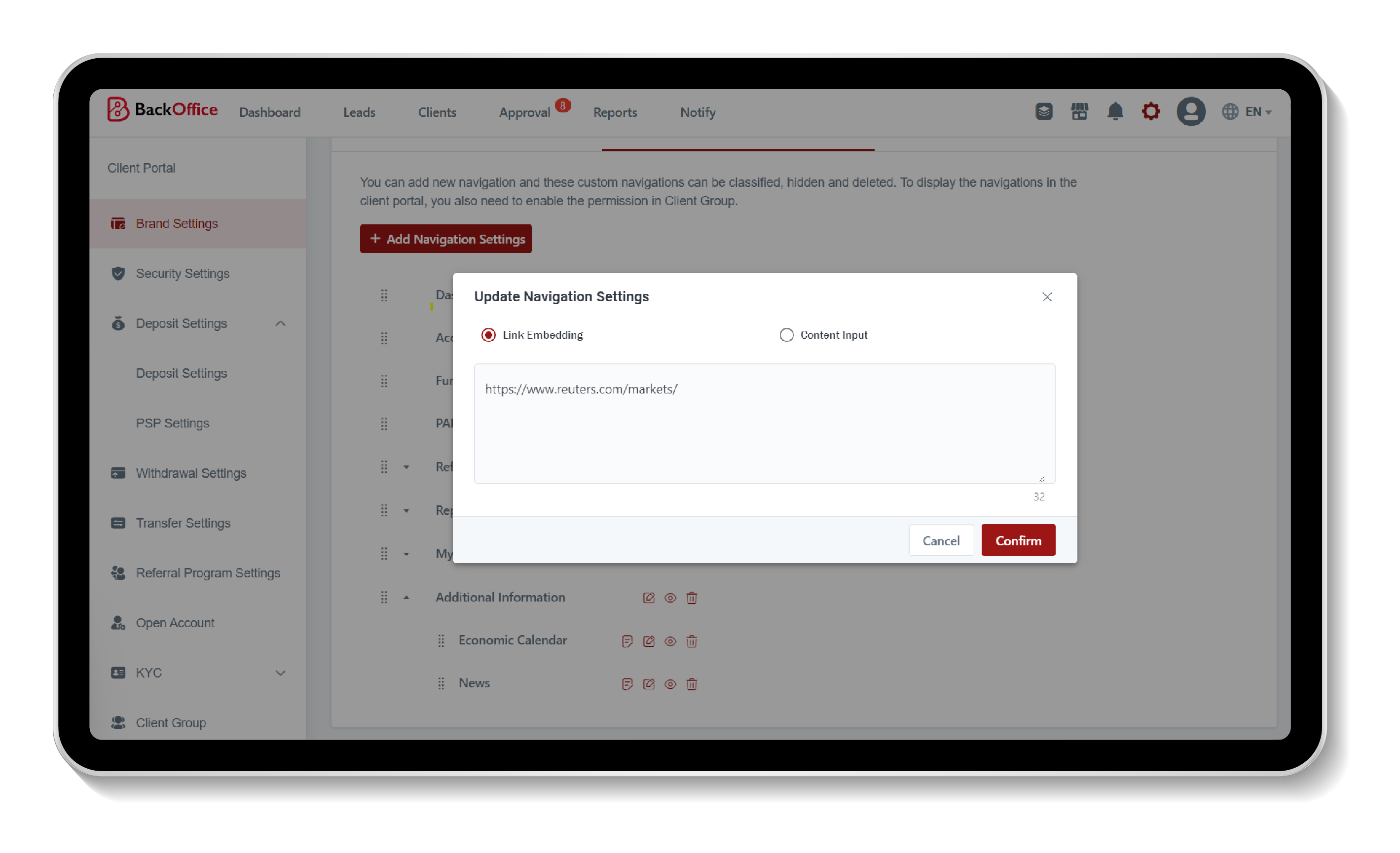 Trading Account Info
Display of important information such as balance, commissions, client / referral network growth and more.
Customizable Menu
Brokers can easily edit or add any tab to the navigation menu:
MT4/5 Terminal Download links
Embed Web Pages (Promotions etc)
Document download links
Widgets, Economic Calendar, Newsfeed, Trade Analysis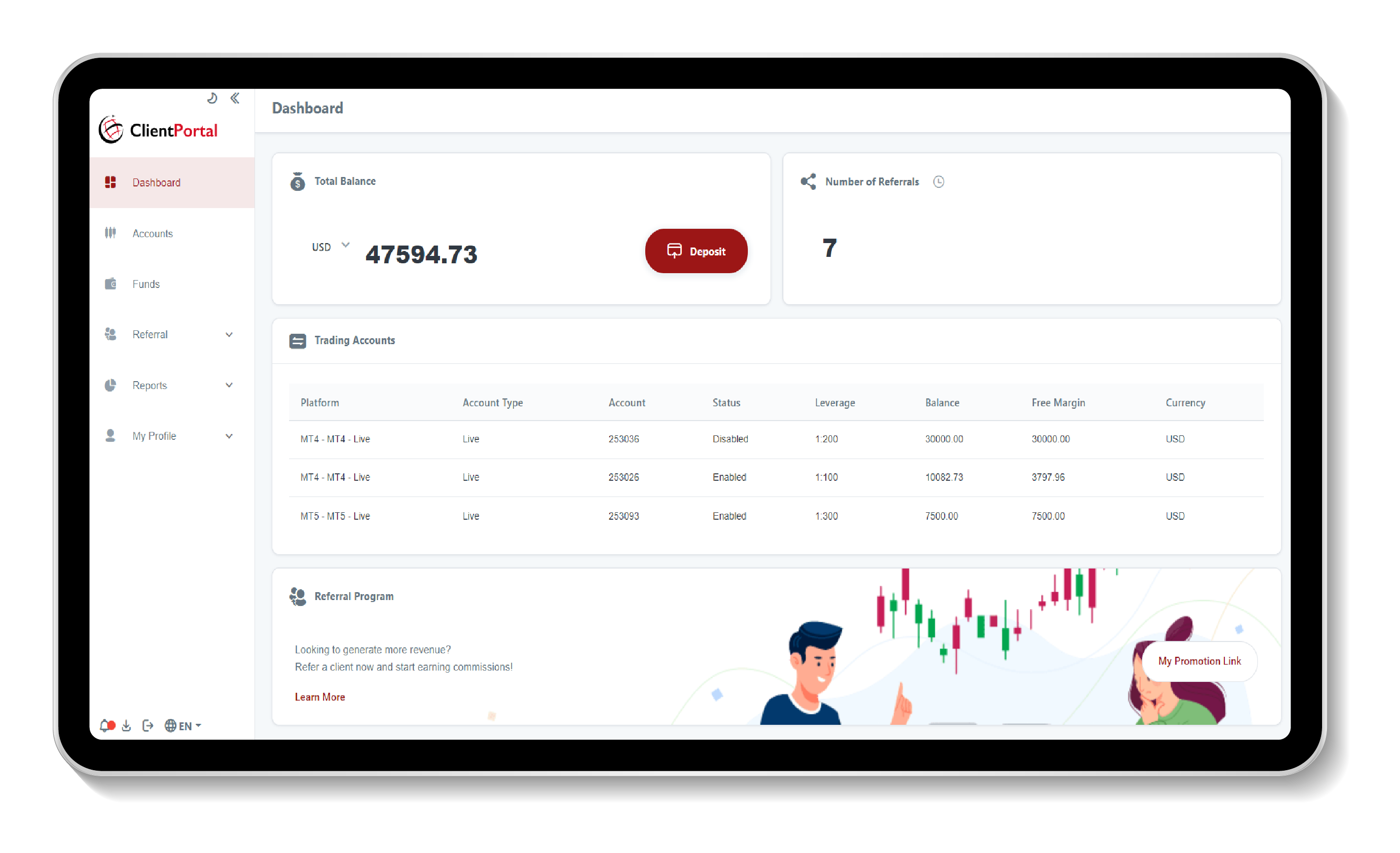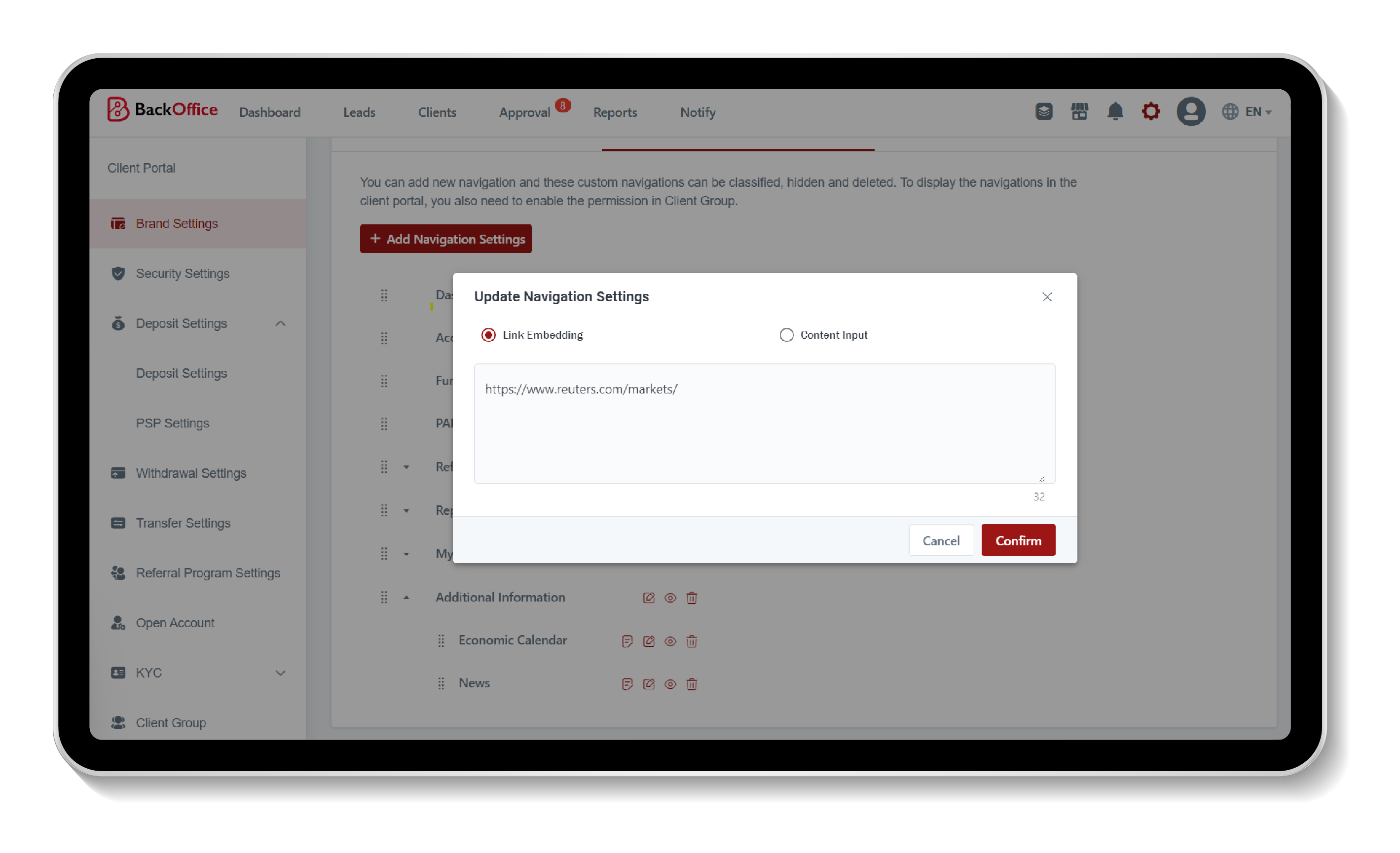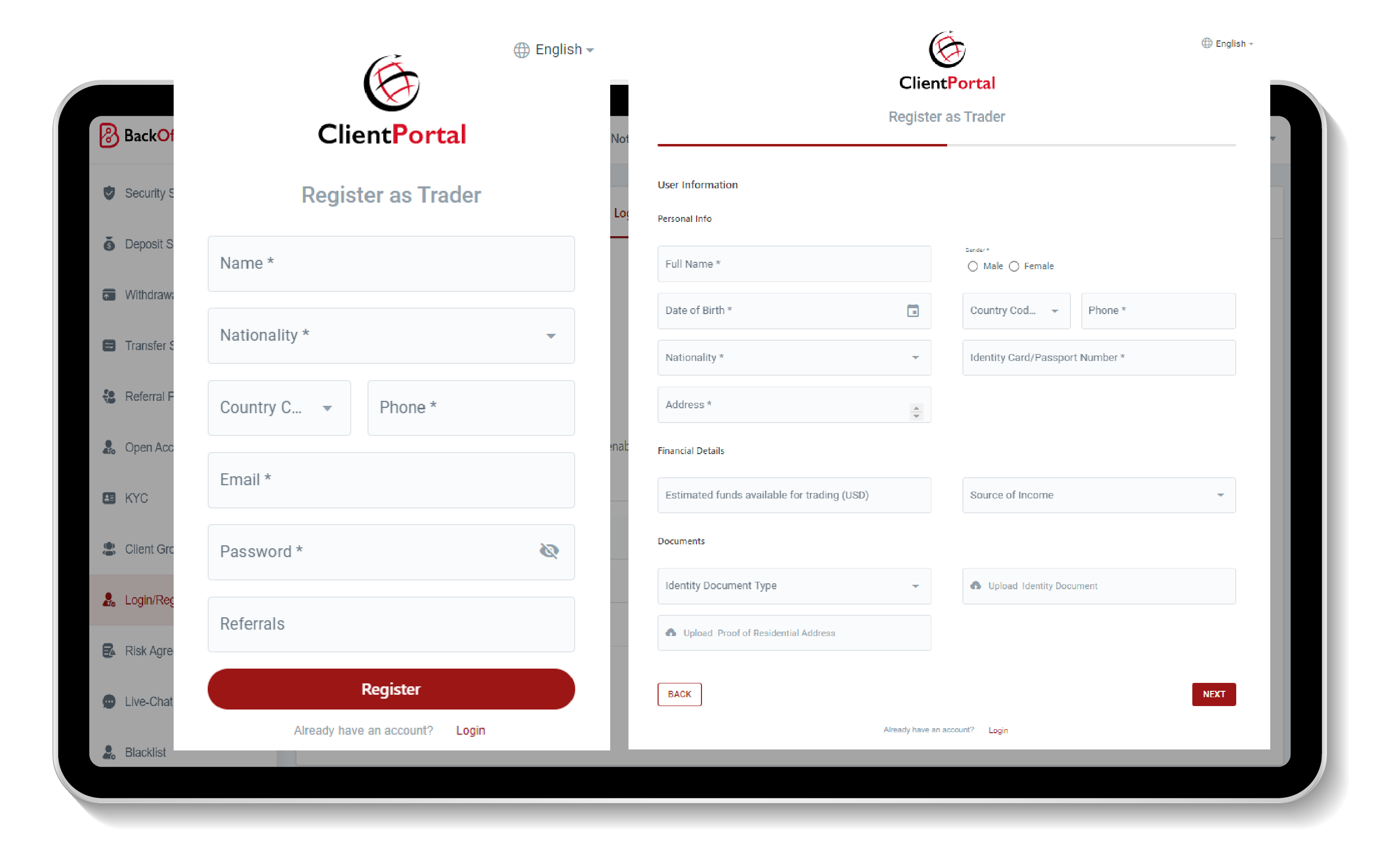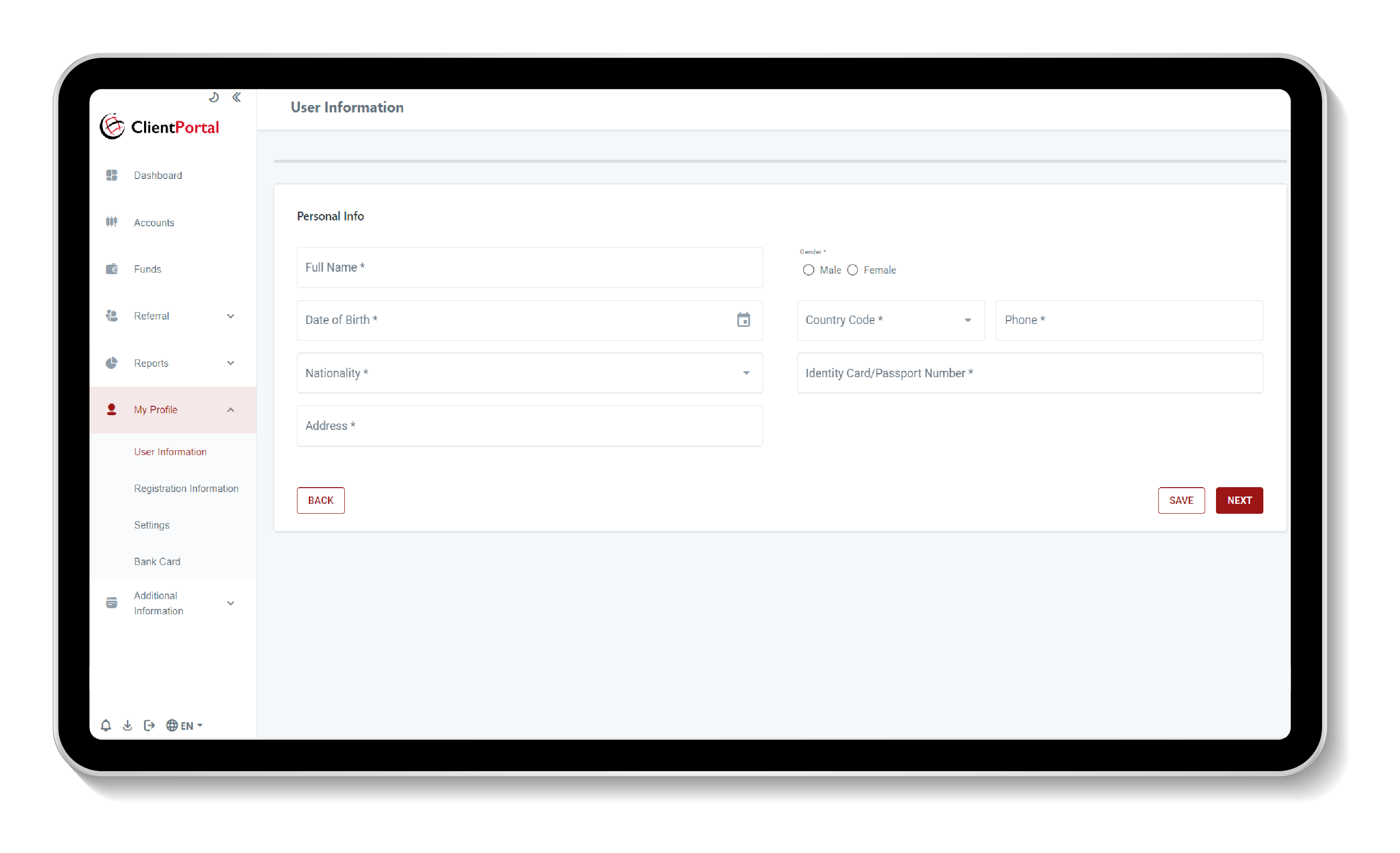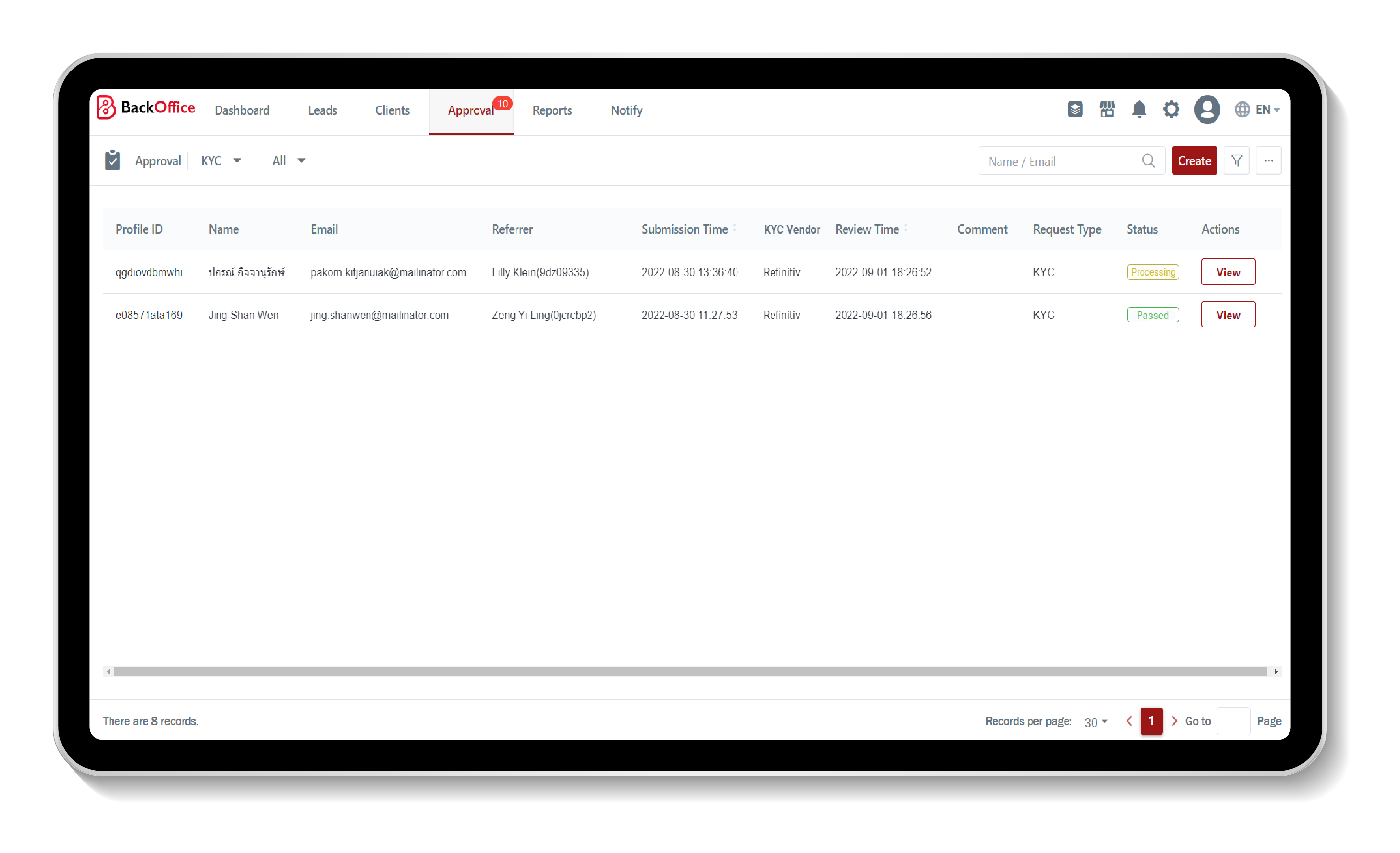 Registration & KYC
Tailor a registration procedure that fits your business and regulatory needs. AXIS currently serves FCA, CySEC, FSA compliant brokers amongst many others.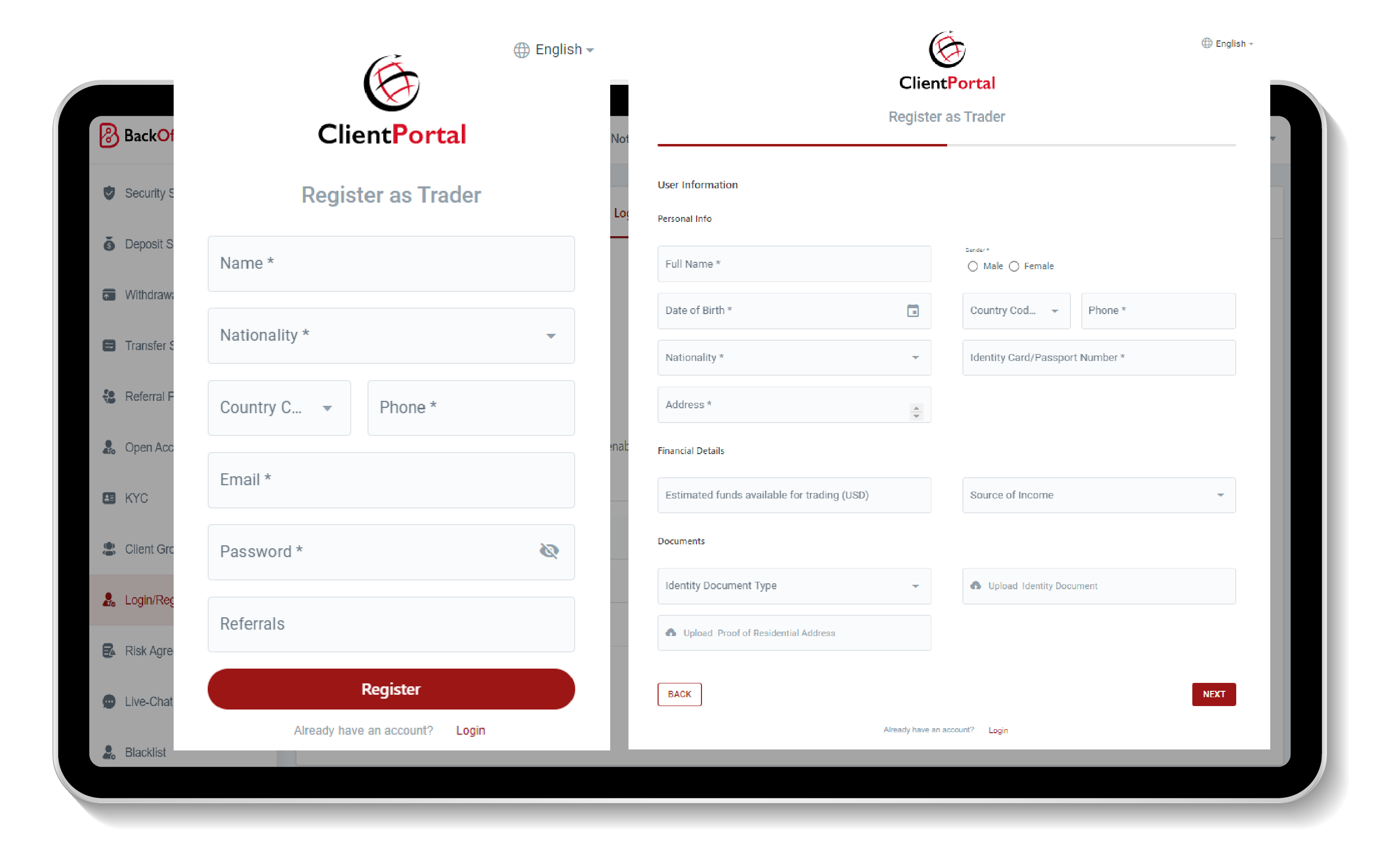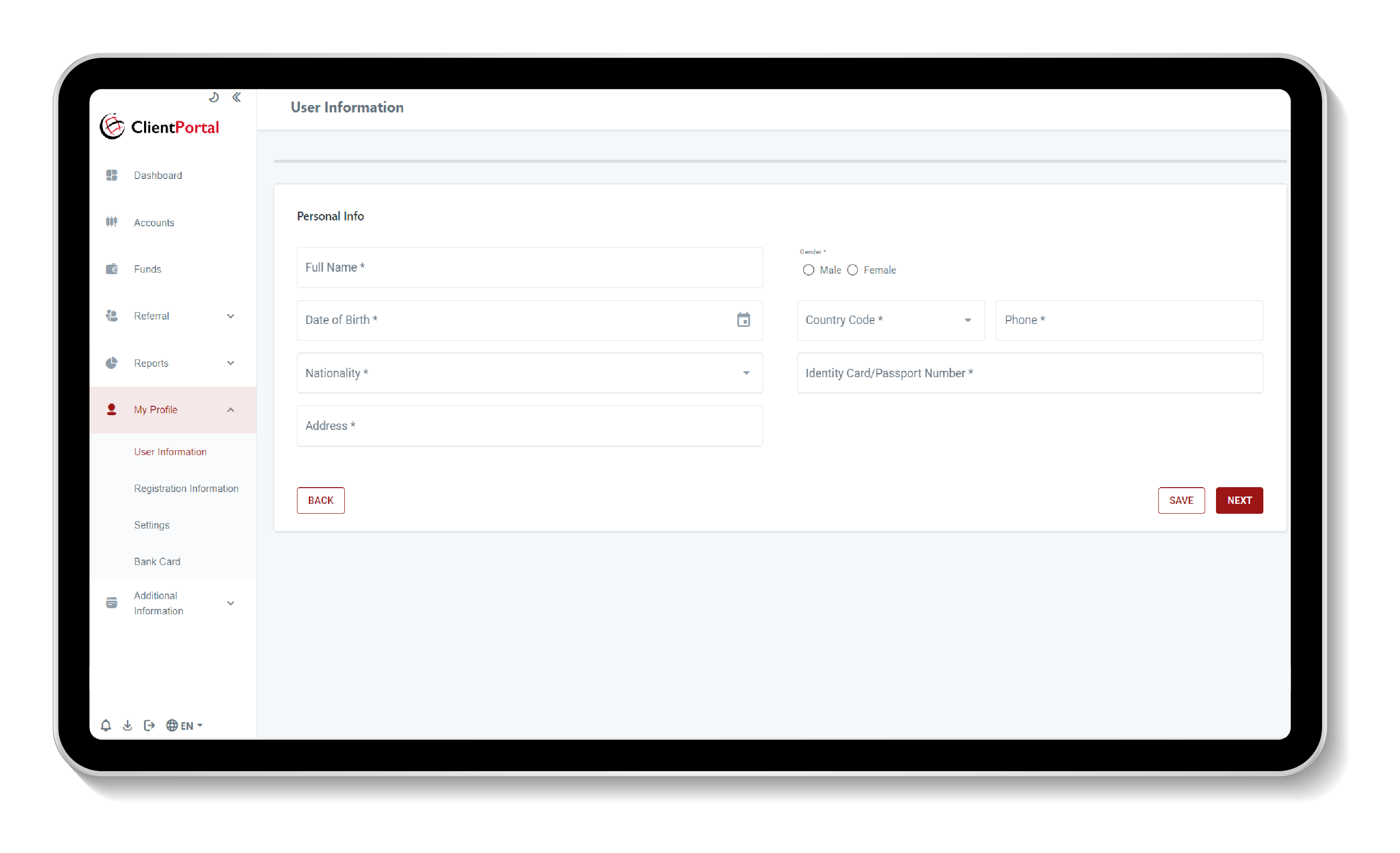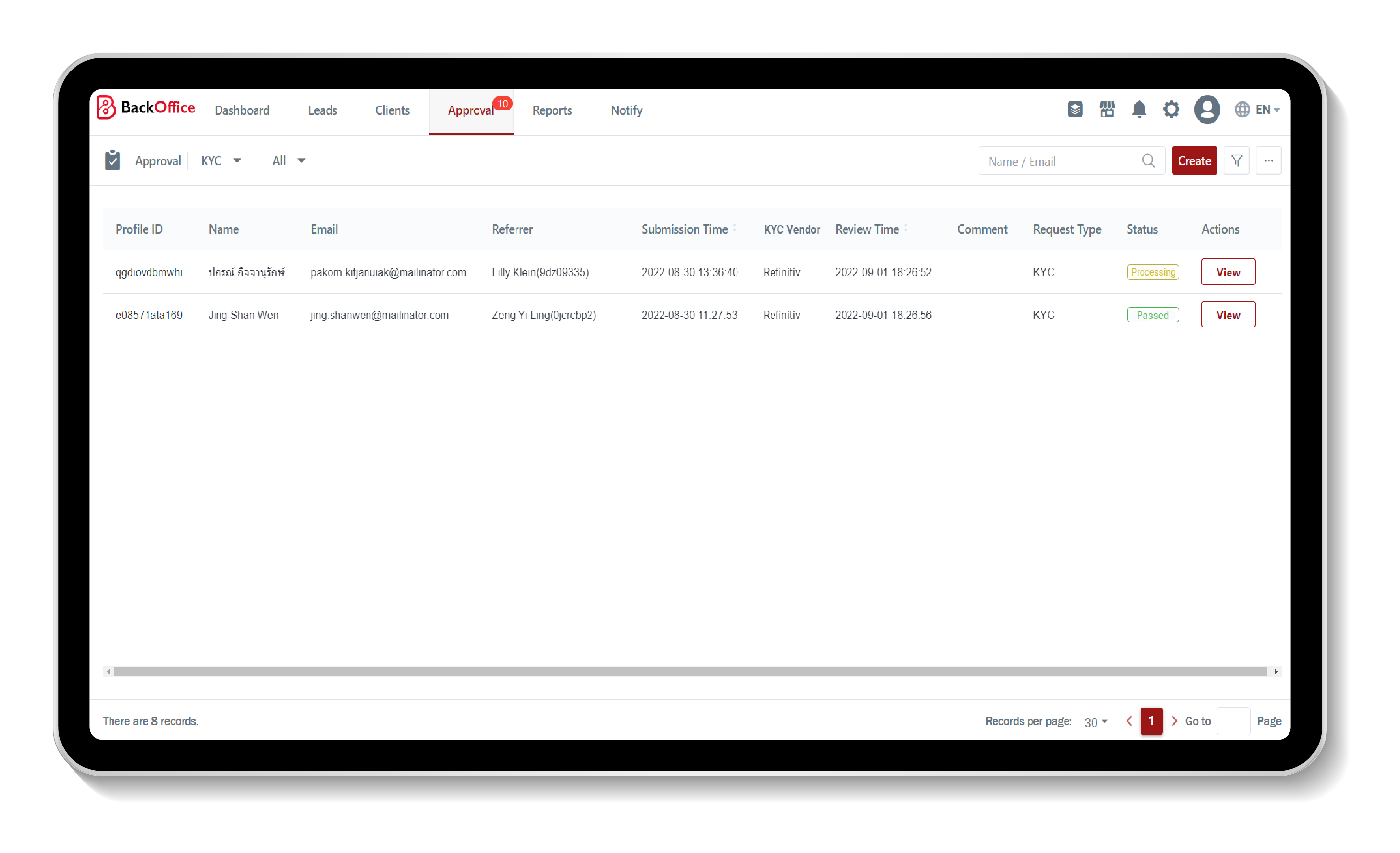 Registration Form
Configure the fields based on your preference, from a hassle free email-only signup to a full length registration. Single step CRM-cum-trading account opening is also an option.
KYC Wizard
Customize multiple levels of KYC, each with corresponding account activities permitted.
3rd Party Integration
Connect to KYC vendors and synchronise data seamlessly for both automated approvals or assisted manual approvals
Multi-Account Management
Fully integrated and synchronised with MT4 & MT5 so your clients can manage all accounts without logging in to the trading terminal.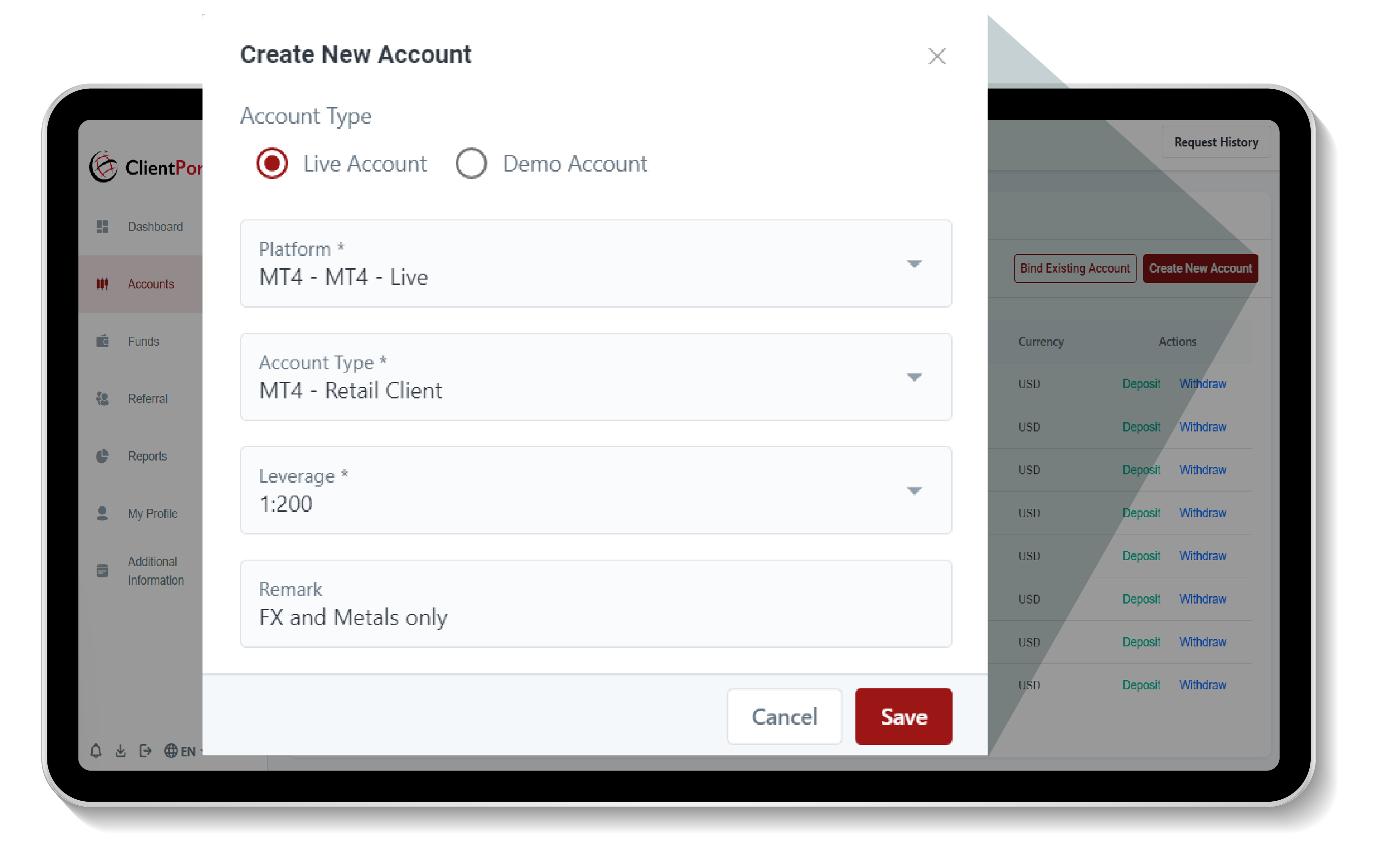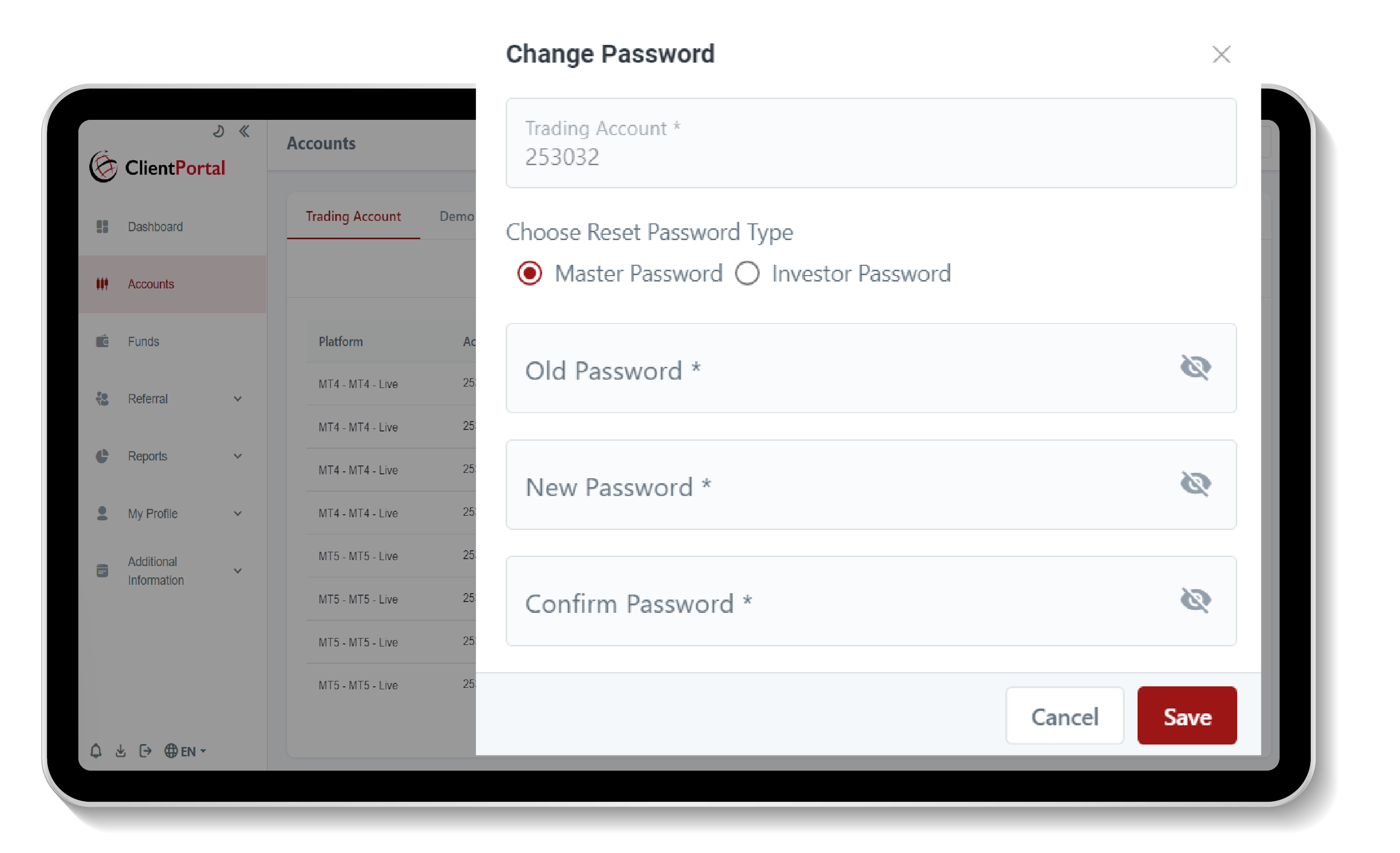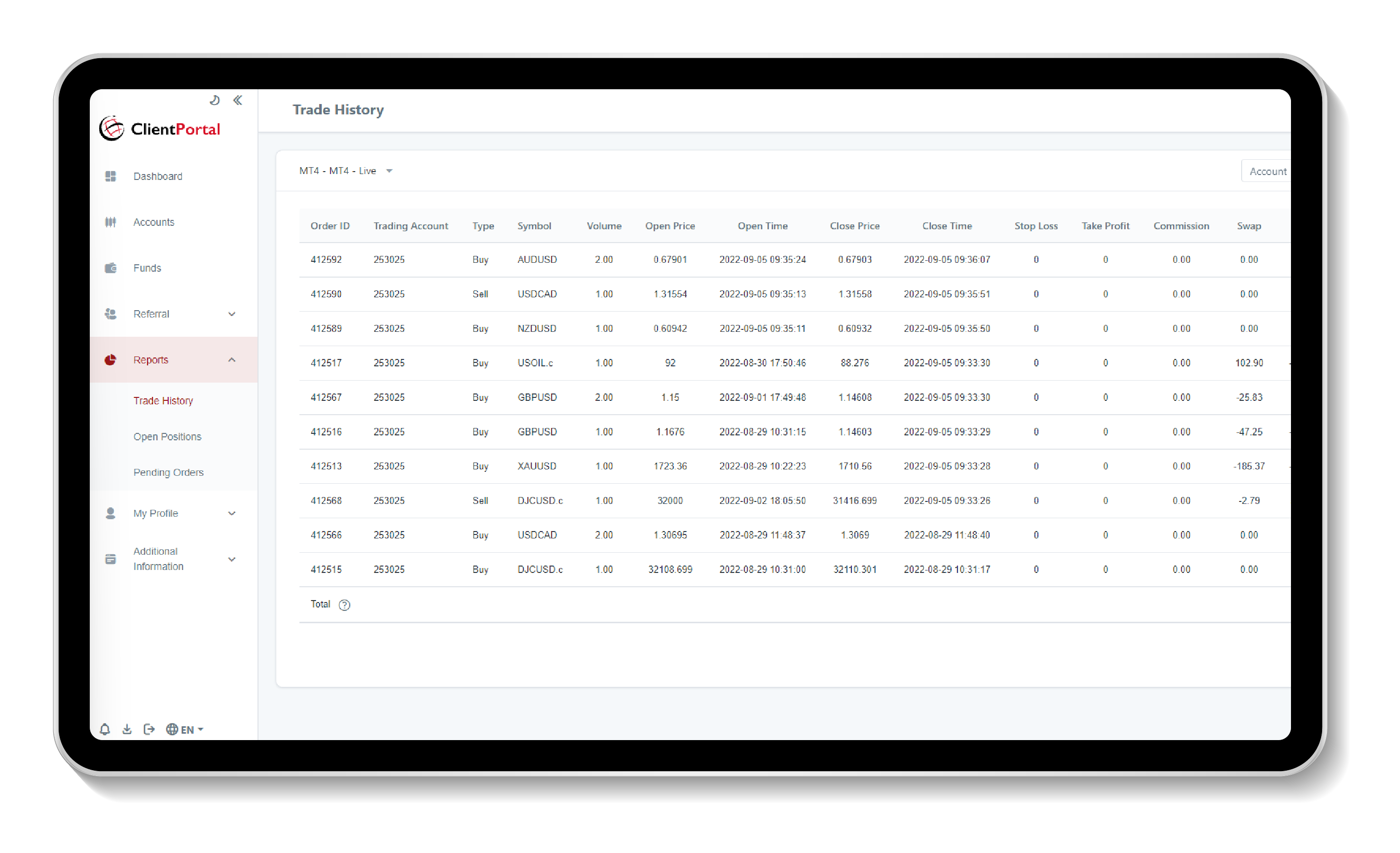 Account Opening
Traders can create live/demo accounts based on broker's pre-set list of account types.
Account Settings
Traders can view the respective balances and free margin of all their accounts at once, as well as modify leverage and passwords.
Account Reports
Traders can access compressive reports such as trading history, open & pending orders with real-time data pulled from the MT4/5 platform.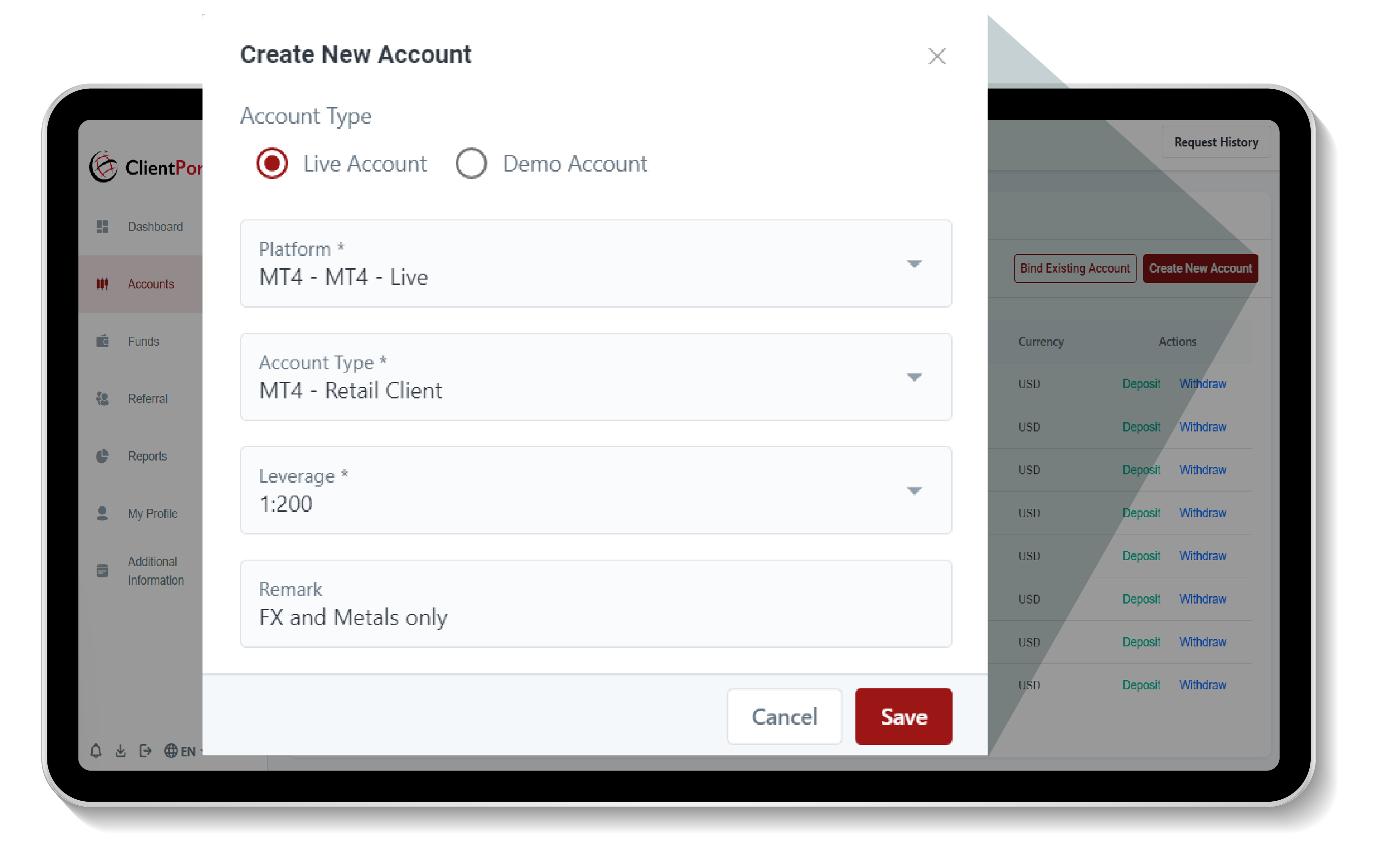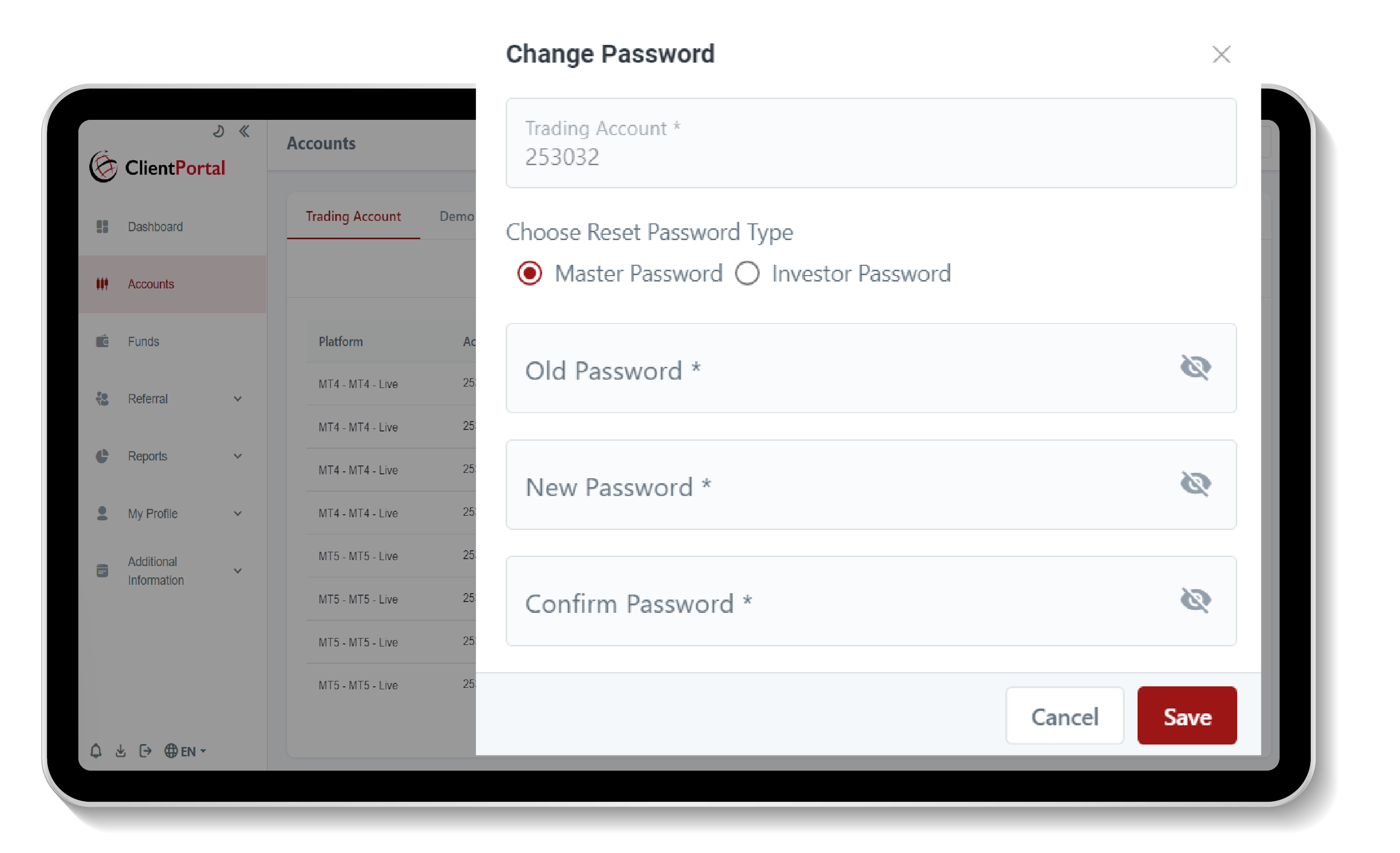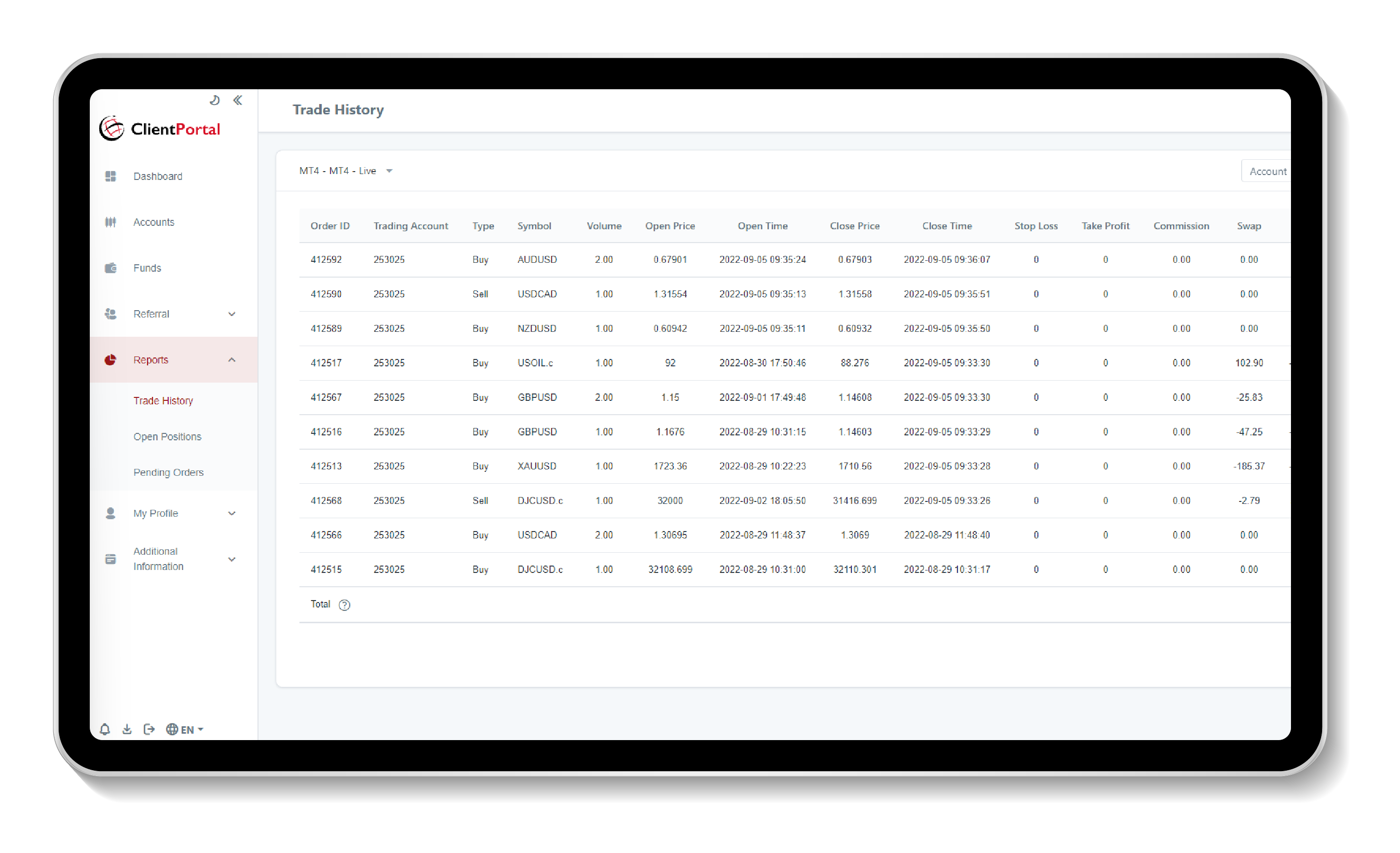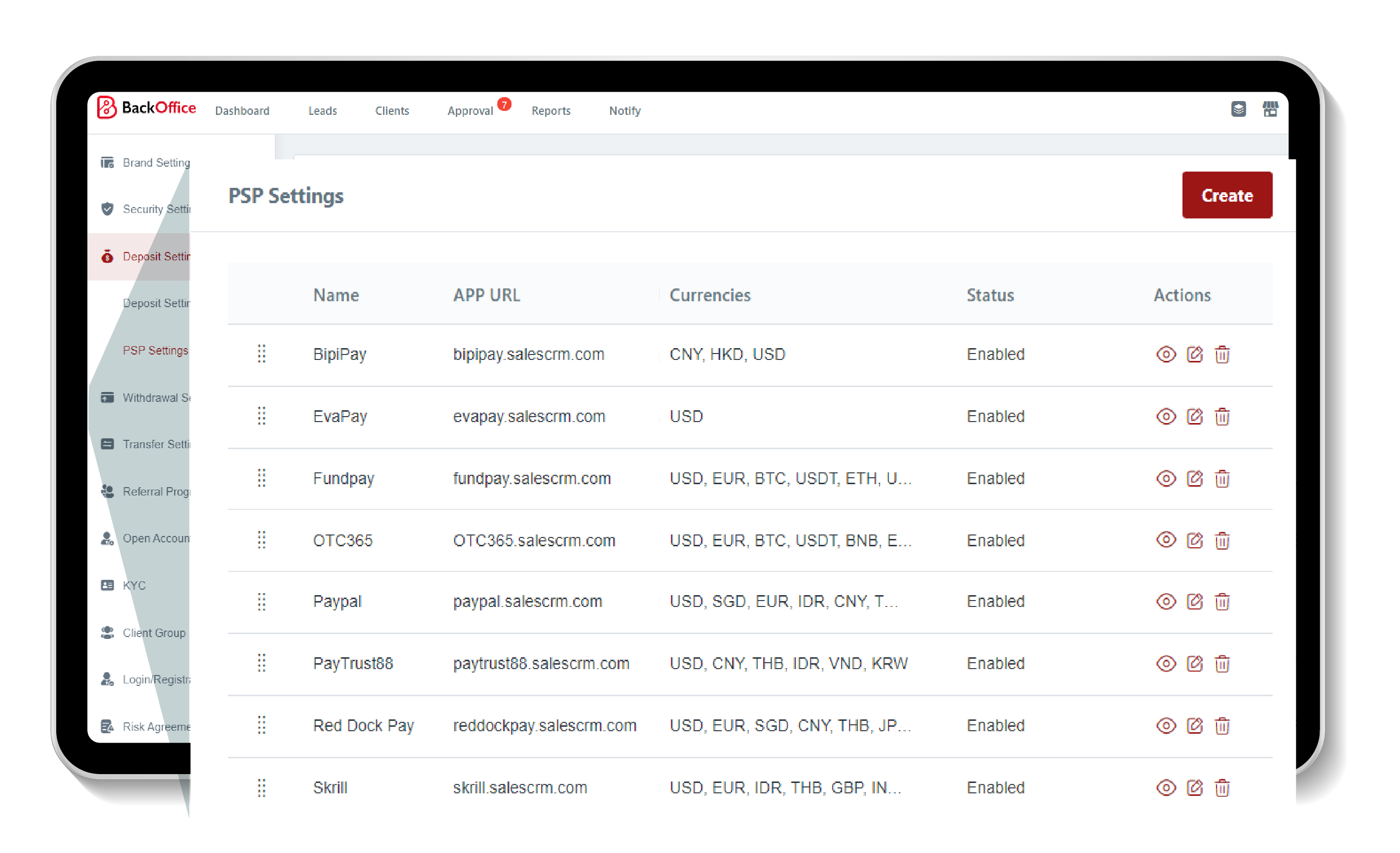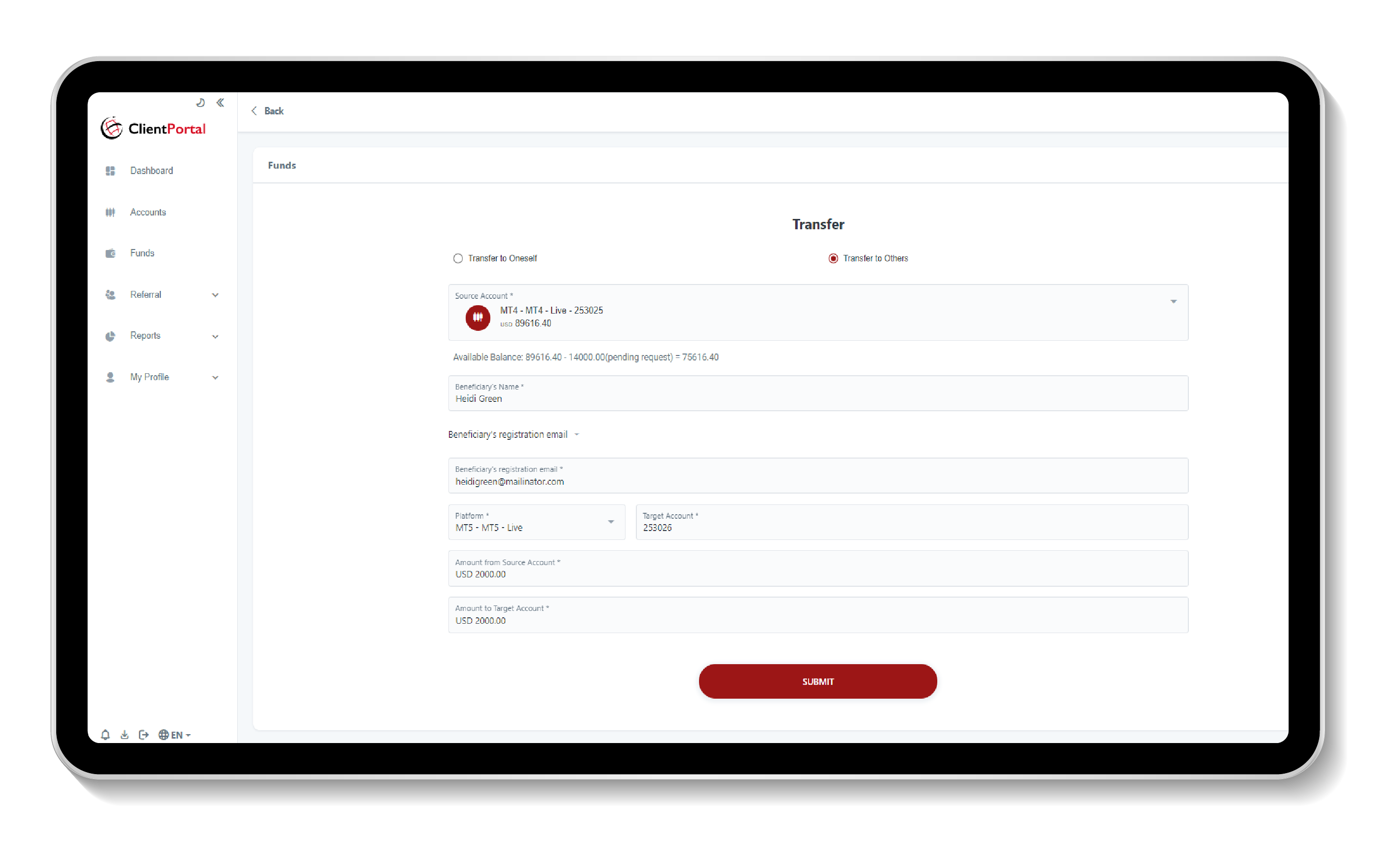 Funds Management
Your clients can easily deposit and send funds instantly to their trading account with our integrated payments hub and e-wallet system.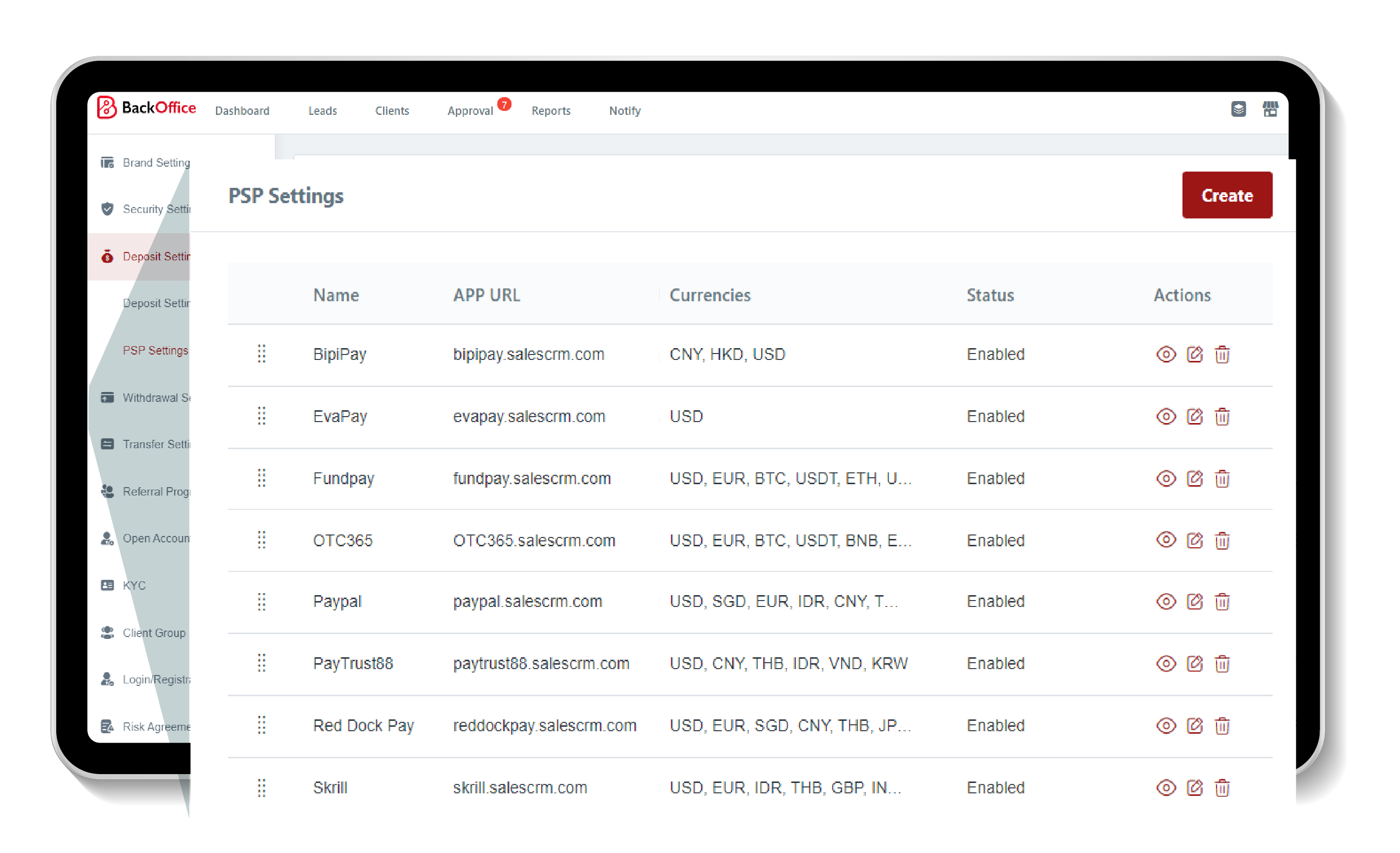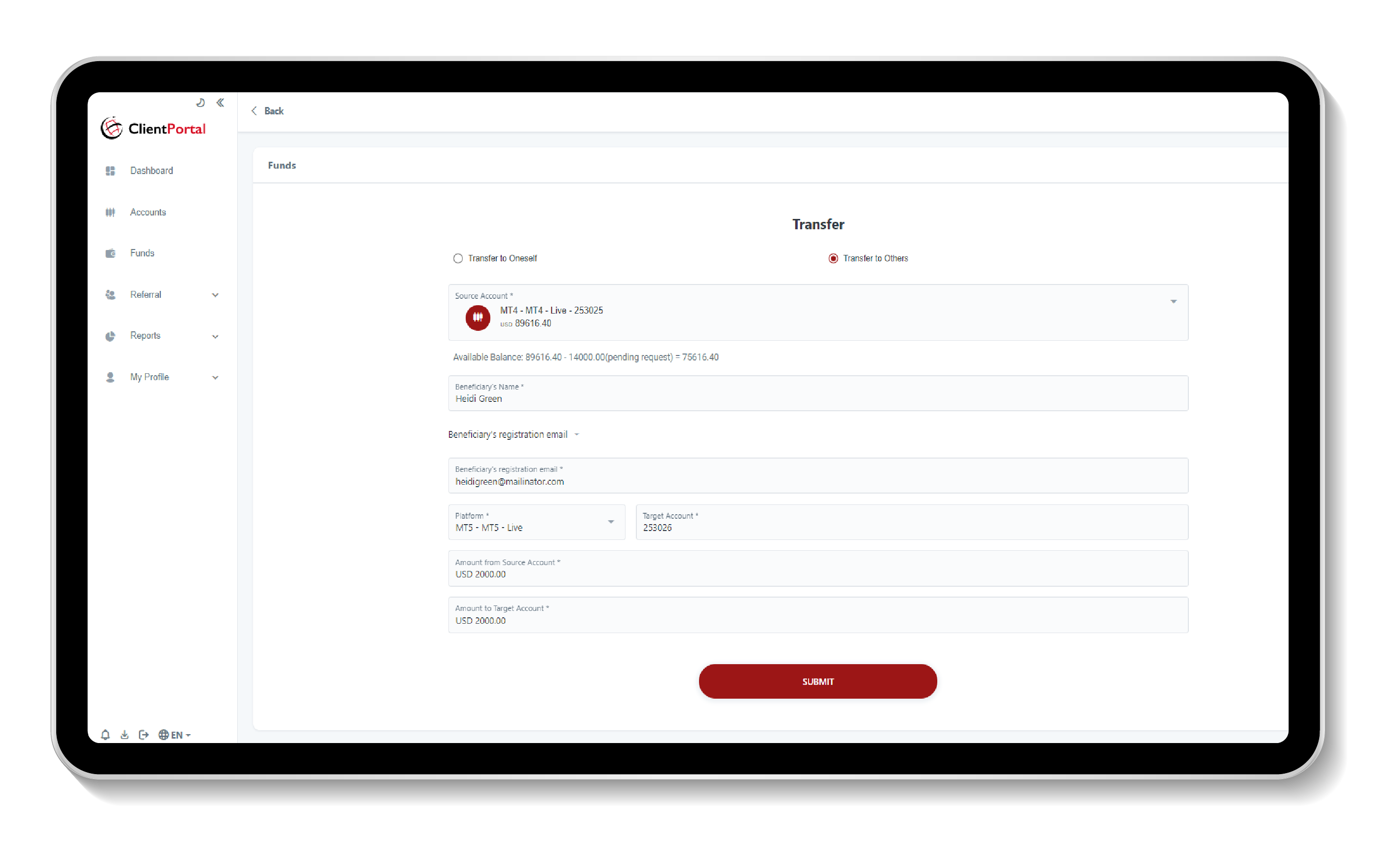 Deposit (Payments Hub)
Select from any of our preconnected payment services provider or digital currency channels. Alternatively, connect to any electronic money issuer effortlessly with our open API. Wire transfer is also supported. Brokers can customize deposit options based on regions/client groups, as well as set related fees.
Transfer (E-Wallet)
The e-wallet system acts a secure vault wallet within the CRM. It allows traders to manage their finances across multiple trading accounts from one place, easily sending funds between their wallet and accounts to avoid margin calls and stop outs. 3rd party inter wallet transfer functions can also be enabled by brokers.
Withdrawal
Traders can store and manage a list of bank accounts for withdrawals and even whitelist these accounts for enhanced security. Brokers can customize withdrawal form fields and methods based on regions/client groups, as well as set related fees.
Client Support
Extend world-class service and support to your clients with multiple communication touchpoints.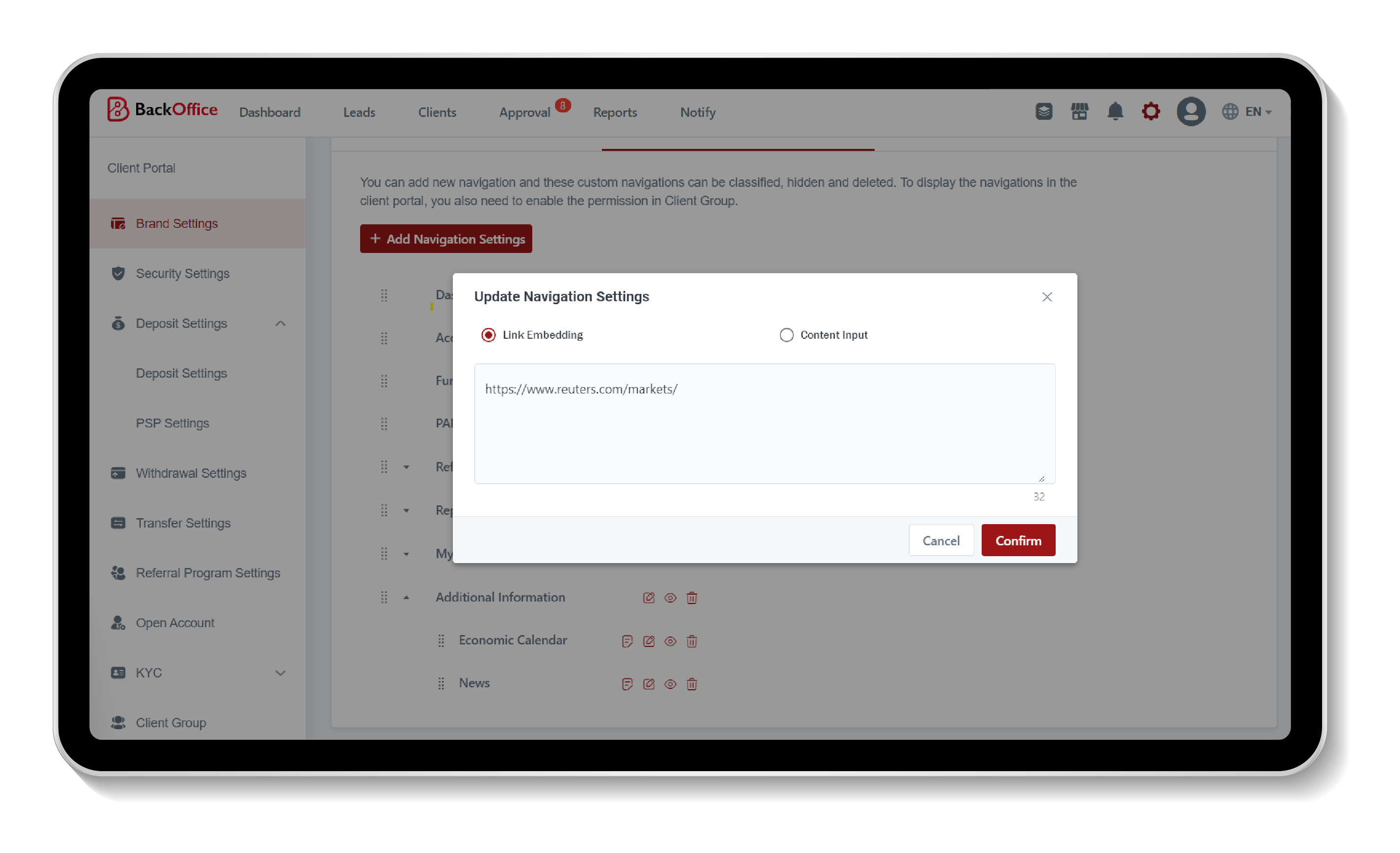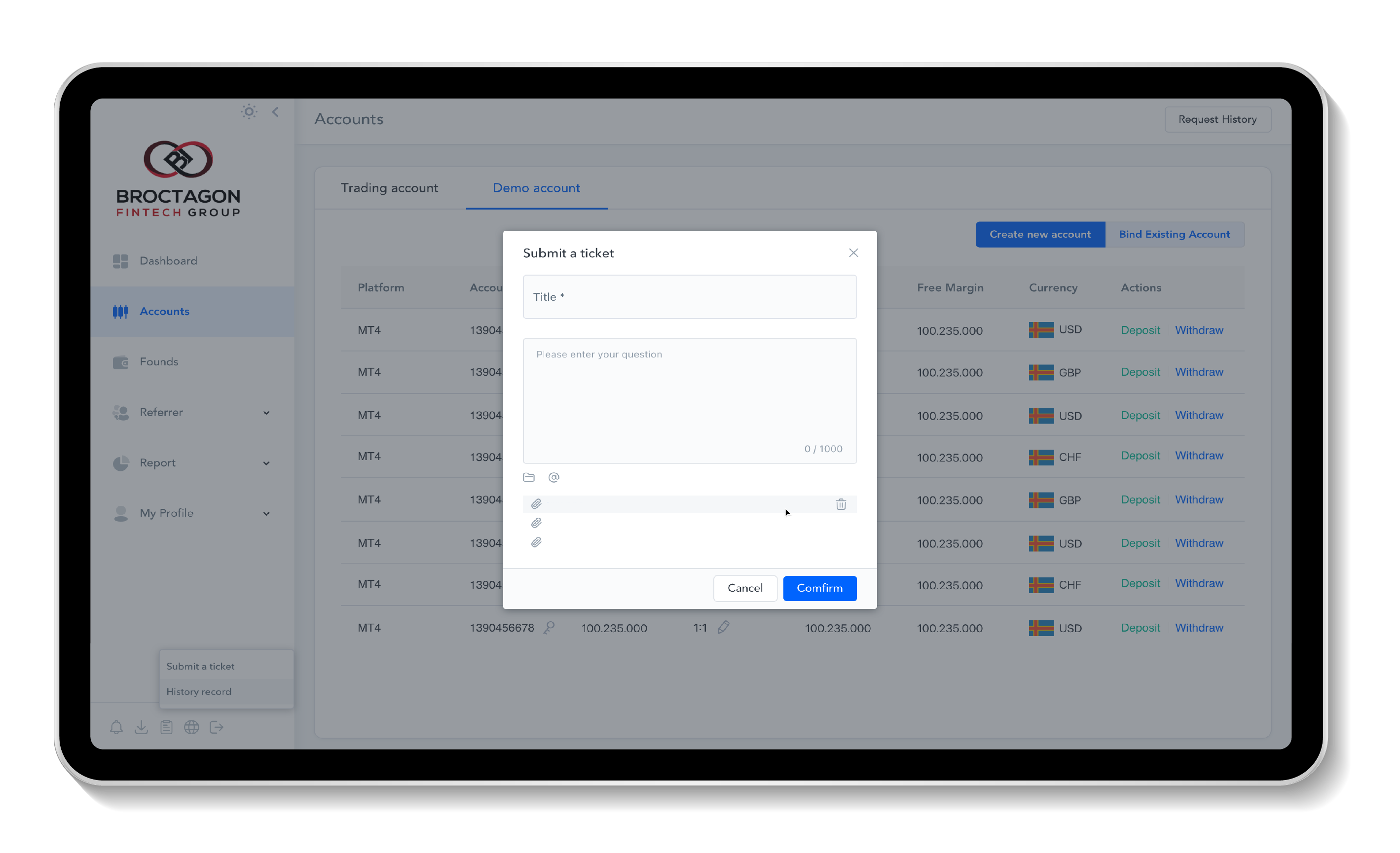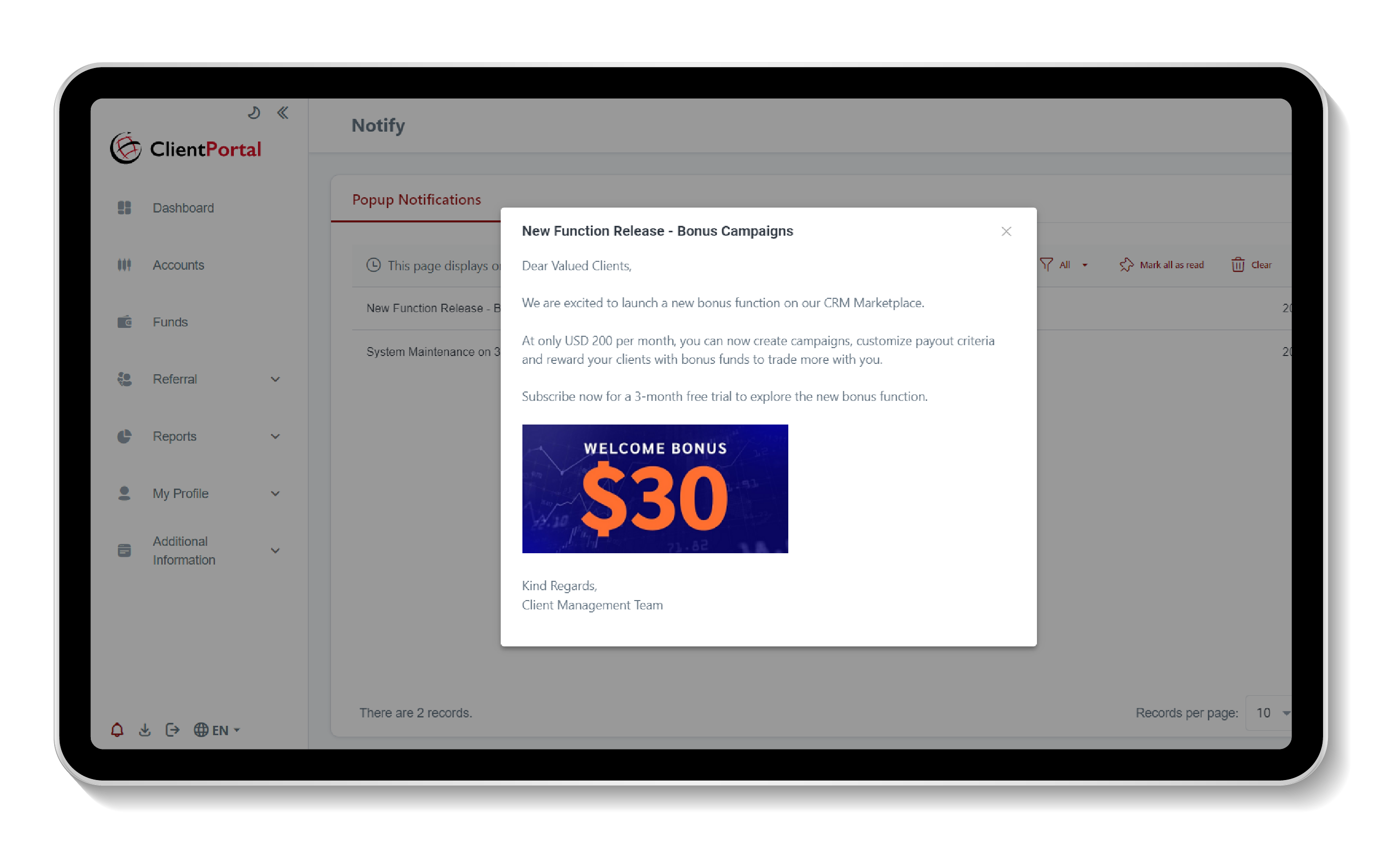 Live Chat
Connect to a vendor of your choice or one of our pre-connected systems.
Ticketing System
Clients can submit tickets with attachments and follow up on any pending requests easily within the ticket center where they can view full conversation logs.
Notifications
Keep your clients up to date on the latest news or on-going promotions by sending notifications via pop-up announcements or emails.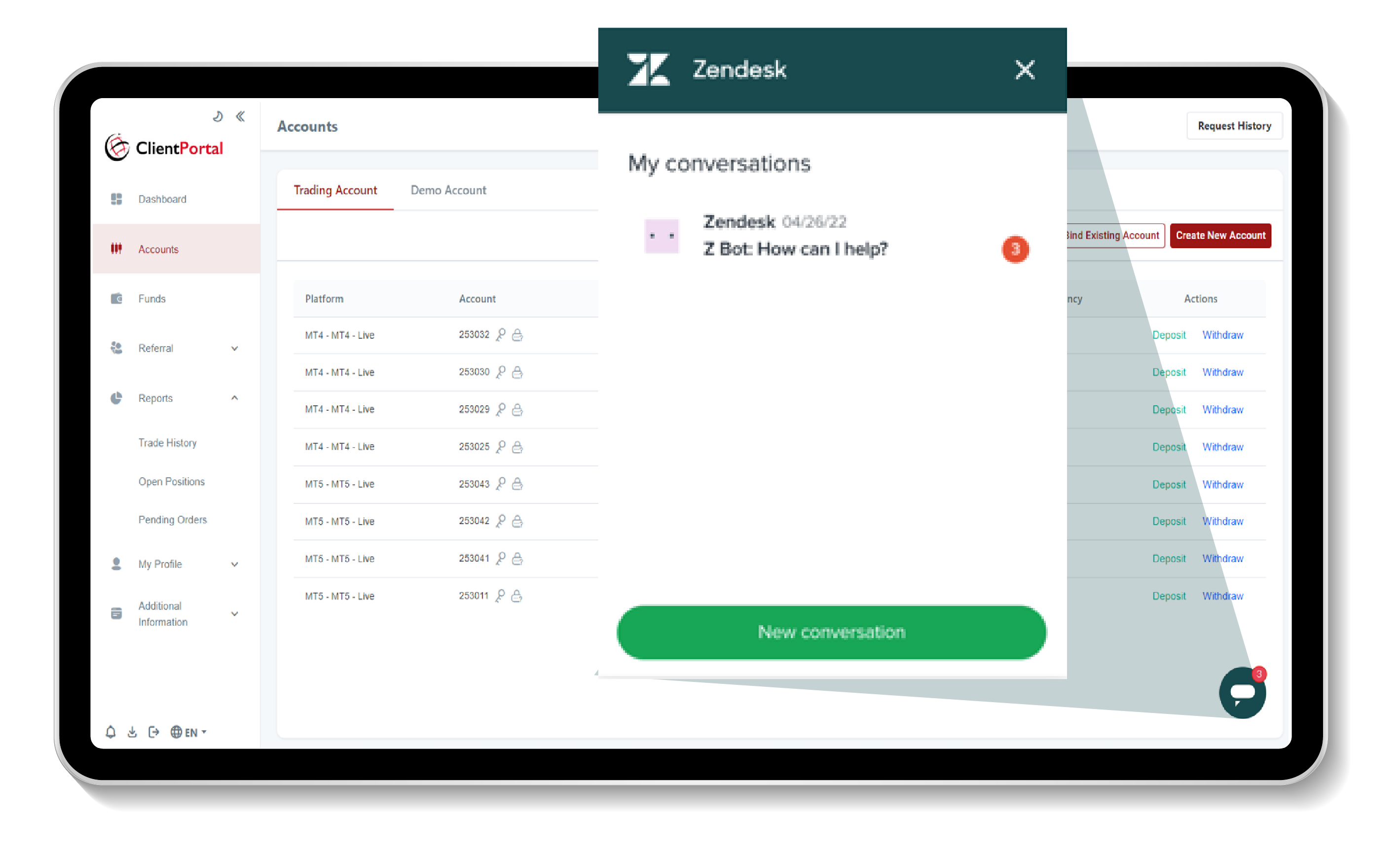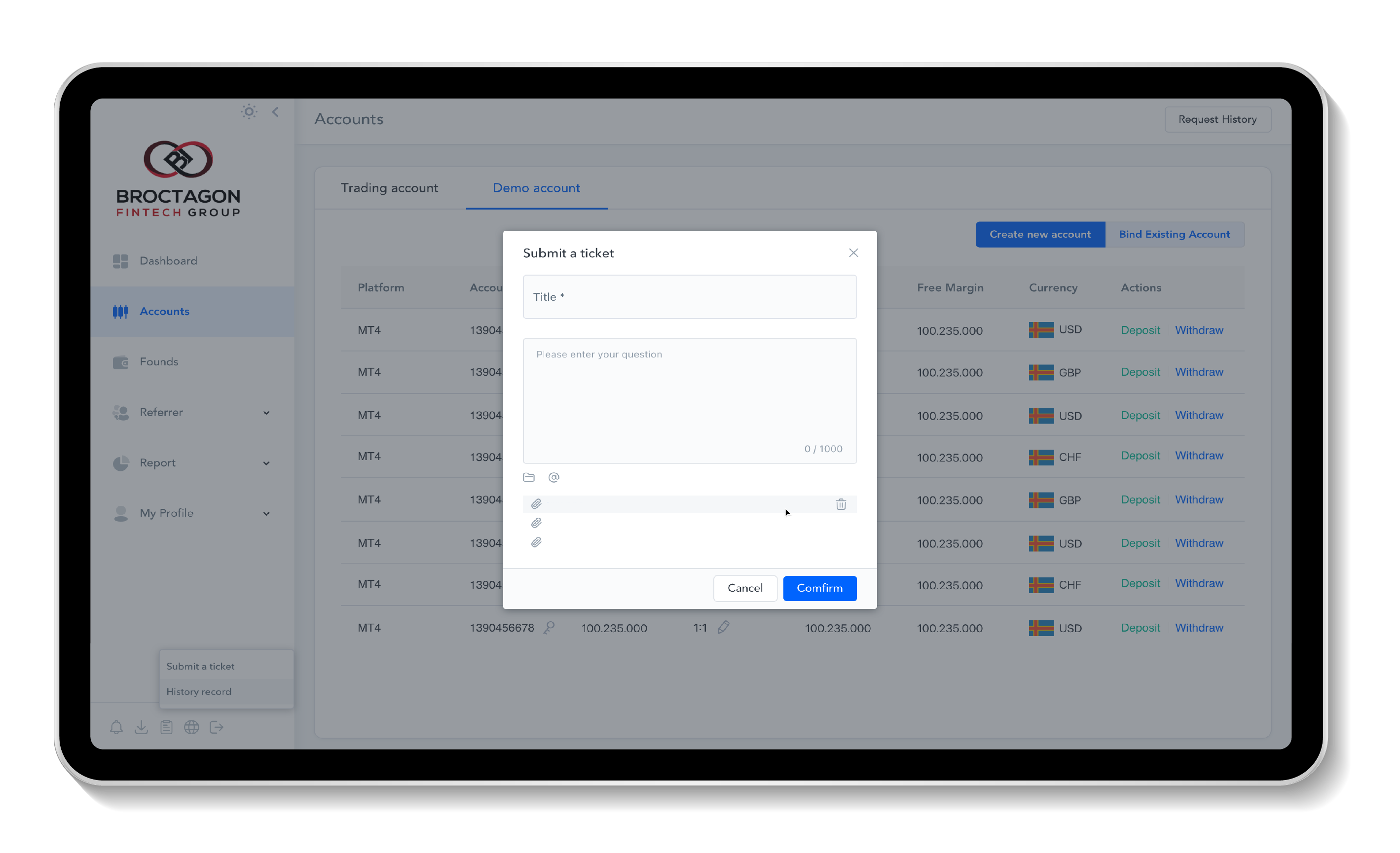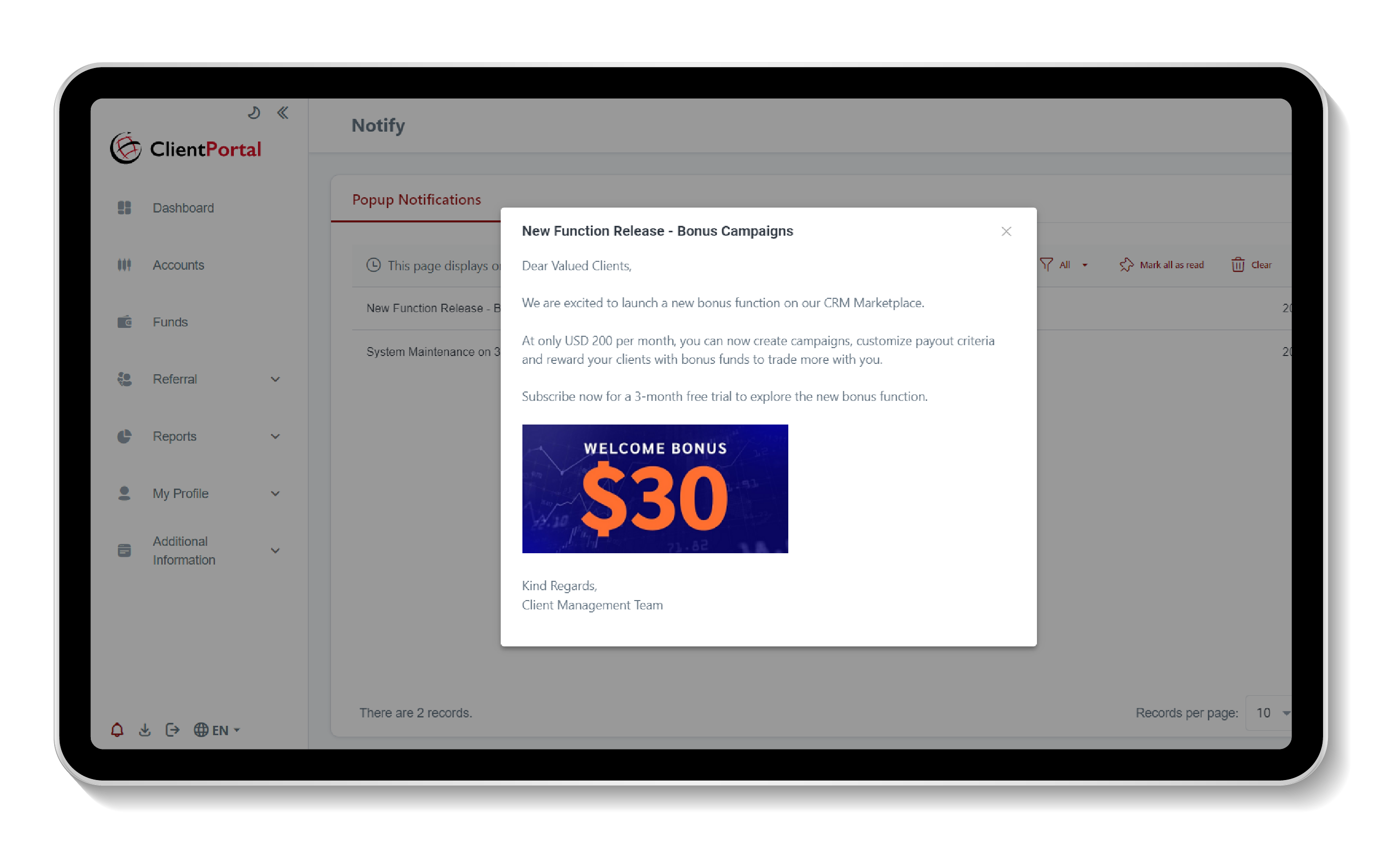 Try a Free Demo

Or let us walk you through
Don't just hear it from us. Experience our game changing CRM for yourself hands-on in our demo environment.
Admin Portal
Your business management gateway with more than 350 customizable parameters for your specific needs. Easily delegate duties with permissioned user roles with organizational hierarchy and even create an entire IB ecosystem that is unique to your brokerage.
Admin Dashboard
Key business insights and dynamic statistics at a glance for an immediate overview of your current business performance.
Client Growth
Stay on top of your business with comprehensive information at your fingertips:
Total No. of Clients/IBs
Client Source Distribution
Client Regional Distribution
Open Positions Volume
New Registrations
First-time Deposits
Commissions
IB Ranks Distribution
Pending Approvals
Quickly navigate to the list of tasks that requires your team's attention.
Financial Status
View deposits & withdrawals summary both in wallets and accounts for easy finance management.
Business Intelligence
Access top 10 ranking statistics of deposit/withdrawals, trading volume, symbols and more for enhanced risk management.
Internal Management
(User Roles, Customer Support, Sales Team)
Internal Management
Ensure smooth business operations with well defined user roles and privileges. Manage multiple team efficiently without compromising sensitive data.
User Roles
Highly customizable user roles
Intricate permission parameters
Finance related restrictions
Manage organizational hierarchy
Client Support Team
Personal data masking
Perform operations while compliant with privacy laws
Ticket resolution statistics to score your CS team
Sales Team
Create sales teams and assign team leaders
Monitor sales team performance and KPI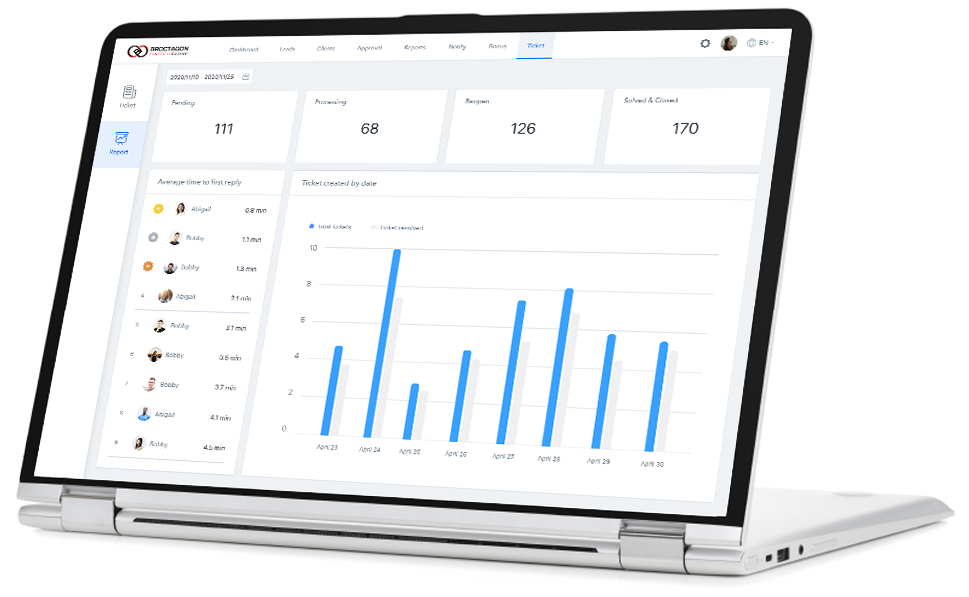 Leads Management
Track, score and manage all your leads in one place from acquisition to conversion.
Batch import function
Assign leads to sales team
Lead status management
Follow up funnel
Automated registration invitation emails
Sales can manually create accounts for leads to facilitate closing and conversion to clients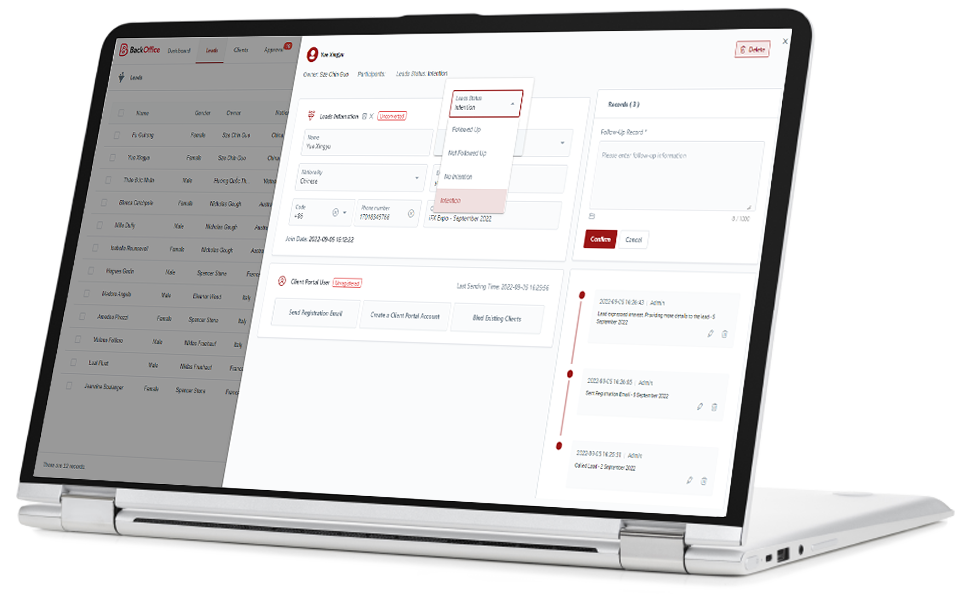 Client Management
View, sort and manage all client details in a single directory.
View full client details –


KYC status, referral/sponsor, commissions, balances, transaction etc.

Edit client details with automated trading account synchronisation
Assign sales agent and monitor follow-up
Manual client creation/removal
Smart query
Export function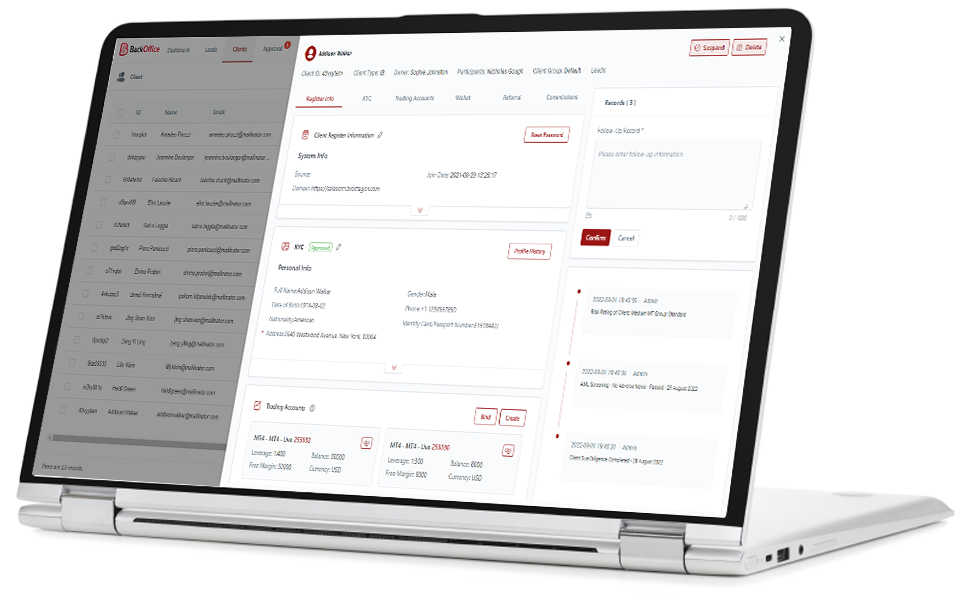 Approval Management
Map your preferred approval architecture and workflow for any business function.
Approval framework creation –


account opening, leverage update, withdrawal/transfer process, KYC etc.

Multi-layer review process with designated approver & comments tagging for easy follow up of each step
Fully/semi-automated approvals based on pre-set parameters such as monetary threshold for deposit/withdrawals
Withdrawal warning prompts to prevent liquidation risk
Bulk approval/rejections
All approved setting changes are automatically synced with MT4 & MT5
Automated email notification to clients upon request completion with optional rejection message
Notifications to admin upon client request submission for immediate attention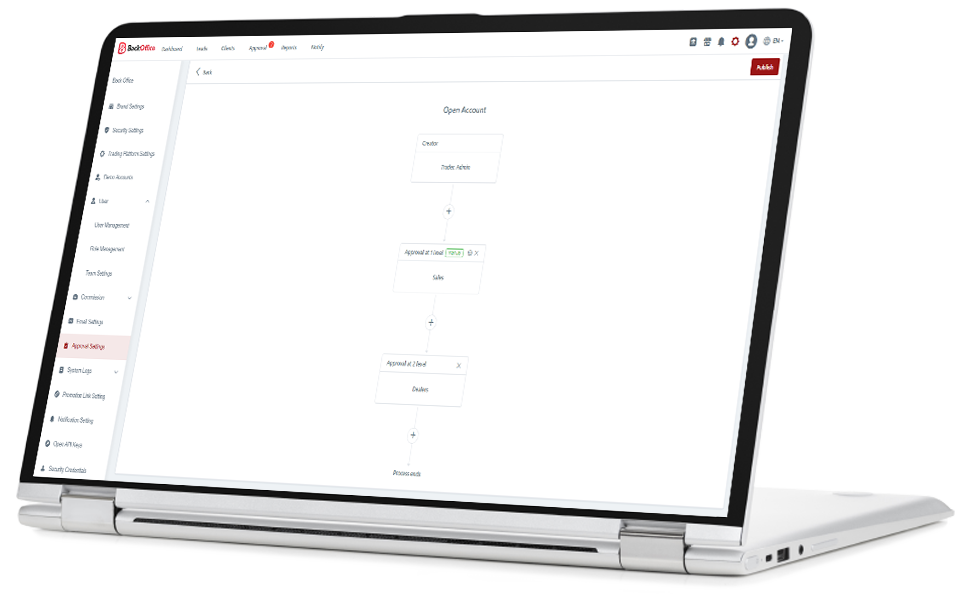 Multi-Platform & Server
Connect multiple MT4 and MT5 servers simultaneously to one CRM.
Unlimited server connections for future-proof scaling
Supports both real & demo servers
Supports multiple server time zones
Multi-Domain
Different domains for different countries or markets can all point to one CRM.
SSL certificate verification
Failover switching mechanism in scenarios such as end user ISP issues, DNS issues or firewall
Market segmentation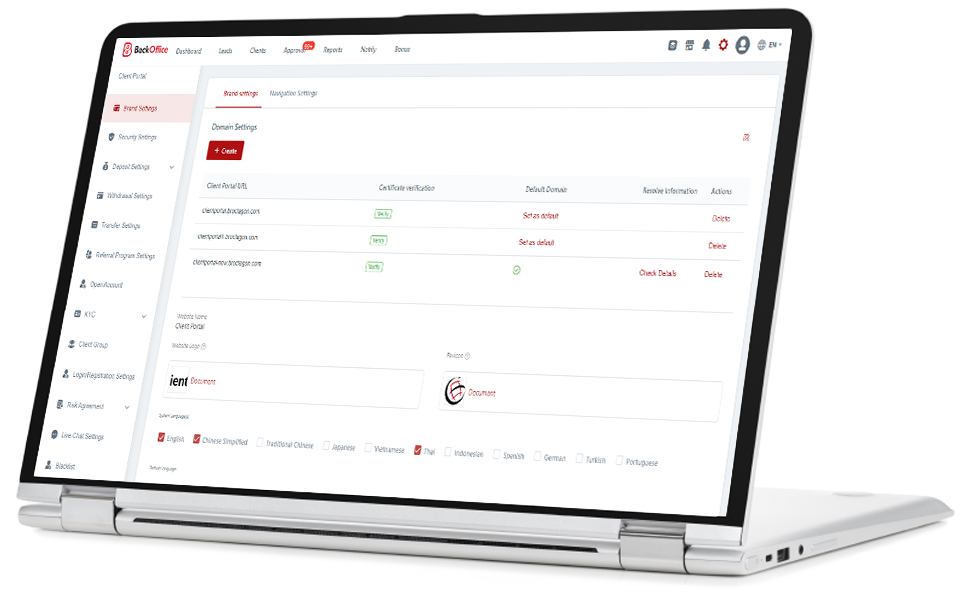 Analytics Module
Highly detailed reports made for easy viewing.
Export function
Comprehensive data filter for many use cases and actionable logic:

KYC filter –

incomplete and require prompting

First deposit filter –

sales team to follow up

Balance filter –

identify VIP clients

Birth date filter –

greetings or promotions

Top profit clients –

promote results and much more

Custom permissioned access
Generate reports easily without logging into MT4 & MT5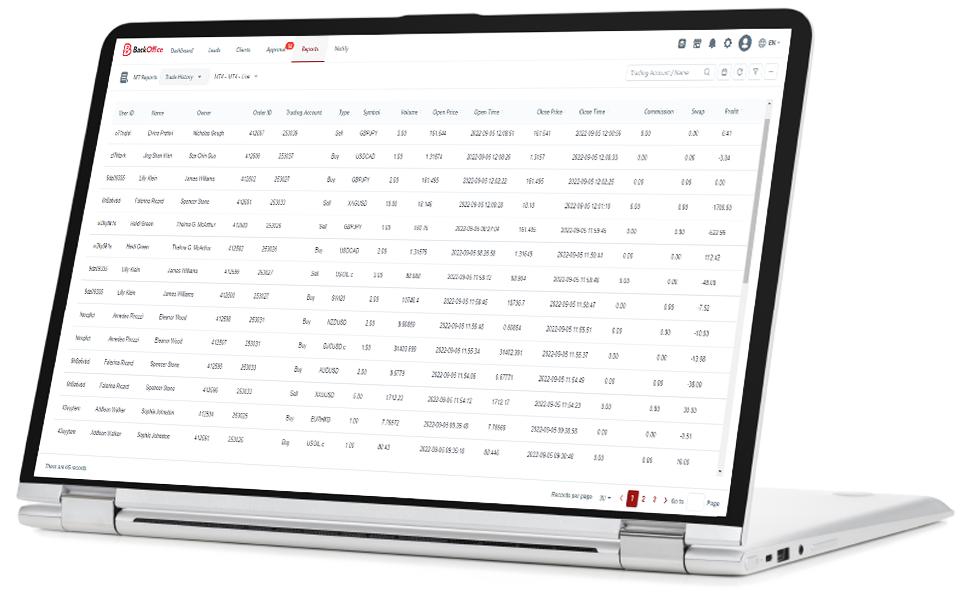 Notifications Module
Craft and broadcast any announcements or promotions to your clients easily through popup notification or email.
Cater messages to specific client groups
Supports images & attachments
Store drafts
Preview before sending
Prebuilt email design templates
Customize and store email templates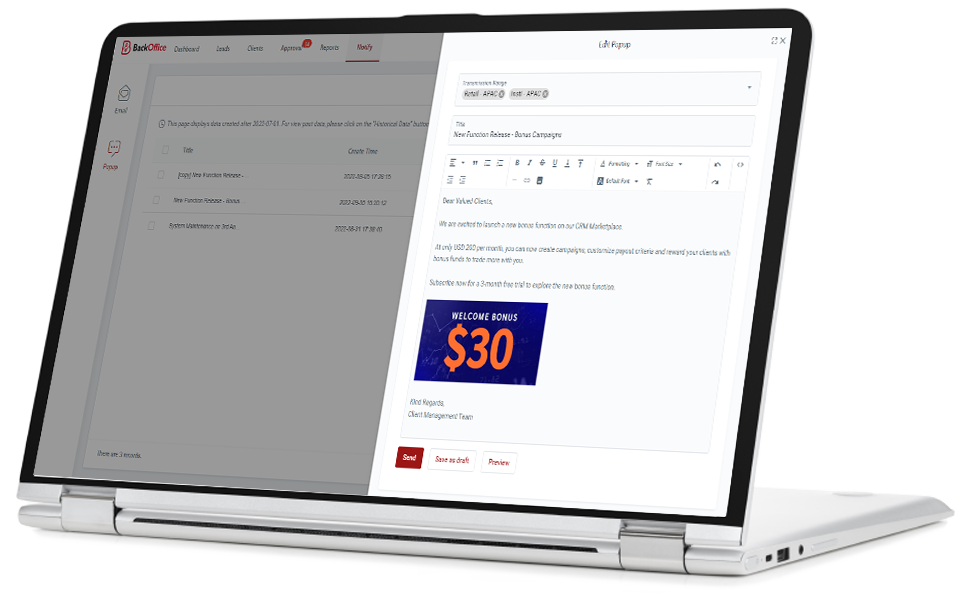 Audit Module
All administrator operation logs can be queried for data integrity and enhanced security.
Complete audit trail
Encompasses all business functions
IP and timestamp traceability
Unusual IP detection for fraud detection
Non-expiry logs for compliance and regulatory requirements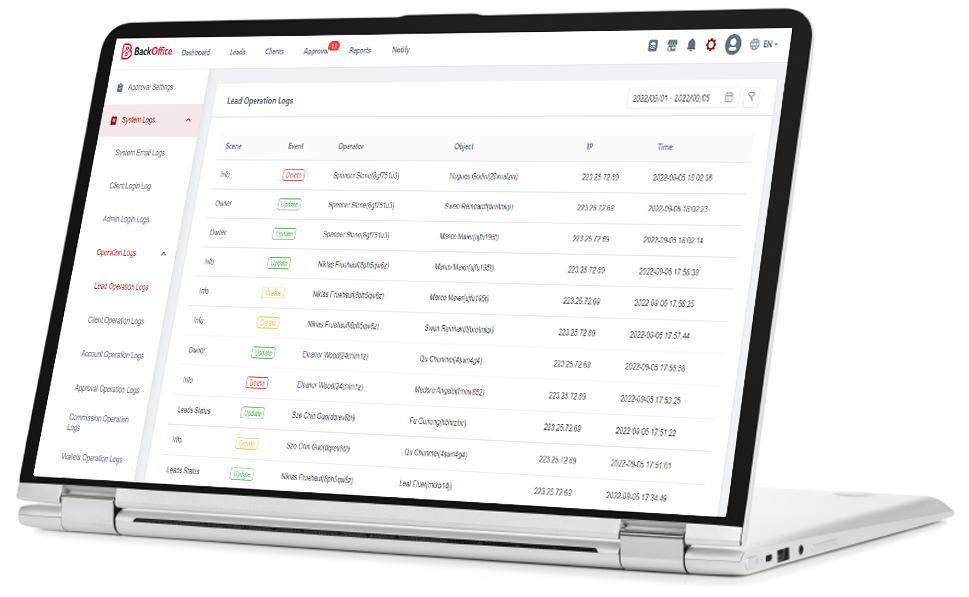 IB Core Module
Integrated as part of both the client and admin portal, the IB core module allows any trader to become your business partner.
Deploy the industry's most powerful multi-tier marketing tool and let your IBs, partners and affiliates unlock their full potential.
Client Portal
IB Centre
Client Reports & Requests
Client Hierarchy Tree
Commission Details
Admin Portal
Referral Campaigns
IB Ranks
Unlimited-tier Commissions
Deposit Bonuses
IB Centre
Client Hierarchy Tree
Client Reports & Requests
Commission Details
IB Centre
Allow your partnering IBs to track their daily progress and manage their business with absolute ease.
Referral network list overview
Dynamic data display for daily performance
Personal affiliate link for online marketing and easy sponsoring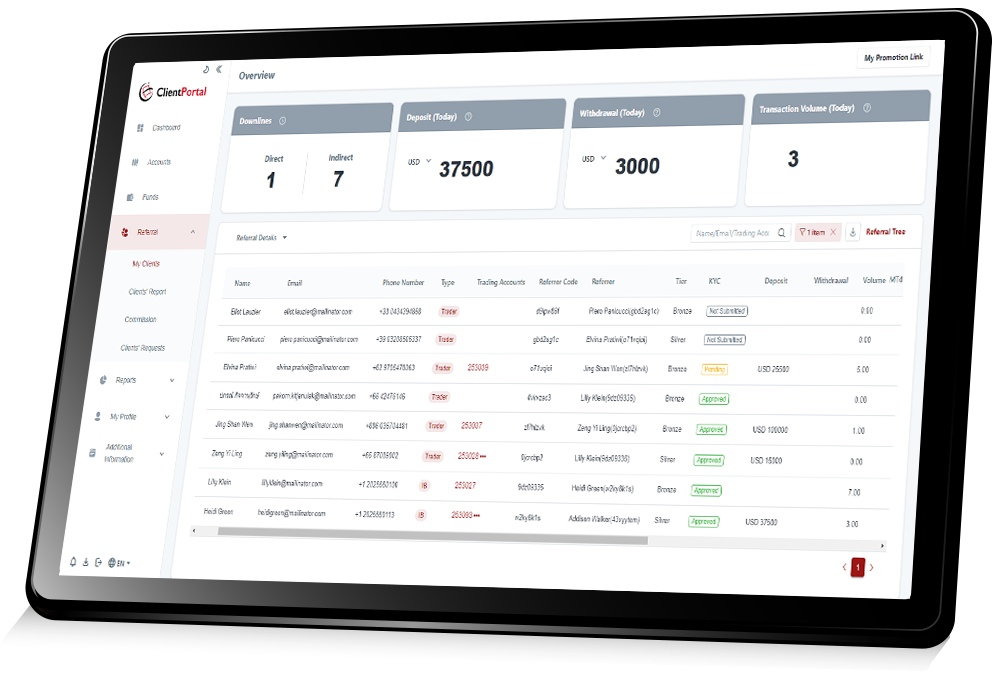 Client Hierarchy Tree
Enable your IBs effective oversight of their network expansion and strategize rank promotions.
Fully expandable network tree showcasing client relationship, tier and trading account
Complete client details
(based on accessibility settings by broker)
Smart query function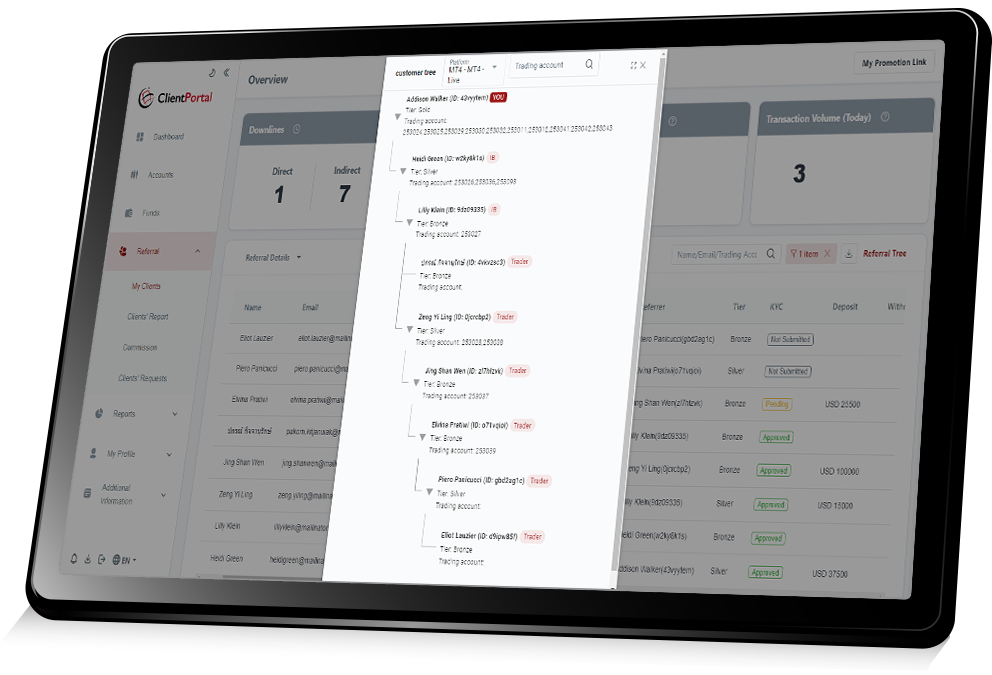 Client Reports & Requests
Give your IBs greater insights into the trading patterns, funds movement and activities of their client network for better management.
IBs can view clients':
Deposit/withdrawal history
Transaction order history
Open positions
Submitted account requests
Subordinate IB commission breakdown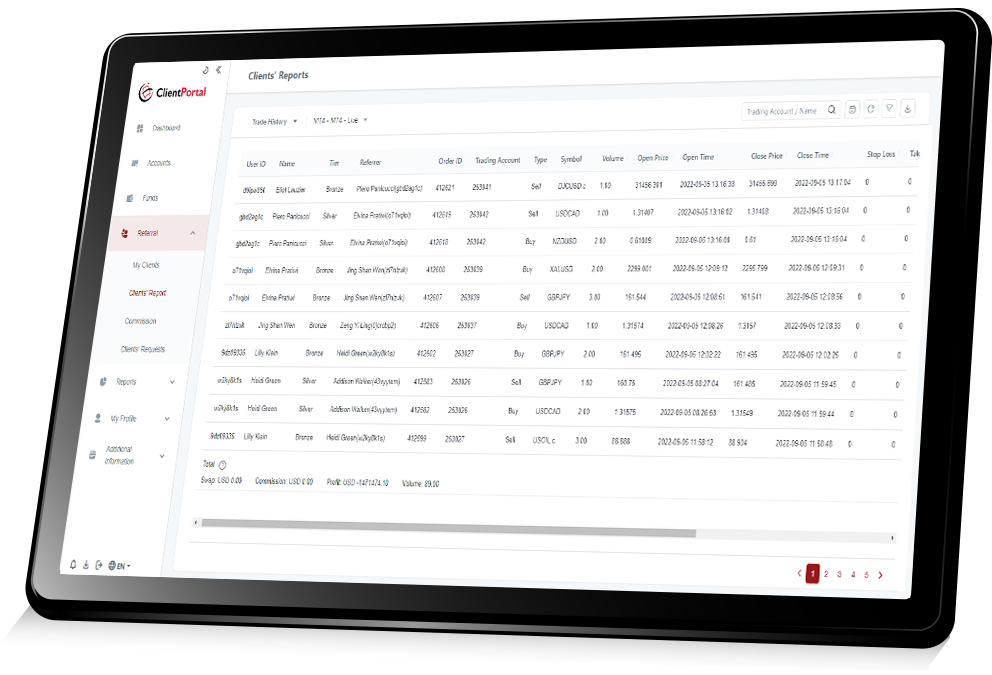 Commission Details
Keep your IBs motivated with detailed and transparent commission income breakdown.
Real time transparent data
Sort data –

time, symbol, type

Export and integrate with advanced analytic tools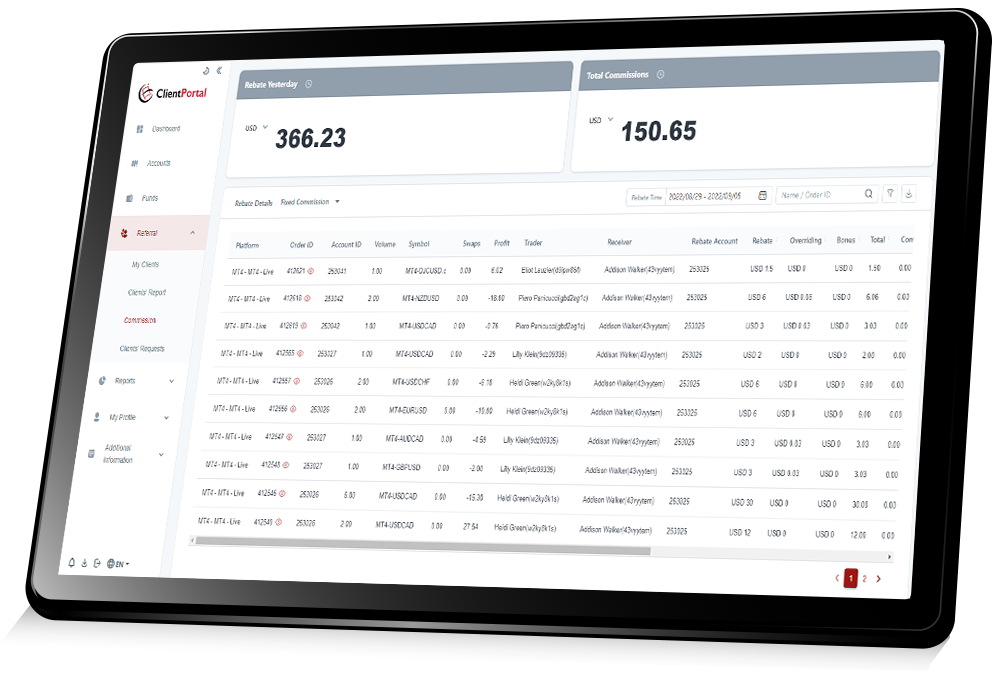 Referral Campaigns
Unlimited-tier Commissions
IB Ranks
Deposit Bonuses
Referral Campaigns
Kick start marketing campaigns with ease using pre-set matrices to create highly tailored promotional links.
Supports multiple ongoing campaigns
Customizable target audience
Promotions can be specific to domain or even particular IBs
Promotion links can be tied to servers or MT groups
Can be assigned to sales team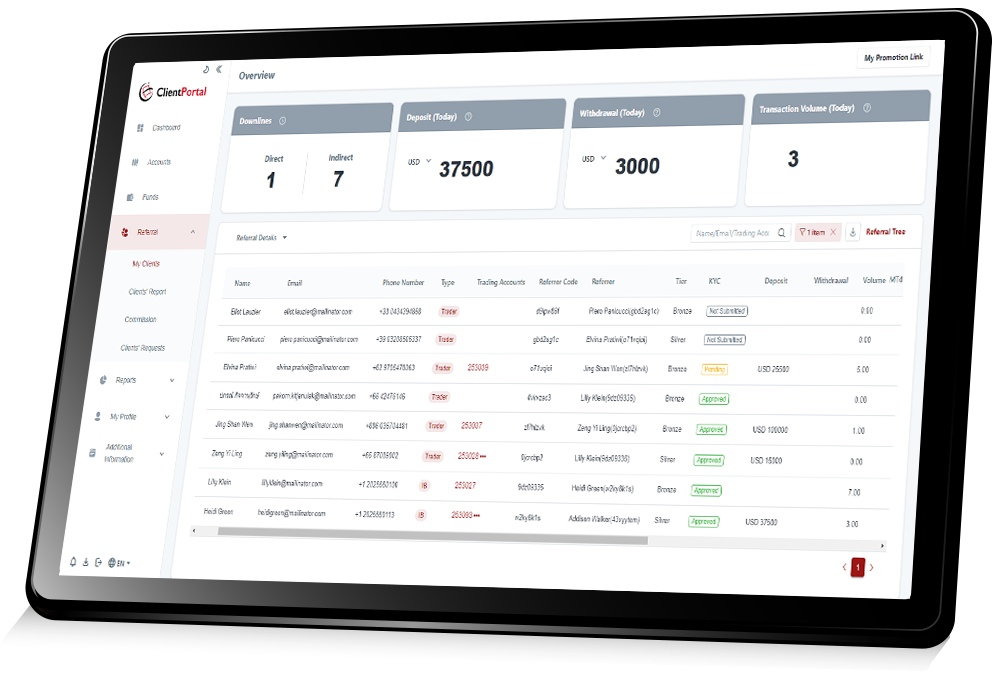 Unlimited-tier Commissions
Have full control and flexibility in designing ideal commission schemes for your introducing brokers (IBs) and affiliates with hundreds of customizable combinations.
Multi-tier commissions with no limit to number of levels
Commission plans can be specific to symbol group, MT group or IBs
Commissions can be rebated to e-wallet or trading account
Supports overriding as well as same-tier rebates
Anti-scalping mechanism to prevent commission churning risks
Flexibility to customize commissions for specific individuals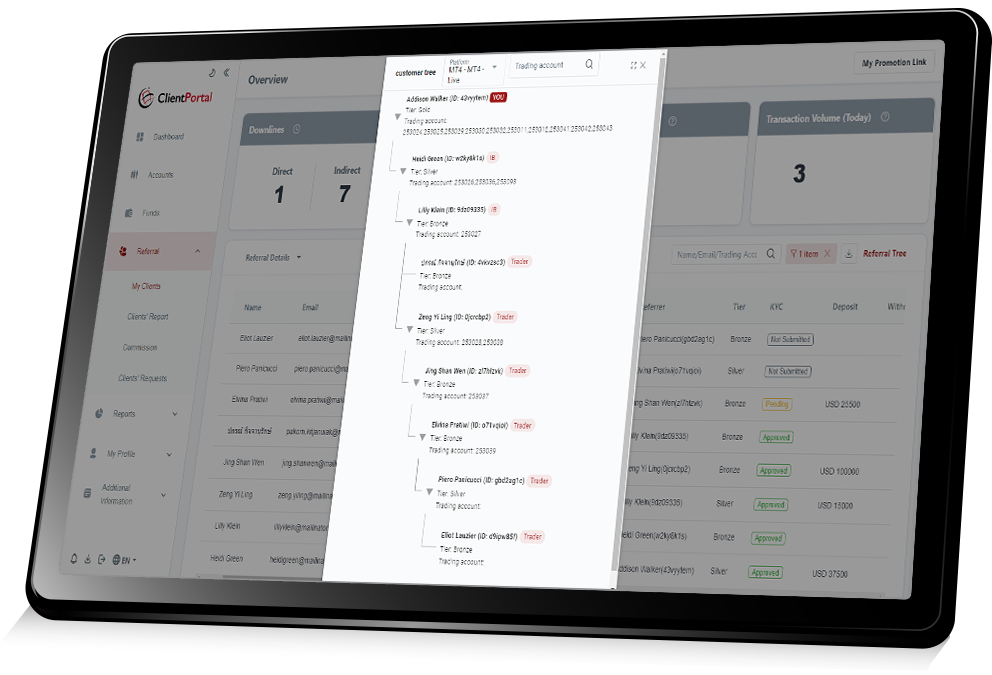 IB Ranks
Build a unique IB and affiliate ecosystem that can rapidly broaden your business frontier.
Set the number of levels of IB ranks
Customize names for each rank
Grant different permissions and information access based on rank
Automated rank promotion based on pre-set conditions
Support reassignment of IB to another hierarchy with bulk movement of network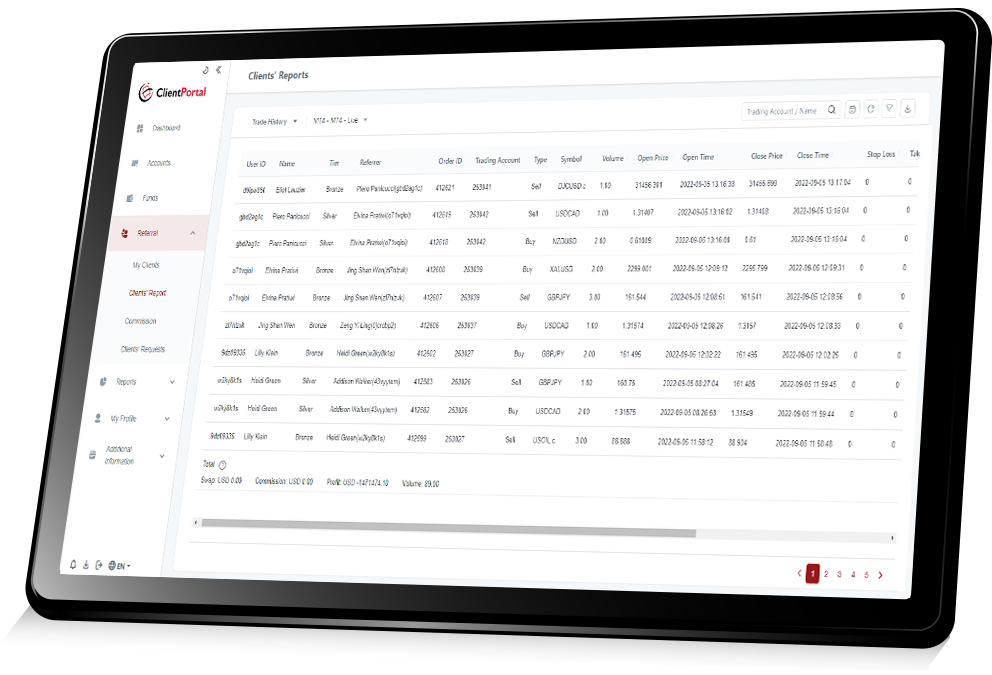 Deposit Bonuses
Automated rewards to both referrals and clients based on new deposits.
Many customizable trigger conditions –
Target Deposit Amount with multiple tiers
Optional Trade Volume Requirement
Multiple Deposit Intervals
Client Group
Set bonus ratio between referrer (IB) /client
Bonus can be paid as credits or deposited to trading account or e-wallet
Bonus can be percentage of deposits or fixed amounts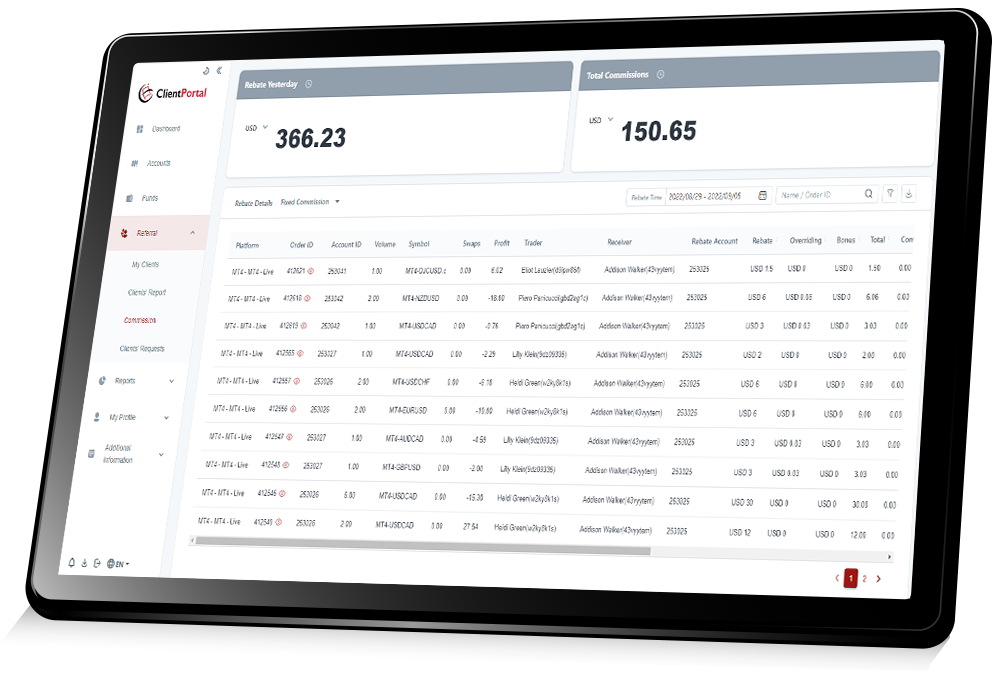 Unlimited IB/Affiliate Tiers
Unlimited Expandable Hierarchy
Rebate Types
Lots
Spreads
PIPs
Markup %
Deposit Bonus
Fixed/Variable
Distribution Frequency
Real Time
Promotion Duration
Hourly
Daily
Weekly
Monthly
Customizable Logic
Event Only
Client MT/CRM Groups
Region
Time Range
Servers
Symbols
Add any new language in 24 hours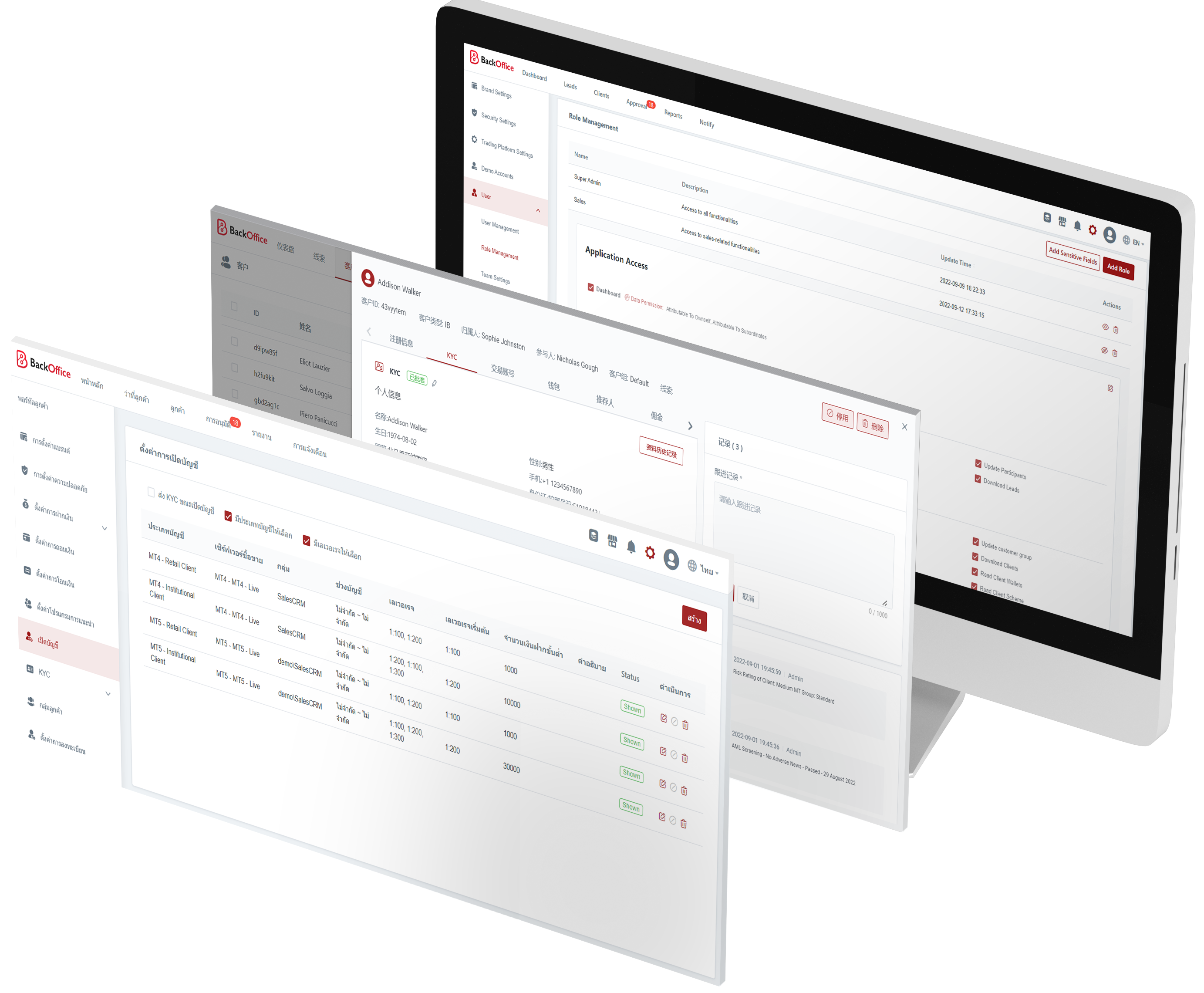 Experience

Spectacular.
Whether you are a brand new broker or industry veteran, AXIS has everything you need and more. Migrate easily without hassle. We've got your back and that's our guarantee.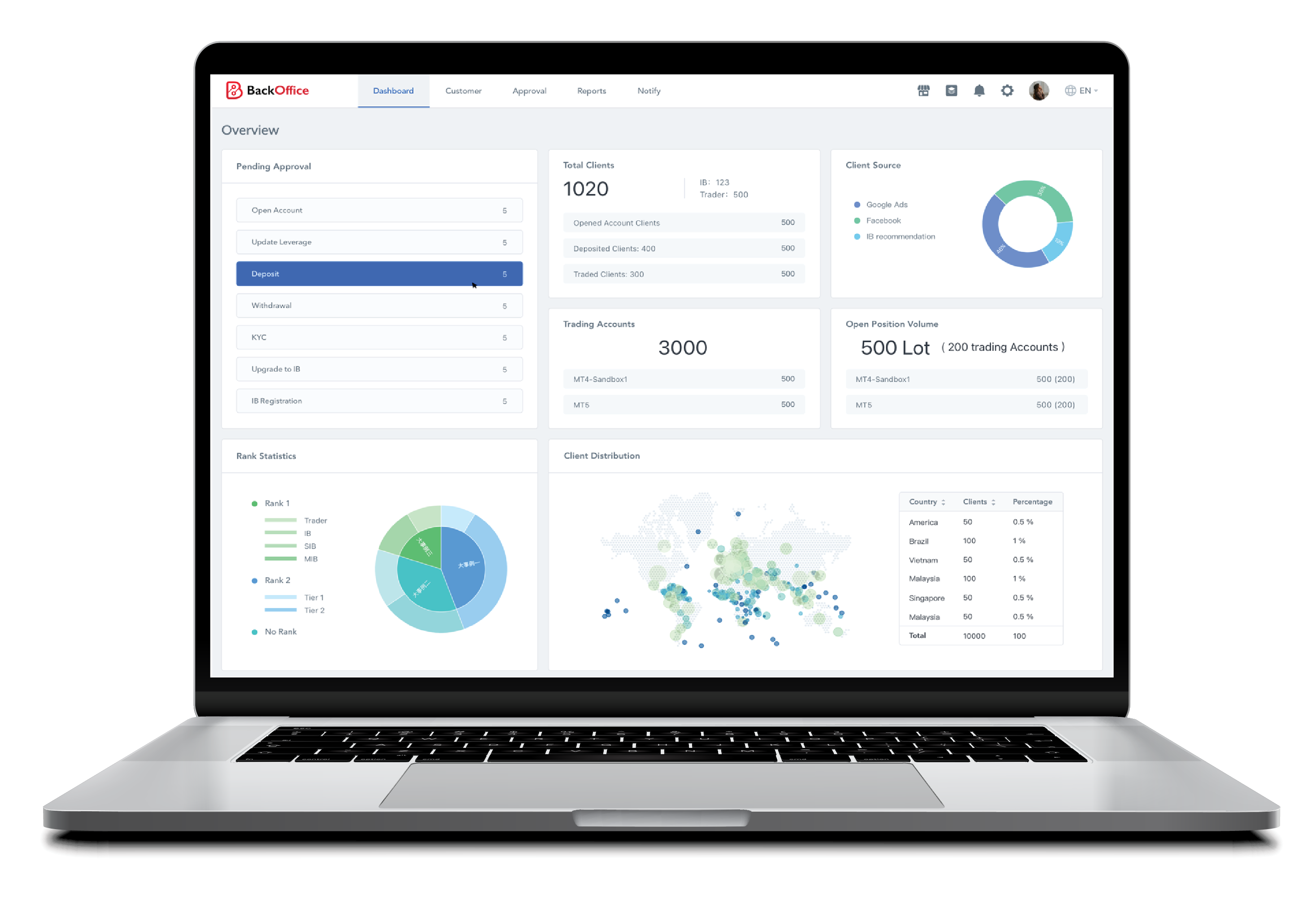 Let's have your CRM ready in 24 hours
FAQs
Have a question? Let us assist.
Multi-Asset Liquidity
Access more than 1800 instruments including digital asset CFDs, with spreads from zero.
FX Brokerage CRM
Grow your clients fast with
a powerful SaaS CRM complete with multi-tiered affiliate modules.

Investment Tools
Introduce your clients to the smarter, faster and easier way of making investments.

Ancillary Services
Get your brokerage up and running with the proper business foundation.

Data Security Centre
Shield and secure your business against all cyber threats and vulnerabilities.