Broctagon Launches DeFi Lending Platform Development Services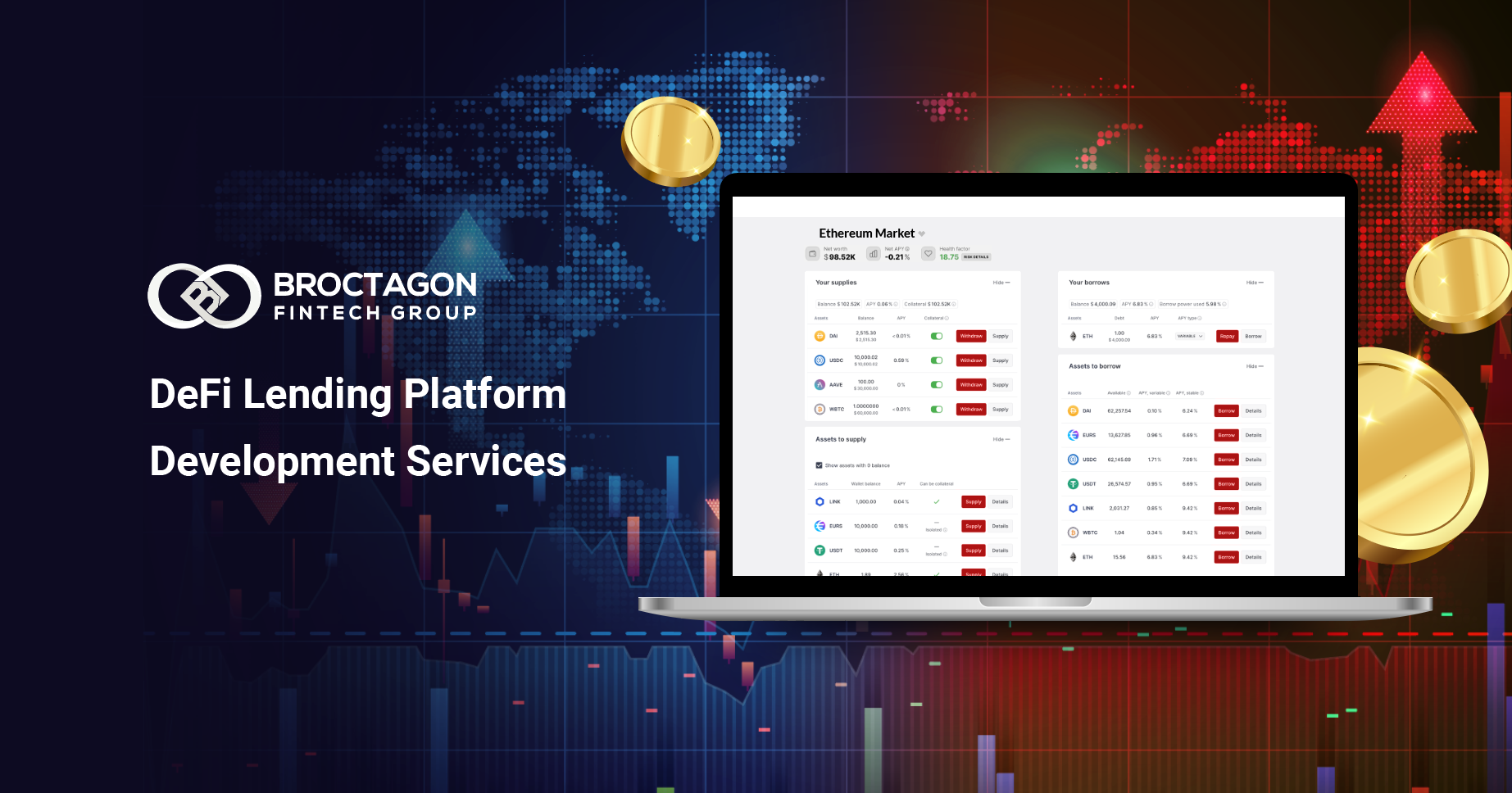 Broctagon Fintech Group is proud to announce that we have launched Decentralized Finance (DeFi) Lending Platform development services, with custom lending protocols designed to accommodate different use cases and business objectives.
Power up your financial operations to stay on the innovative edge by partnering with Broctagon. We offer custom DeFi lending platform development services, leveraging years of experience in Blockchain technology and pre-built solutions that help to notably accelerate the time-to-market. Based on your needs, the Broctagon team can provide state-of-the-art DeFi solutions by introducing a secure, innovative and quick-to-launch, yet unique platform.
The size of the DeFi market by total value locked in April 2021 was over USD 61 billion, and continues to gain momentum. DeFi lending and borrowing is one of the major contributors to this. Tap into this billion-dollar DeFi industry and be one the pioneers to make loan processes accessible, transparent and efficient across the globe. 
Why DeFi Lending?
Liquidity: Lending, borrowing, and arbitraging to be done inexpensively and almost instantaneously
Trustlessness: No need to trust borrowers' solvency, with designed smart contracts to enforce liquidation when default risk is present
Transparency: Immutability and tamper-proof data records
DeFi Lending Platform Features
Our customization-ready solution boasts a rich set of features out of the box:
Intuitive Lending Dashboard: User interface to seamlessly deposit and lend funds and borrow based on their collateral.
Multi-Wallet Integration and Compatibility: The DeFi Lending platform supports crypto wallets such as Metamask, WalletConnect, Coinbase, Torus, Frame.
Staking Module: Users can stake their platform tokens and earn APY and platform fees.
Governance Module: A governance module that is based on DAO (Decentralized Autonomous Organization) model enabling the stakeholders to take part in all the decisions related to the development of the protocol
Other Robust Features: Isolation mode, high-efficiency mode, supply and borrow caps, granular borrowing power control, price oracle sentinel, variable liquidation close factor, and more features ready for you to customize.
Multi-Chain Compatibility: Compatible integration with all major blockchains >> In-Depth Features Overview
With our decade of experience in traditional finance and expertise in being at the first-movers of new innovation like blockchain, we can help you navigate your DeFi journey and ride the next wave of the digital revolution in decentralized finance.
Set Up Your DeFi Lending Platform
About Broctagon Fintech Group
Broctagon Fintech Group is a leading multi-asset liquidity and full suite FX technology provider headquartered in Singapore with over 15 years of established global presence in Hong Kong, Malaysia, India, Cyprus, Thailand, and China. We specialize in performance-driven and bespoke solutions, serving clients across more than 500 countries with our liquidity aggregator technology, brokerage, and exchange solutions suite, as well as enterprise blockchain development.