Elevate Your DeFi Success with Our White-Label Staking Solutions​​
Stay ahead of the curve in the decentralized finance landscape with our quick-to-market, all-in-one staking platform development service.​
​Our white-label solution comes equipped with pre-configured incentive modules and pre-coded smart contract staking pools, enabling rapid deployment and seamless integration.​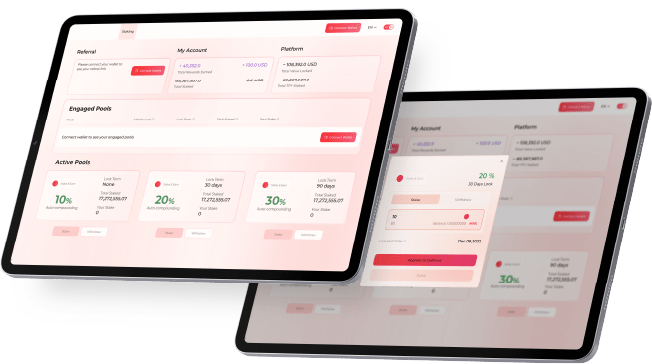 Boost You Impact with Custom Staking Services
Respond to the growing demand for DeFi investments and create a platform that benefits users, staking pool operators, and platform owners alike.​
Fast Deployment with White Labelling
Ready-Made UI with Fully-Customizable Branding
Self-Executing Smart Contracts
Pre-audited Smart Contracts
Compatible with Any Token
DeFi Staking Solutions for Your Needs
Streamlined Integration, Reward Optimization, Robust Security, and Customizable Features Tailored to Your Unique DeFi Staking Requirements​
On-chain Referral program
Drive growth and engagement with rewarding referrals.​
Reward distribution options
Opt for share-based or fixed percentage reward distribution.​
Unlimited staking pools
Customizable pools with unique APYs and lock-up periods.​
Auto-compounding
Maximize earnings through automatic reward reinvestment.​
Emergency withdrawal
Peace of mind with user-initiated emergency fund
Why Broctagon's DeFi Staking Platform Development Services
Embrace the rapidly evolving world of decentralized finance with our comprehensive staking platform development services. Our team of experts is dedicated to helping you tap into the immense potential of DeFi staking by providing an end-to-end solution tailored to your unique needs. From initial concept to final implementation, we work closely with you to create a powerful, user-friendly staking platform that captures the essence of your vision and delivers tangible results. Elevate your platform with our cutting-edge staking system, boosting stability, growth, and delivering irresistible benefits to users in the dynamic DeFi staking space.
Expertise
As industry leaders with vast experience in fintech and blockchain, we have the knowledge and skills to deliver cutting-edge solutions that cater to your business needs.
Dedicated Support
Our dedicated team accompanies you throughout the journey, providing assistance from setup to launch and beyond, enabling you to concentrate on business growth
Flexible Solutions
Our turnkey platform solutions feature fully customizable options, designed to accommodate your unique business needs and create a standout DeFi staking platform.
Frequently Asked Questions
What is a staking platform?
A staking platform is a decentralized finance (DeFi) application that allows users to stake or lock up their digital assets, and in return, users receive rewards in the form of more tokens.
How secure are the staking platforms?
Security is paramount for us. We utilize state-of-the-art security measures and best practices while ensuring smart contracts undergo rigorous audits. Our team stays up-to-date with blockchain advancements to maintain platform security and resilience against potential vulnerabilities.
Can your staking platform solutions be integrated with existing DeFi applications or platforms?
Yes, our staking platform solutions are designed to be flexible and can easily be integrated with existing DeFi applications or platforms. Our team will work with you to assess your current setup and provide seamless integration, ensuring a smooth user experience and minimal disruption to your ongoing operations.
How long does it take to develop and launch a DeFi staking platform?
The development timeline varies depending on the complexity of your project, the level of customization required, and the integration of third-party services. On average, it takes between 4 to 12 weeks to develop and launch a fully functional DeFi staking platform. Our team will work closely with you to provide an accurate timeline based on your specific requirements.
Ready to elevate your DeFi project with a powerful staking platform? Contact us today to learn how we can help create a standout platform for your business in the dynamic DeFi ecosystem.