Leveraging Token Vesting: Reshaping Digital Asset Distribution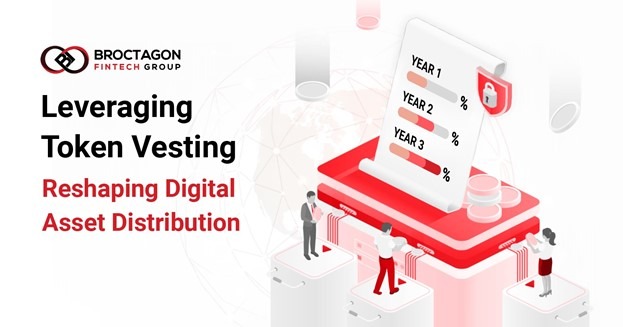 The current era of rapid digital transformation has revolutionized financial transactions and investment models. Cryptocurrencies and blockchain technology have ushered in a new age of Decentralized Finance (DeFi) and tokenization strategies. Amidst these significant shifts, one strategy has emerged as a vital component in this evolving landscape: Token Vesting. This strategy, which involves a structured and systematic approach to releasing tokens to investors, employees, and other project participants, has proven instrumental in ensuring fairness, transparency, and security in the token economy. But how can one effectively harness this game-changing strategy? Enter Broctagon's bespoke Token Vesting Platform Development services.
Broctagon's Token Vesting Platform: A Beacon of Trust and Security
At the heart of our offering is the ready-made, white-label Token Vesting Platform. Designed as a secure and trustworthy solution, this platform fundamentally aims to safeguard the long-term value of your digital assets. While doing so, it does not compromise on user experience, instead providing an unparalleled, user-centric interface for your token stakeholders.
Our platform addresses multiple areas of concern in the digital asset management landscape. Its robust security and customization features set it apart from the crowd. Whether it's the flexibility in vesting schedules, the assurance of pre-audited smart contracts, or its compatibility with any token, our platform demonstrates our unyielding commitment to safety and customization.
Why Choose Broctagon?
At Broctagon, we believe that your brand's identity is integral to your success. This conviction is reflected in our token vesting platform, which offers a ready-made User Interface (UI) with fully customizable branding options. Our platform is a perfect blend of technology and aesthetics, delivering a seamless and user-friendly experience that seamlessly mirrors your brand's identity and vision.
One of the fundamental pillars of the digital token world is safety and security. To safeguard your digital assets, our platform is built upon the robust framework of self-executing smart contracts. These contracts function with precision and impartiality, ensuring the secure distribution of tokens. Furthermore, our smart contracts have undergone rigorous pre-audit procedures, ensuring they are free from vulnerabilities and risks. This added layer of security serves to fortify the trust of your token holders in your brand and its digital assets.
Embracing Flexibility and Transparency
Project timelines and requirements can vary greatly, necessitating a flexible approach to token distribution. Keeping this in mind, our platform provides flexibility in vesting schedules and distribution plans. Be it linear, monthly, or quarterly token distributions with cliffs, our platform caters to a wide range of distribution strategies, enabling you to adapt to your project's unique requirements.
Transparency is the cornerstone of any successful token distribution strategy. We emphasize this principle by integrating a visual tracking interface into our platform. This intuitive tool provides user-friendly visuals that allow token holders to track allocated and claimable tokens effortlessly. This transparent tracking mechanism not only fosters trust but also promotes active participation from token holders, contributing to the overall success of your project.
The Broctagon Advantage: Harnessing Expertise and Delivering Dedicated Support
At Broctagon, we bring to the table industry-leading expertise and experience in fintech and blockchain. Our in-depth knowledge and skills enable us to develop and deliver cutting-edge solutions that align perfectly with your business needs.
Our commitment to your success extends beyond the delivery of our platform. We offer dedicated support throughout your journey, from the initial setup to the launch and even beyond. Our team is committed to ensuring a seamless and rewarding experience, enabling you to concentrate on what truly matters – driving the growth and success of your business.
Unleashing the Potential of Token Vesting
The volatile nature of digital assets underscores the importance of a strategic, measured approach to token distribution. Token vesting is a strategy that has proven its mettle in maintaining the value of digital assets over the long term. By ensuring a gradual, scheduled release of tokens, it effectively mitigates the risks associated with abrupt sell-offs and market fluctuations.
Broctagon's Token Vesting Platform Development services masterfully leverage this strategy, bringing its full potential to bear on your project. Our platform's flexible and customizable vesting schedules allow you to fine-tune your token distribution to perfectly align with your project's objectives and the expectations of your stakeholders. This adaptability sets us apart from our competitors, equipping us to cater to different participant categories and unique project requirements.
Powering Ahead with Broctagon: Ensuring a Seamless Token Distribution Experience
At Broctagon, we harness the power of blockchain technology to design our token vesting platform. The foundation of this platform is self-executing smart contracts, which facilitate a seamless and secure token distribution process. Moreover, these smart contracts have been pre-audited to eliminate vulnerabilities and ensure the safe handling of your digital assets.
Our platform is designed to accommodate any token, marking it as a truly universal solution. So, whether you're dealing with established cryptocurrencies or launching a brand-new digital asset, our platform is ready to cater to your needs.
Embark on Your Journey Towards a Prosperous Token Economy with Broctagon
The future of tokenization is here, and it is secure, transparent, and customizable. Optimize your token distribution, instill confidence in your stakeholders, and empower your token economy with Broctagon's superior token vesting platform. Experience the transformative power of an efficient and equitable token distribution system by scheduling a free demo with us. Together, let's redefine the landscape of token distribution and shape a fair, fruitful token economy.
Don't just take our word for it – reach out to us today and start your journey towards a thriving token economy. With Broctagon's comprehensive Token Vesting Platform Development services at your side, the future of your project looks bright indeed.
About Broctagon Fintech Group
Broctagon Fintech Group is a leading multi-asset liquidity and full suite FX technology provider headquartered in Singapore with over 15 years of established global presence in Hong Kong, Malaysia, India, Cyprus, Thailand, and China. We specialize in performance-driven and bespoke solutions, serving clients across more than 500 countries with our liquidity aggregator technology, brokerage, and exchange solutions suite, as well as enterprise blockchain development.