Broctagon Extends A New Frontier in Fintech Partnerships with MoU signing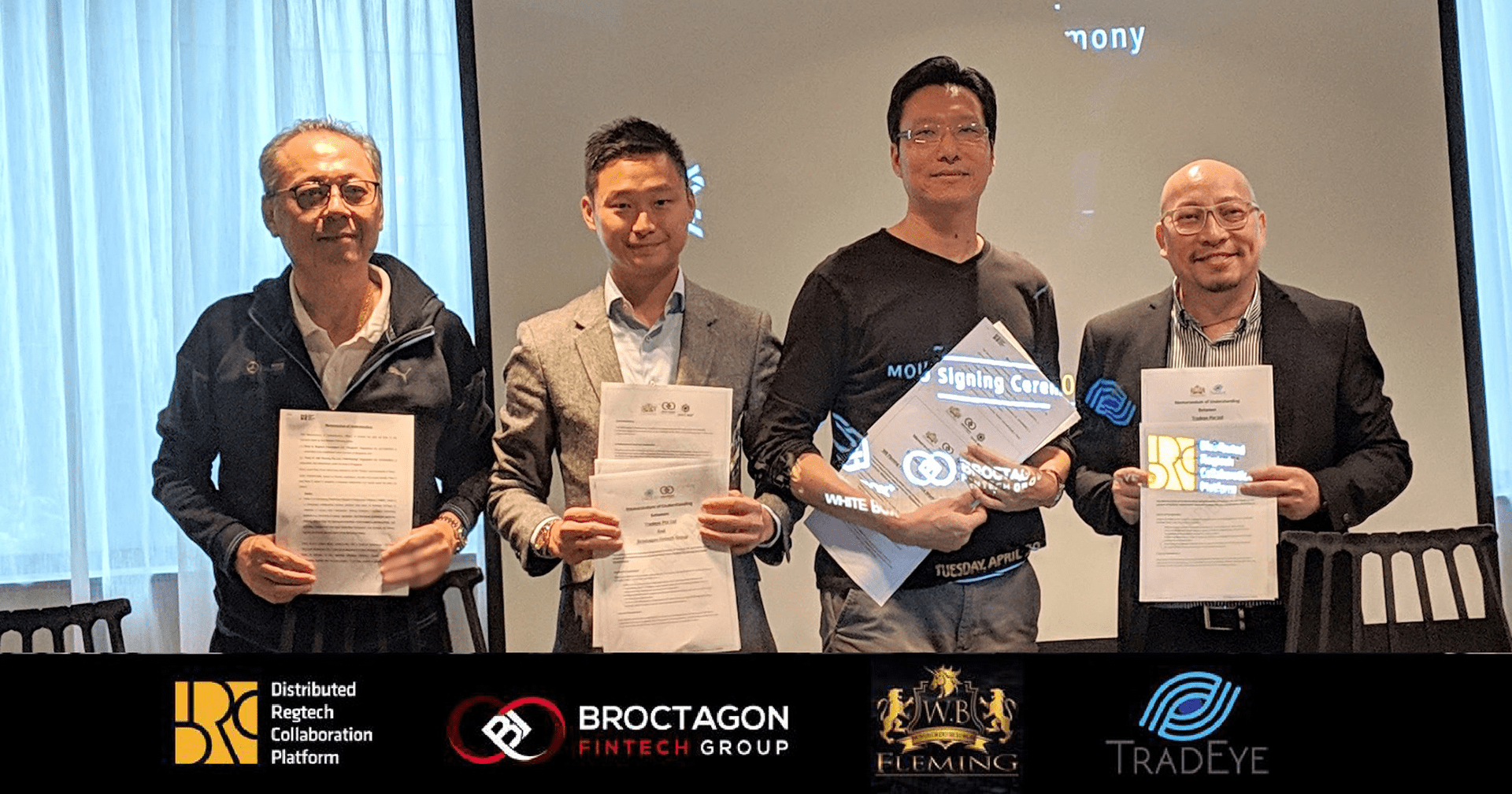 In a momentous occasion for the fintech community, Broctagon Fintech Group signed memorandum of understanding (MoU) on Tuesday, 30th April 2019, with Distributed Regtech Collaboration Platform (DRC), W.B. Fleming, and Tradeye.
This critical collaboration signifies the broadening of shared knowledge and services among the companies, and the exploring of new opportunities and partnerships within the now-widened ecosystem.
Signing on behalf of Broctagon Fintech Group was Ted Quek (Co-Founder) and with him Haw Leng from DRC, Anthony Lai (Director at W.B. Fleming and Whitebox) and Bernard Chia (CEO of TradEye).
A New Value for the Ever-Growing Community
Through these partnerships, Broctagon is set to usher in a new frontier in fintech collaborations. Through years of forging networks and a mature experience in the traditional financial industry, Broctagon is a key driving force in establishing new ties within the fintech community. As one of the leading brokerage and blockchain tech solutions providers in the region, our mission is to provide added value to empower constant innovation.The MoU signing ceremony kickstarted 'Expanding Cryptocurrency Possibilities', an intimate sharing session on the future of crypto at BitTemple Singapore.
Broctagon also shared the latest development for crypto liquidity in the industry — 
NEXUS
. Broctagon's 
NEXUS 
is a global liquidity engine that aggregates liquidity from the top crypto exchanges within a frictionless marketplace.
Broctagon's NEXUS is a global liquidity engine that aggregates liquidity from the top crypto exchanges within a frictionless marketplace.
Crypto exchanges and brokers who adopt NEXUS can enable traders to easily create and trade diversified portfolios. With NEXUS, traders can access 90% of world's tradeable assets from one single account denominated in USDT, with settlements in both crypto and stablecoins.
The partners also shared more about their platforms and company vision.
W.B. Fleming
A private equity advisory firm with a focus on technology : FinTech, RegTech, Blockchain/ DLT, Artificial Intelligence and other Emerging Technology. They provide access to growth capital through a network of family offices, VCs, UHNWIs, HNWIs in Asia and the UAE.
TradEye
An arbitrage education platform. The company also focuses on nurturing and educating those who are unfamiliar with the crypto currencies markets and blockchain and help them embark on capitalizing on the blockchain and crypto currency revolution.
Distributed Regtech Collaboration Platform (DRC)
A distributed professional service platform that aims to leverage FinTech to establish a mutual trust mechanism among investors, innovative technology projects e.g. blockchain projects, regulators, and third-party professional agencies.As a turnkey fintech solutions provider, Broctagon merges traditional finance with the innovations of blockchain technology, offering brokerage turnkey, end-to-end blockchain solutions, deep institutional liquidity, as well as comprehensive system security testing.
About Broctagon Fintech Group
Broctagon Fintech Group is a leading multi-asset liquidity and full suite FX technology provider headquartered in Singapore with over 15 years of established global presence in Hong Kong, Malaysia, India, Cyprus, Thailand, and China. We specialize in performance-driven and bespoke solutions, serving clients across more than 500 countries with our liquidity aggregator technology, brokerage, and exchange solutions suite, as well as enterprise blockchain development.