Ripple to launch 'game-changer' liquidity hub amid XRP legal battles with SEC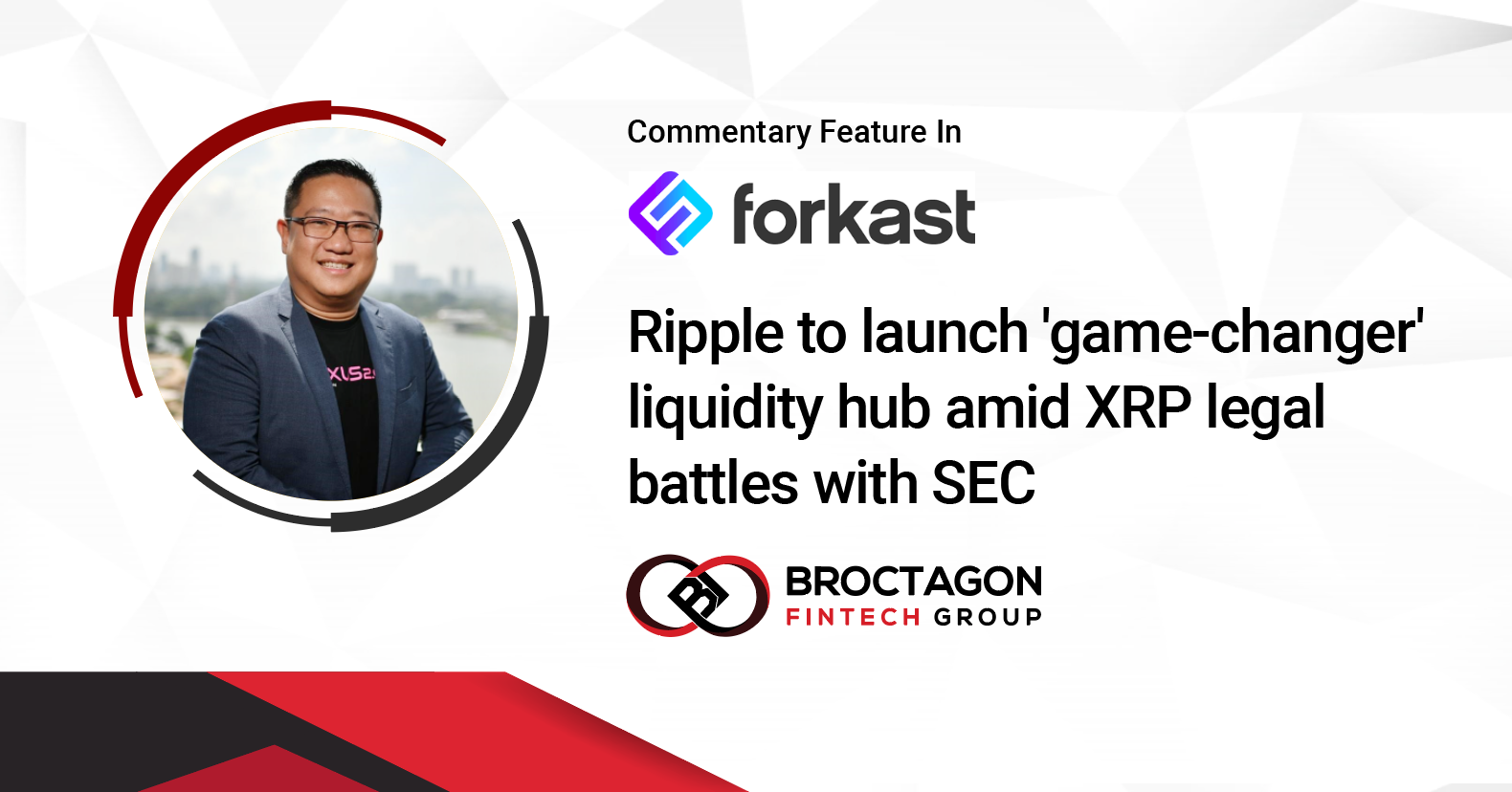 This article was first published here on Forkast
Trying to move beyond XRP, Ripple hopes its customers will join RippleNet with a wallet that supports fiat and other cryptos like Bitcoin and Ether.
Ripple, the San Francisco-based blockchain payments company currently embroiled in a lawsuit with the U.S. Securities and Exchange Commission, this week announced that it would be launching Ripple Liquidity Hub, which will allow enterprises to access and source liquidity from the broader crypto market for a range of cryptocurrencies including XRP, Bitcoin and Ethereum at what Ripple says would be the best possible prices to their customers.
Liquidity, or the ease that an asset can be bought or sold at a stable price on a given market, plays a critical role in trading, particularly in the cryptocurrency market. There are currently over 600 cryptocurrency exchanges — big and small — and traders sometimes experience large price spreads between different platforms, especially for altcoins.
"Ripple Liquidity Hub is a game-changer for enterprises who want to offer their customers the ability to buy, sell or hold digital assets," Asheesh Birla, general manager of RippleNet at Ripple told Forkast.News in an email.
With Ripple Liquidity Hub — to be launched in 2022 — enterprise customers will be able to use an API connection to access digital assets from a variety of global sources, including market makers, exchanges, over-the-counter (OTC) desks and, in the future, decentralized venues. "To put things into perspective, you can think of Liquidity Hub as an aggregator for various liquidity venues and individual assets, the way that Google Flights is for airlines and flights," Birla said.
At launch, Ripple Liquidity Hub will support XRP, Bitcoin (BTC), Ethereum (ETH), Litecoin (LTC), Bitcoin Cash (BCH) and Ethereum Classic (ETC), with availability varying by jurisdiction. Ripple plans to add other tokenized assets like non-fungible tokens (NFTs) and capabilities like staking and yield generation in the future, Birla said.
"The lack of liquidity is the biggest issue that the industry faces. Cryptocurrencies remain extremely volatile, holding back their widespread adoption. Moreover, the current crypto-liquidity landscape is not friendly towards traditional financial institutions," Don Guo, co-founder and CEO of Singapore-based Broctagon Fintech Group told Forkast.News in an email. "This aspect has, for the most part, acted as a barrier-to-entry for mainstream institutions, and has kept crypto a 'fringe' investment."
"The liquidity hub by Ripple is geared towards enabling such enterprises to easily and efficiently source digital assets from the broader crypto market which is needed," Guo added. Broctagon, for example, is also trying to provide the industry with greater liquidity by aggregating quotes from top-tier crypto exchanges and making them directly accessible to the smaller exchange, Guo said. "A concerted industry effort and cooperation are needed to take crypto to its next stage of evolution."
XRP, the native digital asset on the XRP Ledger, is currently the seventh-largest cryptocurrency with a market cap of US$56 billion. Whether or not XRP should be deemed a security is also the billion-dollar question in the lawsuit that SEC filed last December against Ripple, which is currently in the discovery phase in federal court in New York.
Unprecedented growth of RippleNet ODL
According to Ripple's Q3 2021 XRP Markets Report, Ripple saw unprecedented growth of its On-Demand Liquidity (ODL) service, which facilitates cross-border payments by using XRP as a bridge between two currencies. ODL transactions increased 130% quarter over quarter and transaction volume on RippleNet more than doubled since 2020. The ODL service is available in over 20 markets including Japan and the Middle East that launched this year.
"We have been using the Ripple Liquidity Hub technology internally as part of our On-Demand Liquidity (ODL) service for nearly two years, sourcing XRP on-demand to power millions of transactions, worth billions of dollars," Birla said. "In fact, customers who have witnessed the benefits of ODL first hand asked if we could help them source other digital assets."
Enterprises will not be required, unlike many other offerings, to pre-fund accounts for Liquidity Hub and can receive access to working capital through Ripple. Ripple is partnering with Coinme, a licensed cryptocurrency cash network in the United States, as its first partner for the product.
"We have seen strong demand for a product like this in the market after the massive year that crypto has had," Birla said. "Banks, financial institutions, and SMEs realize the opportunity to integrate crypto into their business but they aren't necessarily experts in this space and they need support offering their customers the ability to easily buy, sell, and hold crypto assets.
Ripple's latest announcement comes as it expands the use cases for the XRP Ledger technology beyond digital payments and remittances to central bank digital currencies (CBDCs), tokenization, decentralized finance (DeFi) and NFTs.
"In the future, every customer will join RippleNet with the same base service and a wallet designed to support both crypto and fiat," according to a Ripple media release. "Customers will be able to use their Ripple-enabled wallet to custody anything that's tokenized."
Judge orders Ripple to produce audio and video recordings of company meetings
For now, however, the company is battling the SEC in heated litigation.
In a ruling this week, U.S. Magistrate Judge Sarah Netburn ordered Ripple to search for and produce relevant audio and video recordings of its internal employee meetings, including "all-hands" meetings, town hall meetings and fireside chats, which the SEC contends "contain undisputedly relevant evidence."
"Ripple's search of its recorded meetings has been inadequate under the circumstances," said Netburn in a ruling this week. "While the Court recognizes that a human review of the recordings may be unreasonable, a reasonable search could include automated transcriptions of records (similar to the common technology used to transcribe voicemail messages) and the use of search terms."
Ripple earlier called the SEC's request "disproportionate" and maintained that it had conducted a comprehensive and reasonable search for recordings. But the SEC challenged Ripple's search, saying it was lacking and argued that the recordings "may reveal efforts Ripple took to increase or maintain XRP's price or to create expectations of profits in potential XRP purchasers, both of which are relevant… to prove whether XRP was offered and sold as a security."
As Ripple has said that it has more than 4,000 recordings, the judge has ordered the parties to meet to narrow down the list to time periods  that are most likely to contain information relevant to the lawsuit. 
About Broctagon Fintech Group
Broctagon Fintech Group is a leading multi-asset liquidity and full suite FX technology provider headquartered in Singapore with over 15 years of established global presence in Hong Kong, Malaysia, India, Cyprus, Thailand, and China. We specialize in performance-driven and bespoke solutions, serving clients across more than 500 countries with our liquidity aggregator technology, brokerage, and exchange solutions suite, as well as enterprise blockchain development.