The Future of Social Media with NFTs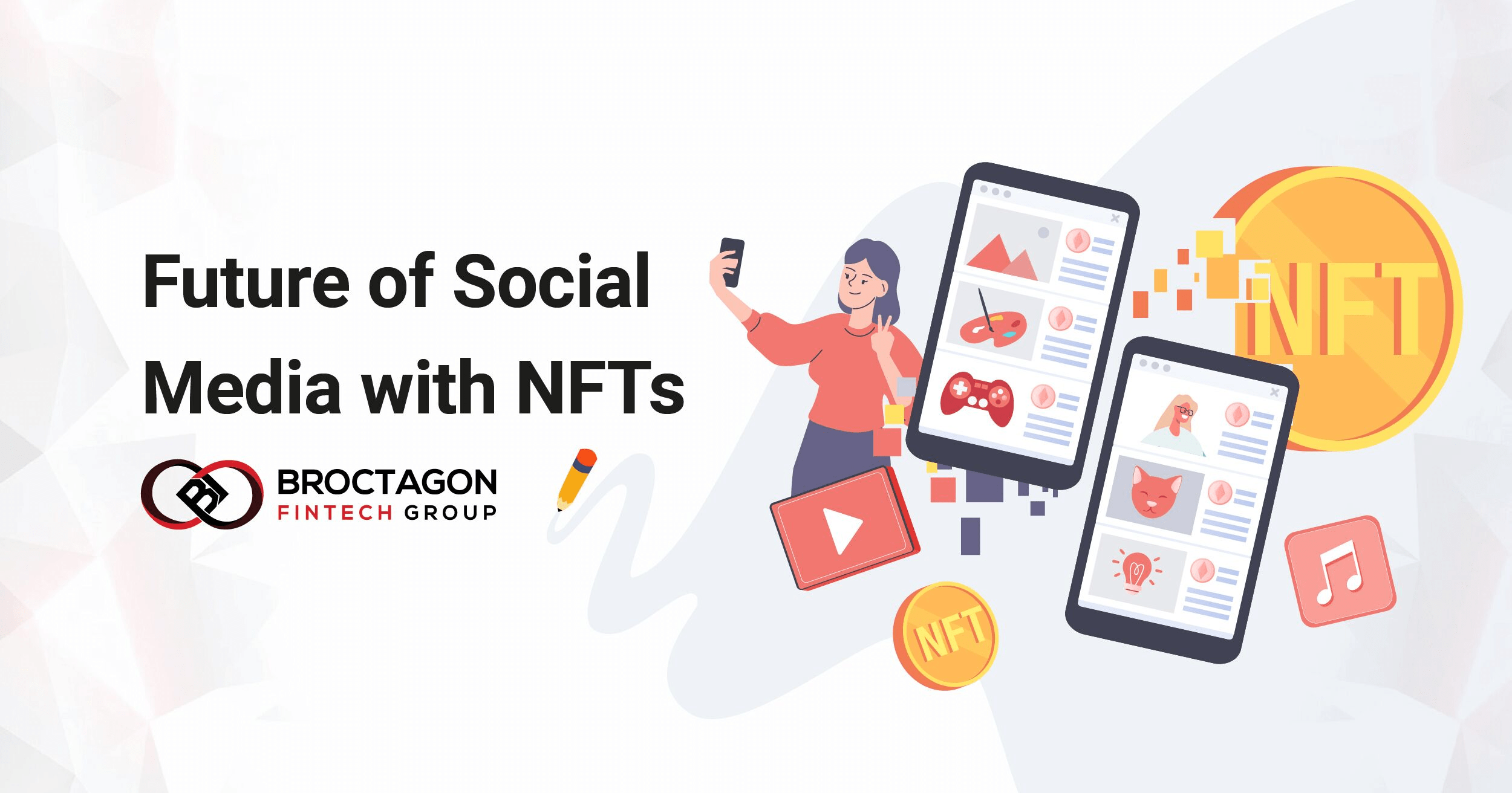 Today, social media platforms are a part of our everyday lives. We barely notice it, but millions of people around the world communicate, socialize, keep themselves updated with news, shop for products/services, and simply entertain themselves on social media. Every subject and trending issue can be seen on social media, and it is the fastest way to get the message out to a global audience.
Online networks and user-generated content make up a considerable portion content on the Internet today. It is a platform for brands, creators, artists and any user to share their content and be heard. According to DataReportal, there are 4.33 billion social media users around the world at the start of 2021, equating to more than 55 percent of the total global population. Figures suggest that social media users equate to annualised growth of 13.7 percent, or an average 16½ new users every single second.
A recent trending technology, NFT or Non-Fungible Tokens, has been the buzz and it is inevitable how this could eventually weave its way into social media, a phenomenon that has also intertwined with our daily lives in the last couple years.
What is an NFT?
An NFT (non-fungible digital token) is a token minted on blockchain technology that represents a unique asset and is not interchangeable. A blockchain is a distributed software network that functions both as a digital ledger and a mechanism enabling the secure transfer of assets without an intermediary. On the blockchain explorer, the history, owners and authenticity of each NFT can be verified.
Read More: What is an NFT? Non-Fungible Tokens Explained
An NFT can consist of an asset, say a piece of digital artwork, music or photo, plus a contract on blockchain asserting that the created piece of art is the original.
NFTs are becoming more and more mainstream: collectors and artists have spent around $200 million on NFT-based artwork according to market tracker NonFungible.com compared to $250 million throughout all of 2020. NFTs have started to gain a broad attention as more celebrities get into the board. Elon Mask, Mark Cuban and Linkin Park guitarist Mike Shinoda started minting their own tokens.
How Social Media Users Can Benefit from NFTs
Monetization and Commodification of Digital Content
NFTs give brands, marketers, influencers and any social media user the ability to create and monetize their content. Turning digital content on social media into NFTs allows an intangible artwork or photo to have tangible value by being tied to a crypto-based token, giving it accessibility and liquidity. Commodification is possible through the tokenization, by converting the physical or virtual content into digital units that can be bought and sold. As Oscar Wilde noted, all art is quite useless – the value of art is purely based on community-consensus and authenticity is valuable because it is scarce. Assigning a value to content through NFTs gives it that value.
Earnings from Royalties
Today, social media content producers pay out some of their profit to third-party intermediaries and platform fees. Blockchain-based social media platforms are disrupting this process by taking the middleman out and enabling content producers to have complete control over how and where their content is distributed and profit from the production of passive income. For artists and creators, being able to sell their work directly to a global buyer without going through an auction house or third party gives them a bigger portion of the profits they make from sales. Royalties can even be programmed into an NFT so that the creator receives a percentage of sale profits each time their work is sold to a new owner.
Autonomy and Control
In a decentralized social network, the community governs itself in the management of the platform and their content. Decentralized social networks give users more control and autonomy. Benefits include censorship resistance, ownership over personal data, and improved control over user-generated content. This means no one else, whether a corporation or site administrator, can make modifications to or remove content created by users.
Ownership Protection
From a copyright perspective, the content creator who took the photo on social media will continue to be the rightful owner, and maintain exclusive rights to control the use of the work. Social media users who post any form of content, from digital art to photos to music can go through a process of "minting" their own work, assigning it an NFT value and thus making it one-of-a-kind, where its originality can be verified through the NFT source code. This is a solution to a problem where on current social networks, content creators are facing a value-loss of their content caused by streaming and digital reproductive commodification. NFTs can authenticate a digital creation. The immutability of blockchain, preventing the digital file from being faked, forged, or replicated, is one of the main selling points of the technology.
Who Benefits from NFT-based Social Media Platforms?
Influencers
Influencers play a vital role in the social media landscape, with millions of followers and the power to sway the next trend, brands are always looking to engage them. Through photos, clips and tweets, they are a marketing channel on their own, advertising and influencing the next big idea into the minds of their communities. In current social media platforms, influencers struggle to monetize their content if their post is not sponsored or an advertisement, which audiences are usually not very receptive to.
NFT-based social networks allow influencers to build better connections with their audience in a peer-to-peer way, and deliver content that they are looking for. This new type of social media platforms will allow influencers to creatively respond to fan requests by converting memorable photos into digital collectibles that can be acquired by followers, forging a deeper, tangible connection in what was previously unattainable.
Digital Artists
Digital artists constantly face the problem of having their work stolen, copied and used without permission online. NFT-based social networks will work in their favour for copyrighting of their original work. Today, the art market remains a largely unregulated field. Collectors, auction houses and galleries who have access to information about who owns what artwork, its sale price, etc. profit from their position, while those with the least access to such information, artists are typically left at the mercy of third-party agents. NFT platforms will improve the ease of transferring digital creative assets, and information of authentication can be easily accessed on blockchain explorer. NFTs can be sold on any NFT marketplace or via a peer-to-peer method without the need for an intermediary, rather than being restricted to the use of third-party platforms to distribute content. This allows the artists to connect directly with the audiences. Artists can also retain ownership of their work forever by implementing royalties. In contrast from the traditional art world, where most artists get no money from the resale of their work, even when the value has doubled or tripled.
Brands
NFTs provide an exciting opportunity for the brands as well. They present opportunities for brand owners in both digital and physical markets as they have potential usefulness not only in association with digital images but also for physical products. With NFT-focused social media the brands can create unique brand experiences, increase brand awareness, encourage interaction as well as help to increase conversion and drive revenue. For example, the end-users of fashion brands can verify the information regarding the ownership of all the items and accessories which reduces the risks of frauds. Through NFT-based social networks the brands can create engaging digital art assets and give the ownership rights of these collectibles as part of promotional campaigns which will bring the customers closer to the brand and attract a new clientele.
NFTs Will Continue to Disrupt Various Industries
There is no doubt that NFTs will continue to disrupt multiple industries in one way or the other, social media is just one of them. Global companies are taking a serious look at NFT and blockchain technology to streamline many of their current business processes. However, the balance does seem to be shifting as NFT-based social platforms solving many of the issues traditional social networks have from the perspective of users as well as business. The relationship between social media, blockchain and NFTs will continue to evolve.
If you would like to find out more about how to create digital content with NFTs or launch an NFT marketplace, simply click here to schedule a consultation with our blockchain advisors to find out more.
About Broctagon Fintech Group
Broctagon Fintech Group is a leading multi-asset liquidity and full suite FX technology provider headquartered in Singapore with over 15 years of established global presence in Hong Kong, Malaysia, India, Cyprus, Thailand, and China. We specialize in performance-driven and bespoke solutions, serving clients across more than 500 countries with our liquidity aggregator technology, brokerage, and exchange solutions suite, as well as enterprise blockchain development.