What Are Affiliate Programs and How Do They Work?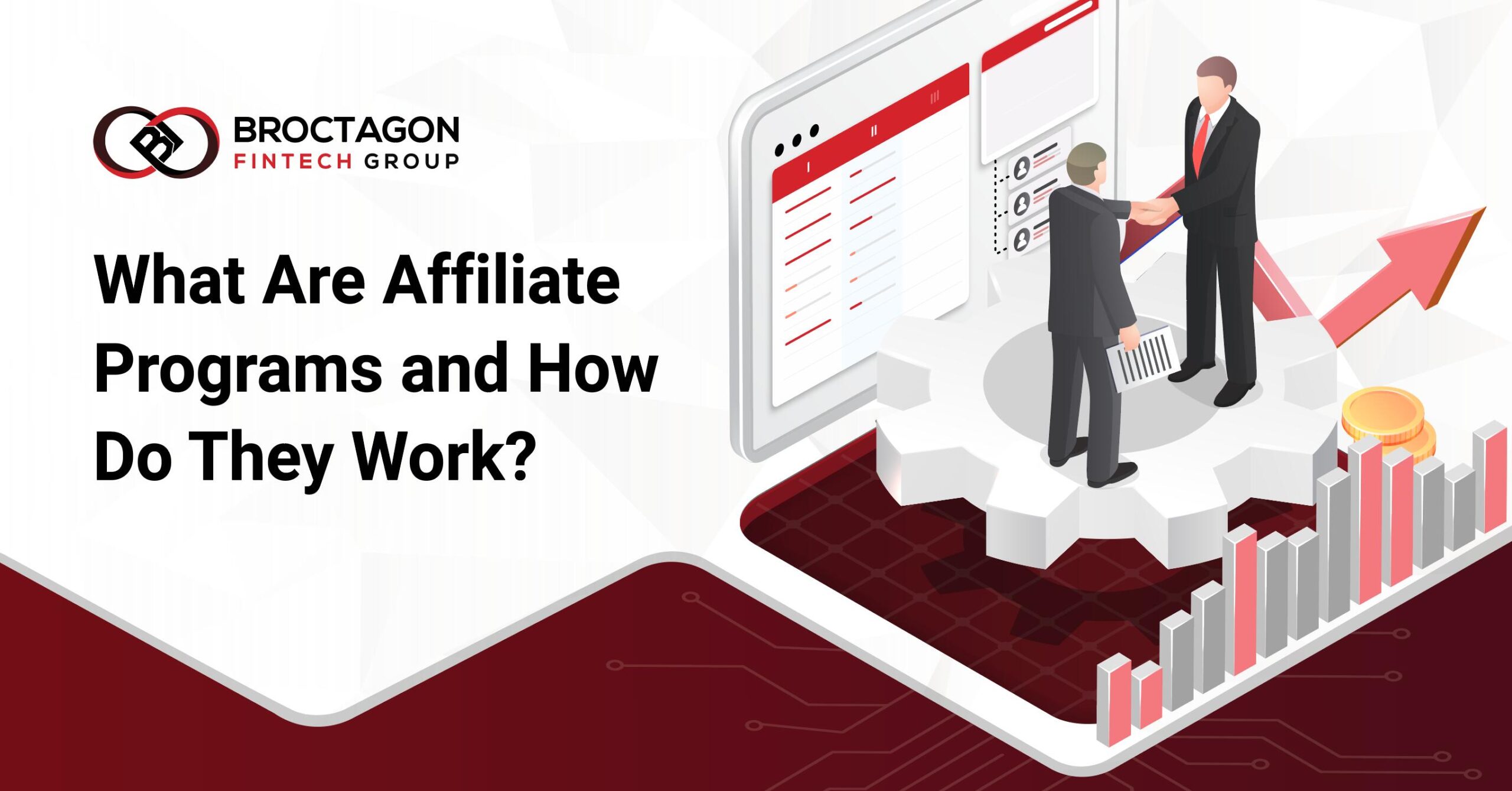 Affiliate programs have become pivotal for modern brokerages, especially in today's interconnected digital marketplace. They have evolved from marketing strategies into integral growth drivers. These programs enable brokerages to expand their market reach, boost brand visibility, and generate substantial revenue through networking. In this article, we will provide a detailed explanation of how affiliate programs function, delve into the core concepts of affiliate business models, and explore every key component and functionality within the affiliate ecosystem.
What Are Affiliate Programs?
Forex affiliate programs are partnerships between Forex brokerages and individuals or entities who promote the broker's services in exchange for a commission or compensation. These programs play a crucial role in the marketing and customer acquisition strategies of Forex brokers.
Who can become Affiliates?
Individuals who can become Forex broker affiliates come from diverse backgrounds and may include:
Bloggers: Owners of finance, trading, or Forex-related blogs can utilize their online presence to promote Forex brokerages.
Social Media Influencers & Content Creators: Individuals with substantial followings on platforms like Instagram, Twitter, Facebook, or LinkedIn can create engaging content, offer trading tips, and endorse Forex brokers to their audience.
Experienced Traders: Traders with in-depth FX knowledge can produce educational content, share trading strategies, and refer traders to their preferred brokerage.
Email Marketers & SEO Specialist: Skilled email marketers can build lists of potential traders interested in Forex and use targeted email campaigns for brokerage promotion, while search engine optimization (SEO) experts can craft landing pages to attract and convert organic traffic.
Educators: Forex educators who offer courses or training programs can promote brokerages to their students as a trusted platform for practicing what they learn.
Key Opinion Leaders (KOLs): Administrators or prominent members of online forums, groups, or communities can endorse brokerages to their community members.
How Do Affiliate Programs Work?
Affiliate programs create a symbiotic relationship where affiliates help drive traffic and potential customers to the merchant's business, and in return, they earn a share of the revenue generated from these referrals. This model benefits both parties by expanding the FX Broker's reach and boosting the affiliate's income potential. Affiliate programs come in different forms from simple embedded links to full-fledged multi-tier structures.
Types Of Affiliate/Referral Programs
Traders who are interested in becoming affiliates can join the partner's affiliate program. Upon enrolment, they receive exclusive tracking links or referral codes. These customized links play a crucial role in monitoring the traffic and actions resulting from the affiliate's referrals. Here are some of the commission types:
Cost Per Acquisition (CPA): Affiliates earn a fixed one-time commission for each referred trader who meets specific criteria, such as opening an account, making a deposit, or completing a certain number of trades. CPA programs provide affiliates with immediate payouts for qualified referrals.
Revenue Share (RevShare): Affiliates receive a percentage of the broker's revenue generated by the referred traders' trading activities. This commission structure allows affiliates to earn ongoing, recurring income as long as the referred traders continue to trade.
Introducing Broker (IB) Programs: Strictly speaking, IB programs involve a deeper level of partnership than affiliates although it drives a similar objective. IBs earn commissions based on trading activity and often operate with a hierarchical commission structure with multiple levels of earnings.
Why Do Brokers Need An Affiliate Program?
Enhanced Exposure and Targeted Reach:
An affiliate program empowers brokers to amplify their market presence by harnessing the promotional efforts of affiliates who cater to a relevant and interested audiences. This strategic approach broadens the broker's exposure, connecting them with potential clients they might not have otherwise reached.
Cost-Effective Marketing Strategy:
Due to its performance-based model, brokers compensate affiliates only when specific criteria are met, such as depositing funds or fulfilling a predefined trading volume. This outcome-driven approach makes it highly cost-effective as compared to traditional advertising campaigns that may incur upfront costs with uncertain lead quality.
Brand Advocacy
Affiliates advocating a broker's services have a vested interest in the broker's success. As active brand advocates, they can furnish positive reviews, testimonials, and recommendations rooted in their personal experiences. This organic promotion enhances the broker's reputation and credibility within the forex trading industry.
Scalability and Flexibility
Affiliate programs are extremely scalable tools that allow brokers to expand rapidly. With the right CRM and affiliate management technology, Brokers can easily monitor, optimize and refine their affiliate campaigns, leveraging on data-driven insights while working with many affiliates concurrently.
Relationship Management
Empowering the success of affiliates fosters brand loyalty, a synergy further heightened by integrating a CRM system equipped with affiliate marketing technology for efficient relationship management. This integrated platform streamlines communication, tracking, performance monitoring, and payouts transparently, bolstering operational efficiency and robust affiliate relationships.
Competitive Advantage
In a landscape where many forex brokers offer affiliate programs, possessing a technological edge becomes paramount. Advanced features like customizable commissions tailored to each affiliate group, real-time commission distribution, limitless referral hierarchy, and multi-tier commissions with customizable rank settings underscore a broker's unwavering commitment to expansion and fostering strategic partnerships.
Broctagon AXIS's IB & Affiliate Core Module
Integrated as part of both the client and admin portal, AXIS CRM's IB & Affiliate core module allows any trader to instantly promote your Brokerage. Deploy the industry's most powerful multi-tier affiliate marketing tool and let your IBs, partners, and affiliates unlock their full potential.
AXIS boasts exceptional affiliate capabilities, offering unlimited IB/Affiliate tiers within an expandable hierarchy. The IB Centre empowers partnering IBs and Affiliates to effortlessly track their daily progress, manage their operations, and gain insight into their referral network with dynamic data display for real-time performance and income breakdown. Additionally, each client account is equipped with a unique affiliate link for efficient online marketing and referral purposes.
The admin portal features a host of customizable parameters, enabling brokers to launch tailored referral campaigns, customize IB Ranks, and configure commission tiers as well as deposit bonuses. Complete with an affiliate dashboard that gives insights to trading patterns, fund movements and client network activities for enhanced management.
Want to launch a successful affiliate program or IB network and rapidly expand your brokerage business? Speak to us for a demo of all these functionalities.
About Broctagon Fintech Group
Broctagon Fintech Group is a leading multi-asset liquidity and full suite FX technology provider headquartered in Singapore with over 15 years of established global presence in Hong Kong, Malaysia, India, Cyprus, Thailand, and China. We specialize in performance-driven and bespoke solutions, serving clients across more than 500 countries with our liquidity aggregator technology, brokerage, and exchange solutions suite, as well as enterprise blockchain development.