DeFi Arbitrage Bot Development
Broctagon's DeFi Arbitrage Bot development for flash loan trades. No coding needed with pre-made modules.
Smarter, Automated Investments in DeFi
Integrate Broctagon's Arbitrage bot automation system for your users to access smarter investments in DeFi from margin trading by simultaneously buying and selling assets from different exchanges by scanning for arbitrage opportunities, known as Flash Loan Arbitrage.
Our advanced software provides customizable solutions to automate the process of earning profit.
Access Multiple DeFi
Platforms
Efficient Market
Monitoring
The Inter-Exchange Arbitrage Scanner
The Arbitrage Bot does a smart scan of the most favorable price quotes across exchanges for the users' selected token, comparing the bid and ask prices to identify price discrepancies which subsequently can be leveraged with flash loans to execute profitable arbitrage trades – all in one single transaction.
With the integration of major DeFi protocols such as AAVE, SushiSwap, and Uniswap, it's an easy way for your traders to gain passive income opportunity.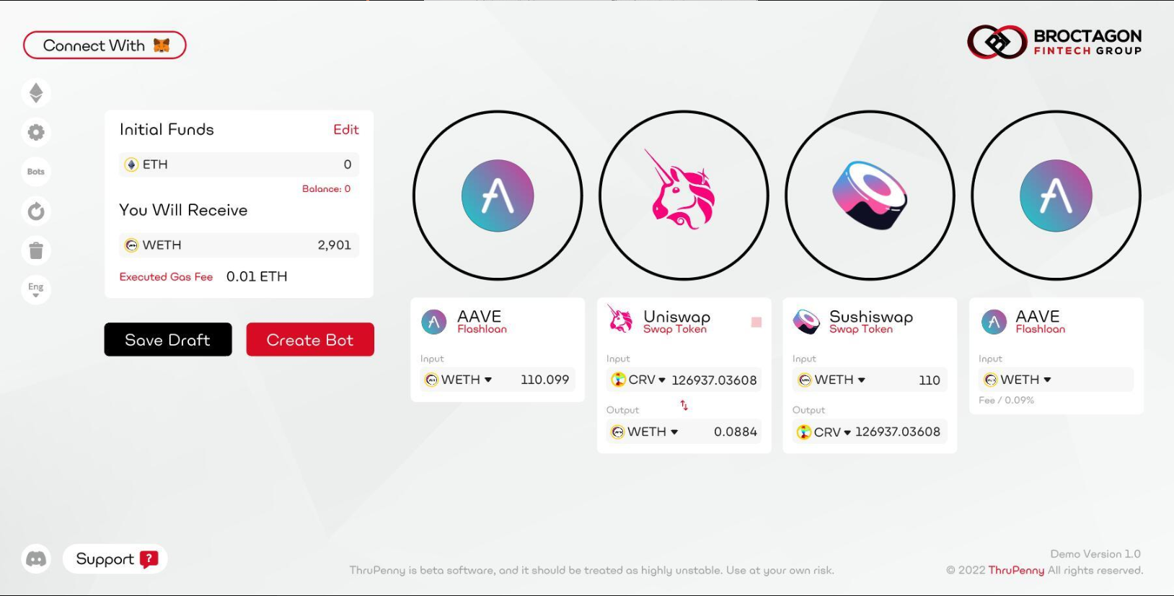 Users can easily turn their strategy into code by customizing personal trade preferences in bot settings. Our bot allows for customizable parameters such as slippage tolerance and max gas price for different risk appetites.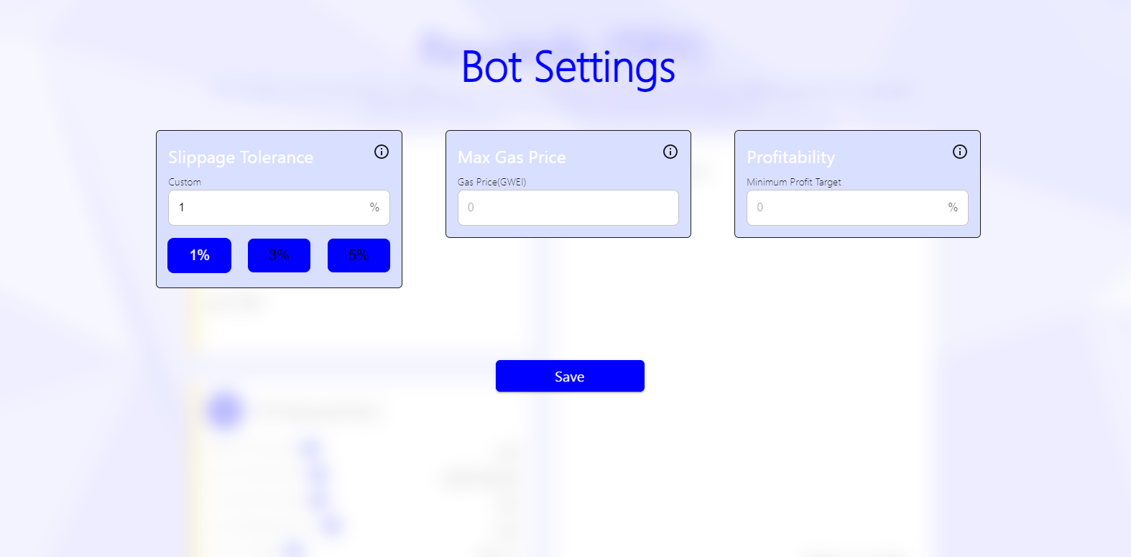 Why Broctagon's DeFi Arbitrage Bot Development Services
Launch your DeFi platform ahead of your competitors with Broctagon's comprehensive DeFi Arbitrage Bot with no coding and development time needed. Answer the market's needs for DeFi investments with our sophisticated pre-built algorithm, designed with our years of understanding in traditional finance fused with expertise in the latest DeFi innovation.
Fast Deployment with
White Labelling
Ready-Made UI with
Fully-Customizable Branding
Pre-Audited for Risks
and Vulnerabilities
A Decade of Experience in
Trading Technology
Dedicated 24/7 Support of
the Team
Frequently Asked Questions
What is arbitrage?
Arbitrage refers to the process of buying and selling valuable assets to make profits by taking advantage of different prices in different markets. For example, you could buy ETH for USDT on one decentralized exchange, then sell it at a higher price on another, thereby making a profit in USDT.
What is a DeFi arbitrage bot?
It refers to a system which scans across exchanges for differences in price, since transactions are happening so quickly, it is important to access price data instantly, also known as flash loans. This is where arbitrage robots come in, allowing users to profit from margin trading by simultaneously buying and selling assets.
Who can launch a DeFi Arbitrage Bot?
Yes, anyone can launch a DeFi arbitrage trading platform or implement our bot as an exciting investment module for your clients on your existing platform.
How long does it take to develop a DeFi Arbitrage Bot?
Coding a Defi Arbitrage takes time, cost and expertise. But with Broctagon, the process is made more efficient with our pre-coded DeFi Arbitrage Bot, that's ready-made and deployable quickly.
Implement Smart Investment Opportunities on Your Platform Now