Broctagon Enhances Flagship FX CRM with MySQL HeatWave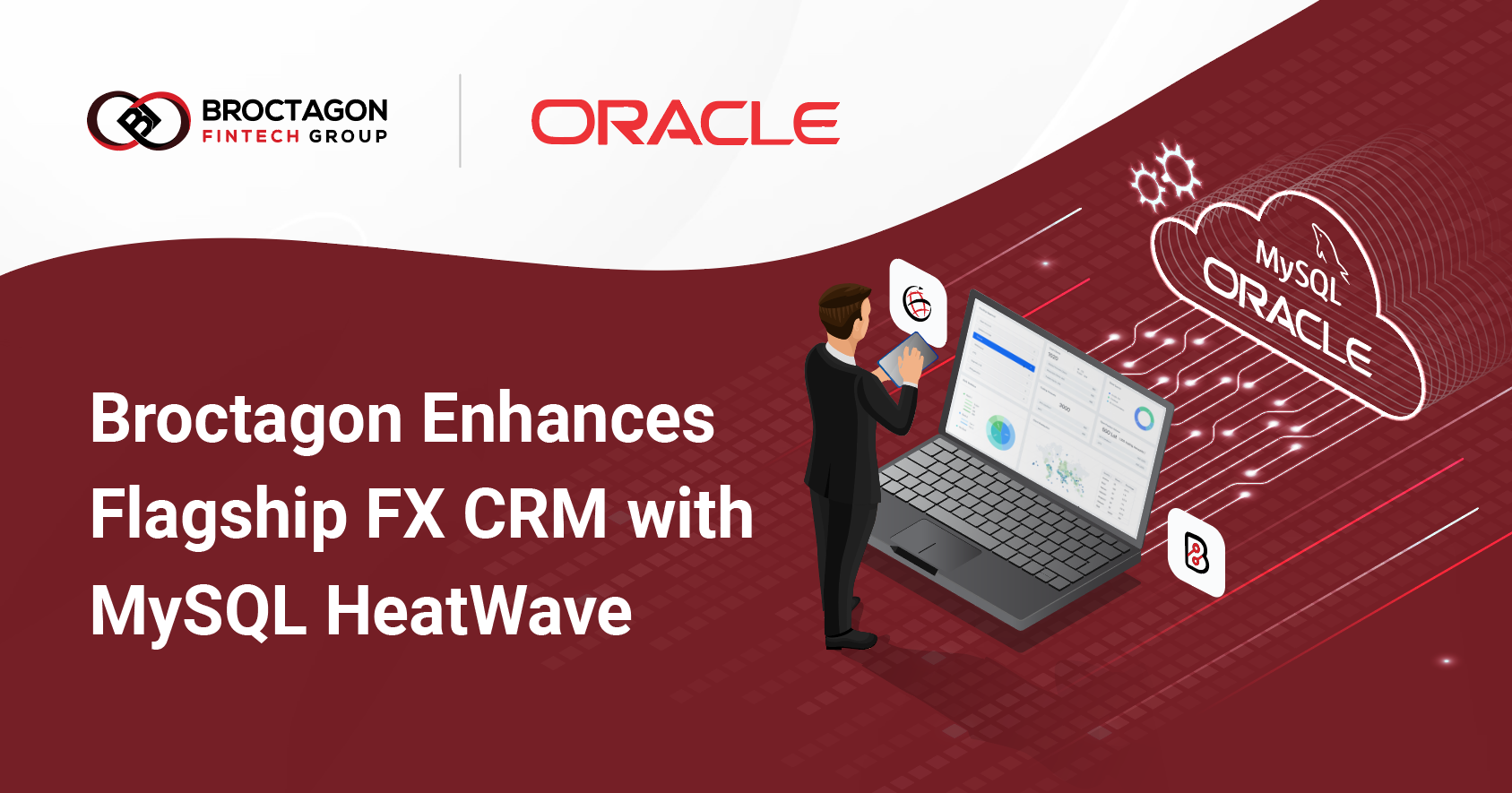 Migrating its Forex CRM to MySQL HeatWave on Oracle Cloud Infrastructure, the Singapore-based ISV increases performance by 30% and reduces cost by 35%.
Business Challenges & Goals
Broctagon's AXIS Forex CRM equips retail brokerage firms with a solution that integrates multiple trading platforms, enhances trader's journey, optimizes admin operations, and facilitates rapid market expansion with advanced affiliate capabilities, redefining industry standards and expectations.
Broctagon began hosting its Forex CRM product on AWS RDS Aurora, with the MySQL database as the foundation, serving each customer with its own cluster. Over time, with a rapid increase in client base and thus data size, the company found that the cost of scaling up for enhanced performance was becoming prohibitive. With the need to improve the performance versus cost ratio, the company decided to migrate the CRM solution to MySQL HeatWave running on Oracle Cloud Infrastructure (OCI).
Business Results & Metrics
Broctagon achieved better performance and availability with MySQL HeatWave, at a significantly lower cost. This allowed the company to enhance and develop a wider array of microservices for the AXIS FX Broker CRM.
Furthermore, after conducting full load stress testing with identical specifications, Broctagon achieved a 30% performance improvement with MySQL HeatWave. When calculating the computing power required to deliver the solution to over 160 brokers and growing, the cost was 35% lower with MySQL HeatWave, allowing Broctagon to pass on these cost savings to brokers.
Considering the significant performance increase, Broctagon made the decision to change its architecture to aggregate more transactional and operational data in MySQL HeatWave.
MySQL HeatWave substantially enhanced query performance, achieving almost 14X better performance.
By leveraging OCI's high availability, Forex Brokers can now start operations within a day. Technical infrastructure for new brokers can now be provisioned within 60 minutes.
Leveraging the high performance of MySQL HeatWave, Broctagon provides its CRM users with real-time trading account information and trade history data—syncing data directly from different external sources such as the MetaTrader 4, MetaTrader 5, and cTrader platforms.
By offering advanced filters on real-time trading reports, users can customize and rearrange multiple fields on single table reports. Powered by MySQL HeatWave on OCI, the AXIS FX Broker CRM is a fully branded solution for Forex Brokers that can be modified to individual requirements with more than 350 customizable parameters.
MySQL HeatWave's analytical capabilities have led Broctagon to create a flexible and configurable risk management dashboard. This dashboard provides alerts, performance tracking analysis, insights into the most and least profitable traders, and many other data-driven features that enable Forex brokers to make more informed decisions to increase their profitability.
Further value-added services delivered to its brokerage clients include instant calculation of multiple-tier commissions based on real-time trades, thanks to an in-house Extract-Transform-Load (ETL) program that pulls data from multiple trading platforms and synchronizes it with MySQL HeatWave.
The company has found that moving the AXIS FX Broker CRM to MySQL HeatWave has freed developers from heavy administrative work by automating updates, backups, monitoring, and more, channeling focus to the development of new functions that are frequently rolled out.
On the technical front, the company is embracing MySQL HeatWave's read/write workload isolation by splitting write operations from certain expensive read operations. This allows for better monitoring of different clients' performance usage and optimizes application design.
In search of delivering better performance to clients while staying cost efficient, Broctagon chose MySQL HeatWave after successful load testing, which confirmed an optimal performance-to-cost ratio. Moreover, Broctagon's CRM developments require interaction with one of the most robust foreign exchange trading platforms in the world, which mostly utilizes MySQL as the backend database.
Another key factor was Oracle's MySQL Support provided detailed guidance, comprehensive documentation, and assistance in load testing, as well as migrating to OCI, which only took two weeks.
With MySQL HeatWave offering increased performance and reduced costs for the CRM solution, Broctagon is considering migrating parts of its liquidity and cryptocurrency business to OCI. "If performance continues to be above expectations, we will be moving more workloads to OCI down the line," said Michael Mai.
Looking ahead, Broctagon's roadmap includes leveraging MySQL HeatWave's machine learning (ML) capabilities to help Forex brokers attract and retain traders. For example, HeatWave ML can be trained to provide brokers with useful recommendations based on their trading data. The ML capabilities will also generate ideas for features to increase customer satisfaction and bring in new business, thus enabling Forex Brokers to increase their profit with lower costs.
About Broctagon Fintech Group
Broctagon Fintech Group is a leading multi-asset liquidity and full suite FX technology provider headquartered in Singapore with over 15 years of established global presence in Hong Kong, Malaysia, India, Cyprus, Thailand, and China. We specialize in performance-driven and bespoke solutions, serving clients across more than 500 countries with our liquidity aggregator technology, brokerage, and exchange solutions suite, as well as enterprise blockchain development.