Broctagon Invited to Oracle's Executive Connect Session With Other ISV Peers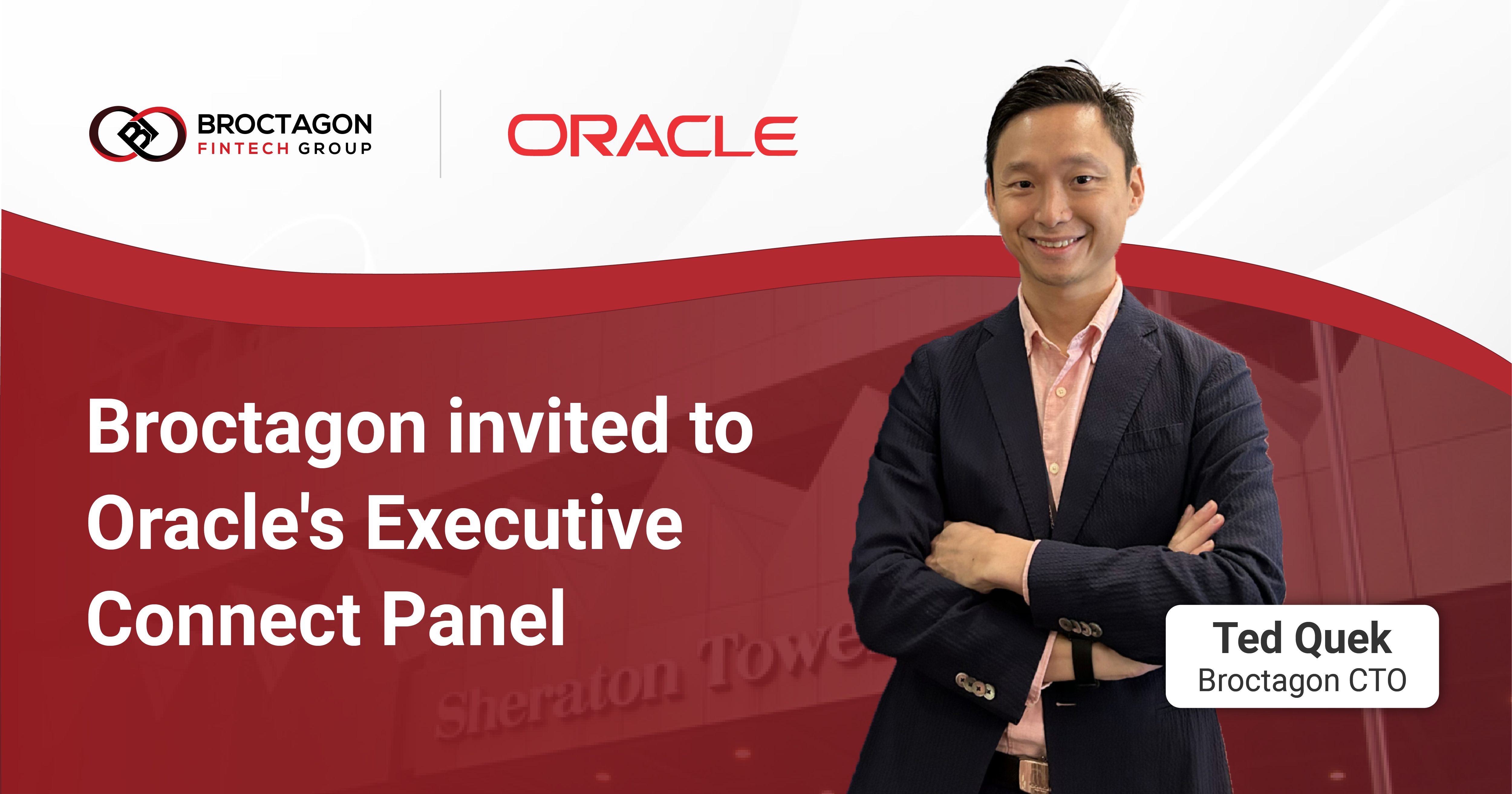 Broctagon was invited to the Oracle's Executive Connect Session held at the Sheraton Tower Hotel, Singapore, on 12 July 2023. Among the attendees were other fellow top-notch independent software vendors (ISVs), providing a platform for industry leaders to discuss their experiences with Oracle Cloud Infrastructure (OCI). We were honoured to be invited by Oracle as a panelist to share the successful use case and implementation of OCI into Broctagon's suite of FX Brokerage solutions.
Oracle's Superiority in the Cloud Market
Broctagon's Co-Founder and Chief Technology Officer (CTO), Ted Quek, was among the panelists from Azentio Software, Boon Software, Skylab Group, who came together to share our experiences in this fireside chat hosted by Oracle's Senior Director of ISV JAPAC, Weng Wai Chia.
This fireside chat allowed panelists to highlight how OCI has contributed to the success and growth of their respective businesses. The invited industry experts represented a diverse range of businesses in different industries, from case management to renewable energy to Forex solutions, who provided detailed insights into how Oracle's cloud services have revolutionized their operations, allowing for enhanced performance, scalability, and cost savings.
Panelists at the Fireside Chat: Oracle Cloud Journey
Backing Broctagon's Adaptability in a Changing Landscape
In the panel, Ted emphasized that cost efficiency and reliability were crucial factors that translate to tangible profitability. He underscored that what truly captured his attention was Oracle's technology and the dedicated team behind it, who went above and beyond to understand the complexities of the forex industry we were in, which involves extensive integrations and zero latency executions. This is especially crucial for our proprietary brokerage CRM, AXIS, which is a powerful unlimited-tier IB and affiliate system that features many real-time calculations and automated functions.
"Forex solutions belong to a highly niche industry, and I am deeply impressed by the Oracle team's ability to assess what we require swiftly and with pin-point accuracy. As a business that constantly strives to improve our offering, Broctagon is excited for this new partnership with Oracle and the benefits that we can pass on to our clients." – Ted Quek, Broctagon CTO  
The discussion also shed light on the ever-evolving nature of consumer behaviour in today's technology-driven world. The panelists emphasized the importance of adaptability and evolution to keep pace with the constantly changing customer preferences. The financial industry is a fast-moving landscape that only with Broctagon's years of experience in anticipating needs that we were able to remain as the top-tier fintech provider, reputed for our industry leading full suite FX Brokerage solutions. With Oracle's cloud services, Broctagon is not only able to provide a robust foundation for our clients' businesses but swiftly adapt our technology solutions for emerging trends and customer demands.
Attendees networking and exchanging name cards
The Executive Connect session provided an invaluable platform for industry leaders to share their experiences with Oracle Cloud Infrastructure. We are grateful for this invitation by Oracle and we look forward to sharing the common vision of driving innovation through understanding specific industry challenges. As trader behaviour continues to evolve, our cutting-edge technology combined with Oracle's cloud services will enable us to help FX Brokers adapt and evolve alongside the changing landscape for long-term success and growth.
About Broctagon Fintech Group
Broctagon Fintech Group is a leading multi-asset liquidity and full suite FX technology provider headquartered in Singapore with over 15 years of established global presence in Hong Kong, Malaysia, India, Cyprus, Thailand, and China. We specialize in performance-driven and bespoke solutions, serving clients across more than 500 countries with our liquidity aggregator technology, brokerage, and exchange solutions suite, as well as enterprise blockchain development.