Broctagon is Attending Crypto Expo Dubai 2022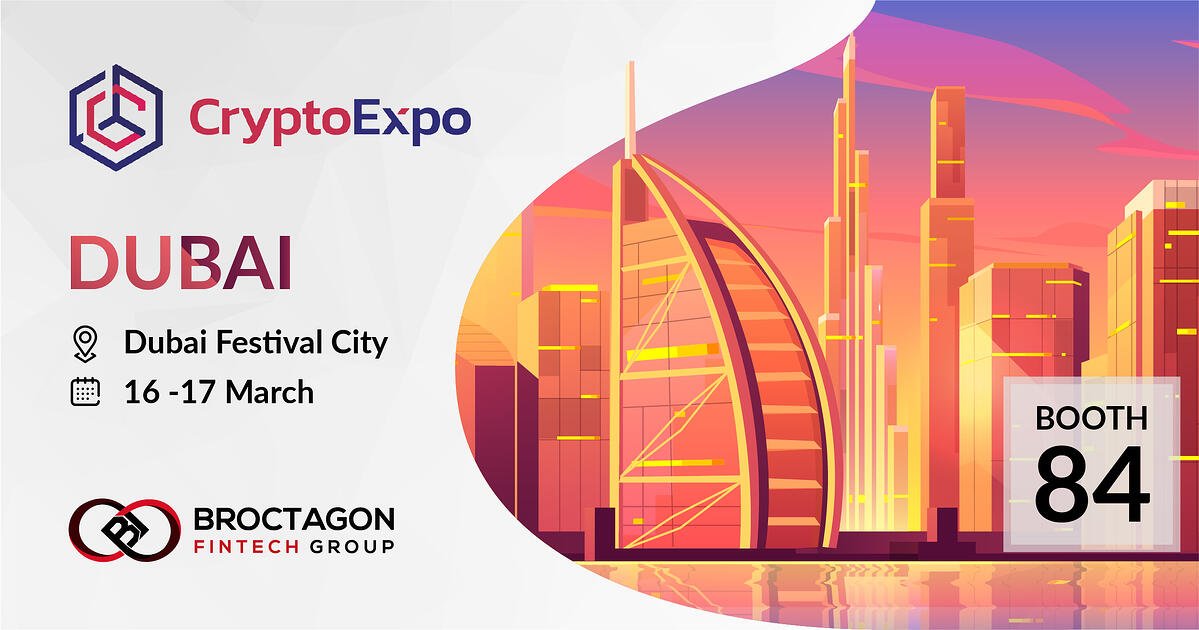 Broctagon Fintech Group is pleased to announce that we will be attending Crypto Expo Dubai 2022 as a Gold Sponsor, held at Dubai Festival City, from 16-17 March. Join us at Booth 84 where we will be presenting our newly- upgraded NEXUS 2.0 Crypto Liquidity Hub, a turnkey, full crypto liquidity solution suite for Exchanges and Token Issuers.
Come experience NEXUS 2.0 in action at the expo, and see how it instantly boosts orderbooks for both major cryptocurrencies and issued altcoins. 
Keynote Session by
Ted Quek
Chief Technical Officer
Date: 17th March (Day 2)
Venue: Hall 2
Time: 3:45pm (UTC+4)
Join us at our keynote session where Broctagon's Chief Technical Officer and Blockchain Technological Expert, Ted Quek, will share more about how our crypto solutions can elevate your business. A crypto advocate since 2015, Ted developed a digital exchange CRM that led to the launch of a successfully ICO which raised $27 million in less than a minute.
Where to Find Us?
We are only a few steps away from the entrance! 
Our Experts
 Learn more about our offerings and value proposition from our experts at the event.
Desmond Ang
Managing Director
With 20 years of experience in the financial industry, Desmond was the Head of US securities trading at CIMB Securities for the Asia Pacific Region where he oversaw its migration into a major online equity trading platform. He has a full spectrum experience in
futures, securities, FX and now in cryptocurrencies.
Yin Chong Ang Head of Dealing Yin Chong started his career in institutional FX trading, and with over a decade of experience in finance, he worked with a Japanese fund to provide market making services for IEOs and ICOs. Leveraging on his experience, he now works to bring crypto mainstream with a universal liquidity standard.
Ting Ying Quek
Nexus Client Advisor
Ting Ying's uses both her knowledge and passion in cryptocurrencies to assist more than 30 exchanges in joining the NEXUS WorldBook™, empowering them and enabling the next generation of digital asset liquidity.
Come chat with us at the event! We would love to meet other crypto advocates, and together we can build synergy to bring crypto mainstream and the industry to maturity. 
About Broctagon Fintech Group
Broctagon Fintech Group is a leading multi-asset liquidity and full suite FX technology provider headquartered in Singapore with over 15 years of established global presence in Hong Kong, Malaysia, India, Cyprus, Thailand, and China. We specialize in performance-driven and bespoke solutions, serving clients across more than 500 countries with our liquidity aggregator technology, brokerage, and exchange solutions suite, as well as enterprise blockchain development.