Broctagon Launches DEX Automated Market Maker Development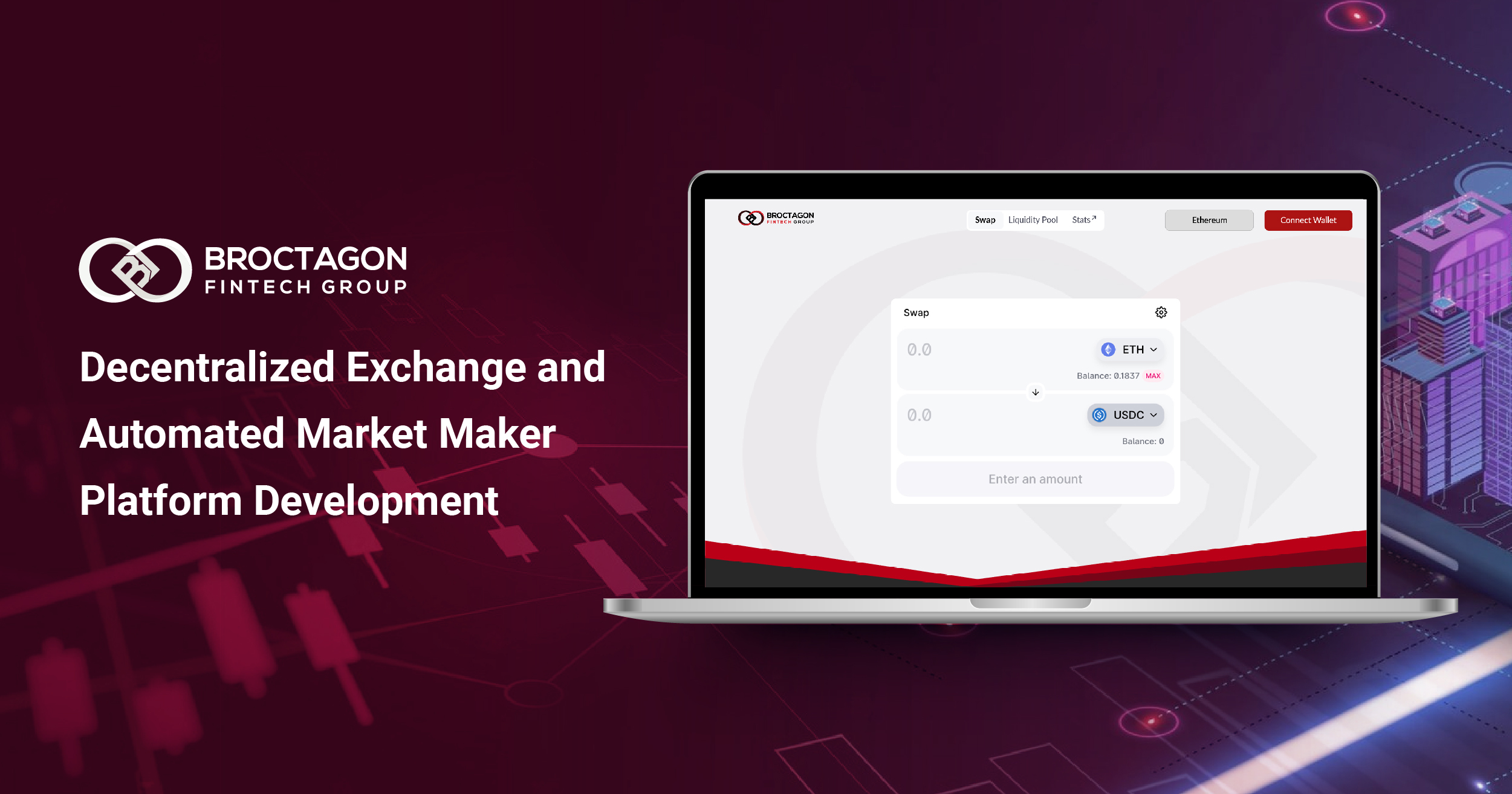 Broctagon has just announced the launch of its customized DeFi Decentralized Exchanges (DEX) Platform and Automated Market Maker (AMM) Protocol integration. If you're looking to launch a DEX, we have a ready-to-market platform with modifiable modules that will help you build the exchange you need for your desired community. We also engineer the AMM protocol for current DEXs to facilitate automated and permissionless decentralized trading of digital assets over their platforms and supercharge trades through liquidity pools.
Why a Decentralized Exchange?
Privacy and Anonymity 


Decentralized exchanges do not require customers to fill out know-your-customer (KYC) forms, offering privacy and anonymity to users

.

No Counterparty Risk

There is no counterparty risk in the case of DEXs as it operates on a trustless system without intermediaries

Liquidity Provider Rewards

Encourage liquidity providers to stake tokens and upkeep the health of the platform by implementing a rewards mechanism.
Introducing the DEX Automated Market Maker Protocol
Our DEX Automated Market Maker Protocol is a system that automatically facilitates buy and sell orders on a decentralized exchange. In contrast to regular market makers, an AMM-based DEX platform functions by using self-executing smart contracts and algorithms. We remove intermediaries in the trading of crypto assets and help you facilitate decentralized trading through liquidity pools. Instead of trading between buyers and sellers, users trade against a pool of tokens and overcome the challenge of liquidity.
With our customized DEX Automated Market Maker, you can offer deep liquidity, low transaction fees, and 100% uptime for as many users as possible. Ask us about how to supercharge your DEX platform with the AMM protocol now.
Set Up Your DEX Automated Market Maker Platform
About Broctagon Fintech Group
Broctagon Fintech Group is a leading multi-asset liquidity and full suite FX technology provider headquartered in Singapore with over 10 years of established global presence in Hong Kong, Malaysia, India, Cyprus, Thailand, and China. We specialize in performance-driven and bespoke solutions, serving clients across more than 500 countries with our liquidity aggregator technology, brokerage, and exchange solutions suite, as well as enterprise blockchain development.