Broctagon Deploys NEXUS 2.0 Aggregation Engine in BTSE to Enhance Crypto Exchange Liquidity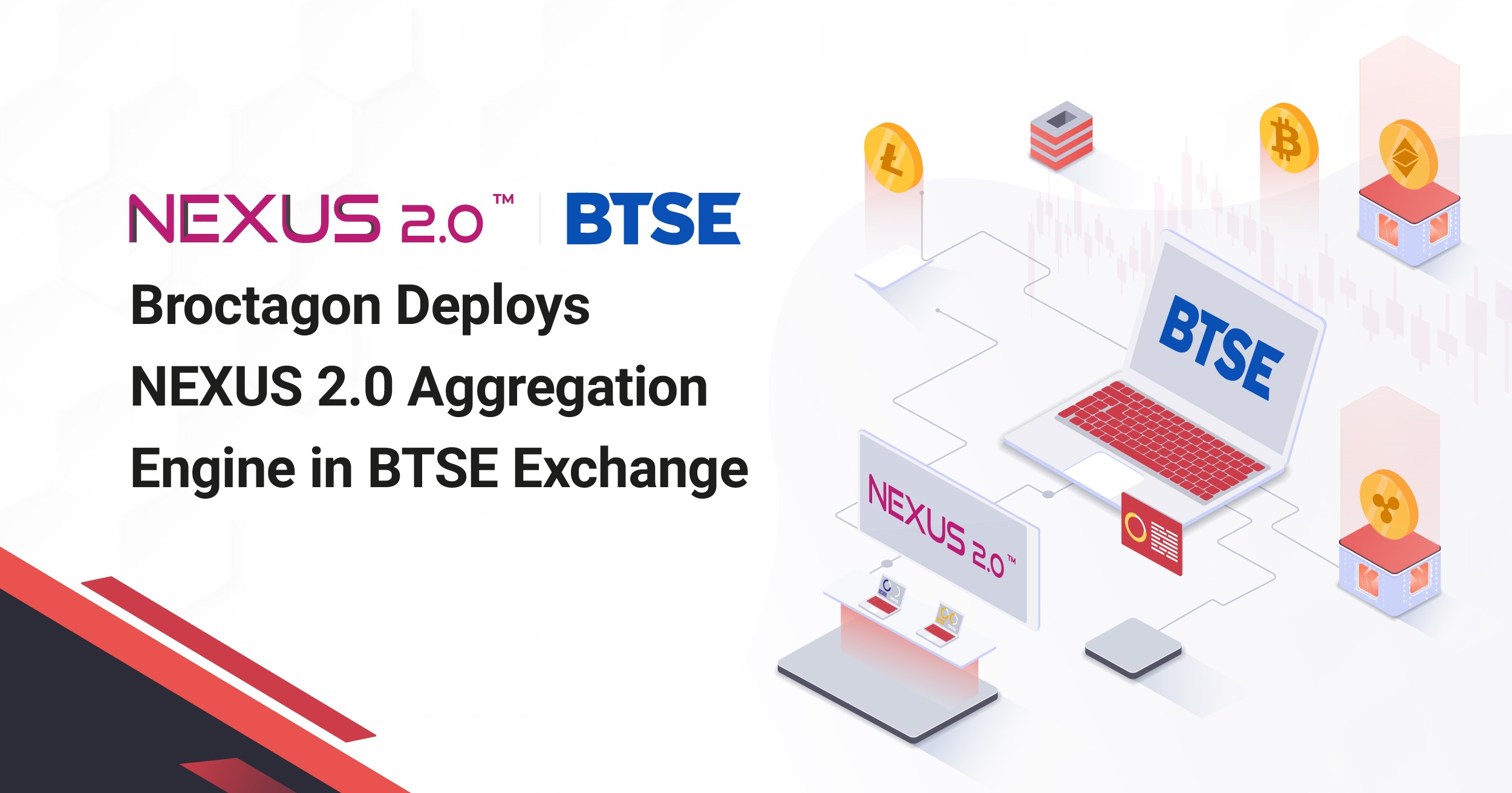 Multi-asset liquidity provider Broctagon Fintech Group today announces the deployment of its NEXUS 2.0 aggregation engine in the multi-currency digital assets exchange BTSE. The collaboration will enhance crypto liquidity for the exchange through NEXUS 2.0, Broctagon's proprietary crypto liquidity aggregation and Straight-Through Processing (STP) engine.
Through the NEXUS 2.0 framework, BTSE can directly connect to the world's largest crypto liquidity network, raising its liquidity pool to the level of top-tier exchanges. Access to this network means that traders on BTSE can directly execute the best bid/ask price quotes provided via Smart Order Routing within the combined liquidity pool of the industry's largest exchanges.
Jonathan Leong, BTSE CEO and co-founder, said: "With liquidity sourced from a unified pool, we can offer our traders consistently tighter spreads, translating into enhanced market depth and greater volumes. Furthermore, our white label exchange solution coupled with the NEXUS 2.0 liquidity engine is a winning combination that enables our clients to tailor their platforms with an extensive range of features."
Since its deployment of NEXUS 2.0 in December 2020, BTSE has experienced a notable eight-fold increase in trading volume, with more than 10,000 trades made across six crypto markets within the first month.
Ted Quek, Chief Technology Officer at Broctagon, said: "The volatility of the cryptocurrency markets presents significant challenges to exchanges that do not have the market depth to keep up with big price movements, which is all but a select few. By providing global liquidity to these players, we are confident NEXUS 2.0 can empower crypto exchanges and allow crypto trading to mature and reach the level of sophistication of FX."
Liquidity remains a big challenge in cryptocurrency trading and no single exchange allows traders to access the entire crypto market with unified price discovery. With NEXUS 2.0's aggregated orderbook, globally-sourced best prices are now made possible.
Broctagon's inspiration for NEXUS 2.0 comes from their background in FX. The STP engine framework functions in a similar fashion to the FX markets' interbank liquidity. The aggregator also works like a hub complete with hedging functions and risk management models.
About Broctagon Fintech Group
Broctagon Fintech Group is a leading multi-asset liquidity and full suite FX technology provider headquartered in Singapore with over 10 years of established global presence in Hong Kong, Malaysia, India, Cyprus, Thailand, and China. We specialize in performance-driven and bespoke solutions, serving clients across more than 500 countries with our liquidity aggregator technology, brokerage, and exchange solutions suite, as well as enterprise blockchain development.