AXIS CRM V6.5 – Version Update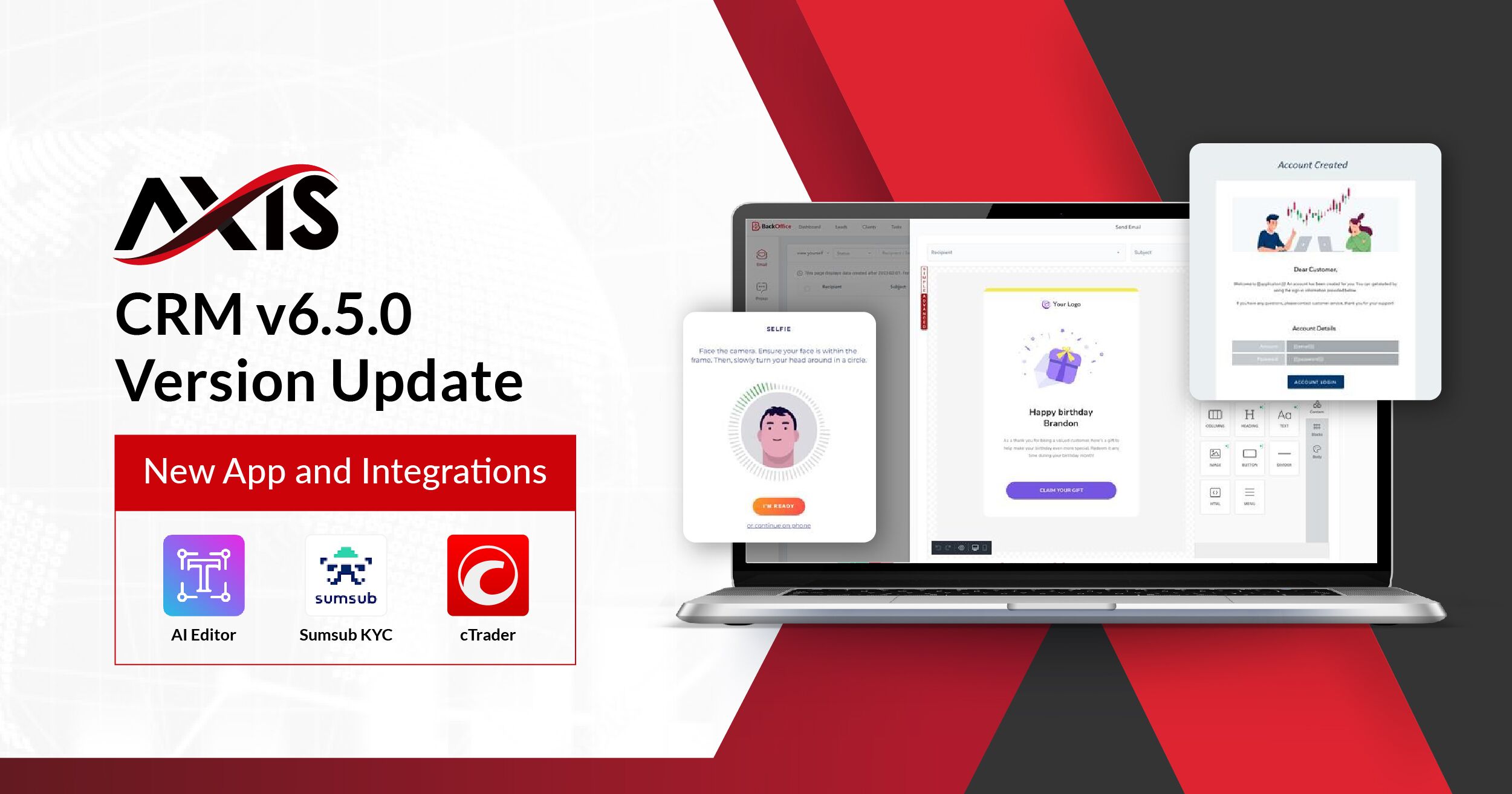 The AXIS CRM V6.5 update brings about a host of new features:
Marketplace Integrations: Addition of AI editor for marketing campaign enhancement and automation, along with Sumsub for managing rigorous regulatory demands.
cTrader Integration: Incorporation of Spotware's renowned multi-asset forex and CFD trading platform.
Improved Reporting Functions: Manage data better with more advanced filters.
Enhanced Activity Logs: Monitor and track all activities seamlessly
New Marketplace Integrations
AI Editor
We're thrilled to introduce the latest addition to our CRM marketplace: the AI Editor application. This innovative tool serves as both an email and page builder, equipped with a robust design interface that empowers users to craft personalized templates. By incorporating the AI Editor, FX Brokers can seamlessly construct tailored client experiences, fostering distinct interactions that infuse a unique and personalized touch into your brokerage's services.
The AI Editor features:
Intuitive Interface: The AI Editor boasts a user-friendly interface, enabling effortless creation of stunning designs enriched with customizable layouts, columns, buttons, background images, text, and an array of rich features.
Enhanced by AI: Choose between a simplified editor for swift template customization or an advanced AI-powered mode that provides intelligent suggestions and refinements for personalization with unparalleled ease.
Mobile Optimization: Tailor your designs for various digital screen sizes by utilizing the "Mobile" icon, ensuring a seamless viewing experience and layout adjustments on mobile devices.
Create personalized birthday messages and more to enhance trader engagement and retention
An account confirmation email template created using AI Editor
Easily create customized CRM tabs such as platform downloads
How to use the AI Editor?
With a quick installation from the CRM marketplace, administrators can effortlessly infuse personalized branding into every aspect of traders' experiences, including:
Crafting tailored user and account notifications,

Launching engaging campaigns and promotional materials,

Creating educational and instructional content;

Improving client interaction and email communication templates.
Craft a uniquely branded and positive trading environment for your clients utilizing AI Editor, resulting in amplified client satisfaction, elevated engagement and loyalty, and improved retention rates.
Full installation instructions for AI Editor can be found here.
Sumsub
This update also features the integration with Sumsub, an encompassing verification system that ensures user and transaction authentication, bolstering security against fraud. It encompasses state-of-the-art technology for your KYC/KYB/AML requirements, ensuring compliance with dynamic regulations and robust security needs. Integrated into AXIS CRM, it safeguards the entire user journey from a single, centralized dashboard.
Adding Sumsub into the KYC flow will provide the following benefits to FX Brokers using AXIS:
Streamlined KYC/KYB/AML Processes:

Automate the onboarding and verification flow for users worldwide, eliminating human error and reducing the cost of KYC/AML by 40%.

Adherence to Regulatory Standards:

Maintain compliance with regulatory bodies across jurisdictions (such as FCA, CySEC, etc.). Verify identification and address details, authenticate source of funds through tailored questionnaires on high-risk clients, and conduct continuous AML screening against an extensive global watchlists, sanctions lists, and PEPs lists.

Enhanced Security:

Sumsub's AI-driven anti-fraud technology enhances detection and prevention of digital fraud, encompassing identity, document, transaction, and potential money laundering threats. This fortifies the CRM system's security, mitigating potential risks and maintaining a secure reputation with payment partners.

Go Global:

Achieve peak pass rates for clients worldwide, spanning LATAM, South Asia, and Africa.

Improved Customer Experience:

With faster verification processes, clients experience a smoother onboarding journey, getting verified in less than a minute, resulting in higher conversion rates and increased customer satisfaction.
With the integration of Sumsub, you can automate verification steps to fit your KYC/AML policy and build multiple verification workflows without any technical background. Optimize every step of your client journey right from your CRM dashboard:
Onboarding:

Pre-screening and verification of email, phone, ID, age, and address with video verification and database check.

Account Activity:

Face authentication for logins and high-risk actions, and bank card verification.

Transaction Monitoring:

Ongoing transaction monitoring and crypto transaction check.
Full installation instructions for Sumsub can be found here
Configure Document Verification setup in the 'SumSub settings' in the BackOffice. Steps here.
Configure Authentication setup in 'SumSub settings' in the BackOffice. Steps here.
Admins would be able to view and input Document Verification details such as Country and File Type in each user's page.
Full Integration of cTrader Platform
This update introduces the integration of Spotware's top CFD trading platform, cTrader, a multi-asset trading platform designed for brokers and traders looking for advanced trading capabilities.
With this new addition, brokers now have a brokerage CRM for cTrader platform, and those who use cTrader can now access a wide range of features as well as powerful affiliate marketing and IB capabilities by using the AXIS CRM to manage their client processes. New brokers looking for turnkey brokerage setup solutions now also have an alternative trading platform to consider.
cTrader offers a great alternative to MetaTrader, with its open architecture and advanced features such as Level II pricing, enabling insight into market depth, while also providing essential risk management tools and multiple order types. Additionally, cTrader also offers real-time market sentiment data, Algorithmic Backtesting, as well as copy trading.
For more information, read: https://broctagon.com/brokerage-crm-for-ctrader-broctagon-axis-fx/
Reporting Functions
We are consistently refining reporting capabilities within AXIS CRM to produce detailed and precise reports, offering brokerages invaluable insights into their operations, performance, and essential business metrics.
Client Portal Report
Reporting functions in the client portal have now been enhanced. Notably, Trade History reports now feature a total record count and the option to filter transactions by "Buy" or "Sell".
Commission Reports
We have added a "rule" field to commission report filtering, where brokers will now be able to navigate through larger data sets in commission reports more efficiently by inputting more specific filter rules.
List Filters
We have enhanced list filters to allow brokers to organize and manage data more efficiently. We have added quick search functions to the advanced filters, allowing even more specific subsets of data analysis.
Activity Log
With the addition of activity logs to the "Clients and Leads" detail page, brokers now have the ability to easily monitor and track all activities carried out on the account. This feature also allows them to identify the person responsible for each action taken. By providing this level of transparency and accountability, brokers can effectively manage client accounts and ensure that all actions are properly documented and tracked.
The activity logs can be found under the "Info Updates" tab:
About Broctagon Fintech Group
Broctagon Fintech Group is a leading multi-asset liquidity and full suite FX technology provider headquartered in Singapore with over 10 years of established global presence in Hong Kong, Malaysia, India, Cyprus, Thailand, and China. We specialize in performance-driven and bespoke solutions, serving clients across more than 500 countries with our liquidity aggregator technology, brokerage, and exchange solutions suite, as well as enterprise blockchain development.